Moria

Starter Member


Joined

: 2010-06-14


Posts

: 13

Member Info


Platinum Points

:


(0/0)




Tiers

:
Tue Jun 22, 2010 11:36 am
Katsumoto just stared how all the hollows were destroyed then soon after as his captain appeared. He got a bit shivered as he heard Mayuri's name but got control of him self and slowly walked towards the captain. After his question Katsumoto was gonna answer it but waited for Captain Byakko to finish then he answered to him "I came for a hollow but you see that girl there?" the shinigami pointing her "killed the hollow, she appears to have Fire abilities, all of a sudden that bat hollow attacked us, then started multiplying, if Captain Byakko wouldn't have appeared or you self captain, not sure what might have been the outcome" katsumoto sighed a bit with a smile putting his hand over the back of his own head, "sorry for been so useless" he laughed soon after.

He stands more straight "some of the copy's appeared that they don't disappear, that one there"katsumoto pointed to his captain a the hollow looking creature with mechanical insides "i hit it with a Shakkahō, with out the spell incantation so it wasn't suppose to do that great of a damage, i wanted to make sure if it was real or not, some kind of illusion or something"Katsumoto looked again around holding his thoughts to him self till he went back with his captain to the seretei but finished saying "But in the end i ended up entering i think before the senkai gate closed, luck i guess was against me or with me, or with that girl" he gave another look to the girl as Taicho Byakko was talking to her.


musashikeoto

Starter Member


Joined

: 2010-06-20


Posts

: 64


Age

: 27


Location

: Lawton,Oklahoma

Member Info


Platinum Points

:


(0/0)




Tiers

:
musashi was hiding within the alleyways growlng lowly at the shinigami he scratched the walls hiding from them.''...I cant handle those 3 alone...but as much as i like those hollows There planning on attacking my PREY!'' .The male growled jumping into the air grabbing the ledge of the wall with his claws as he jumped onto the roof running at his usually fast speed. As he jumped from roof to roof he sniffed the air for unusual reiatsu sencing nothing he countinued on further as he growled lowly at the thought of shinigami. He then stopped in his tracks he remembered the girl''....That girl..''he said quitely as he looked at the palm of his hands.''..I will kill the hollows..to protect that girl...'' The male growled lowly as he jumped onto the ground running back towards the shinigami and the human girl with them.''I have to protect that girl....''the male said to himself growling as he ran with his hands in his pocket.He stoped again suddenly trying to think this out he was within eyesight of the shinigami he quickly jumped within the nearby alley where it is dark.''wait....those shinigami take interest in that girl...and im sure they know about me for killing that shinigami last week .....especially if they are captains...I have to think this out...''. ''the male sighed watching for hollows.''...Ill just practice by looking for a hollow to fight...that should warm me up for the battle to come.'' The male then jumped into the sky again gripping onto the ledge jumping onto the roof jumping from roof to roof in search for a hollow to kill.
Kuroi;Heiwa

Starter Member


Joined

: 2010-06-19


Posts

: 16

Member Info


Platinum Points

:


(0/0)




Tiers

:
She had sighed softly as the energy had returned to her, a slight shudder moving through her. It was an odd sensation, which she had no real way to .. Identify. She looked at him curiously for a few moments, then glancing at the other people. Her hands slid into her pockets, a bit overwhelmed by all the beings in the area. 'Sonomori' definitely was, especially considering how easily he'd just brushed the one hollow off. She could only go off of her sense as for the other ones.

Dipping her head slightly to Byakko, she paused, thinking his question over. Her name, her name. Easy enough to answer it -- but she still didn't quite trust them. Especially with her senses overwhelmed by several different beings. What could they do with her name? She couldn't tell. Screw it ; did it really matter now? Would anyone really care enough to do anything? Most likely not. Listening as he says his own name, one eyebrow raises slightly. She didn't know too terribly much about ranks, but she'd heard things here and there.
"My .. Name's Doku." Pausing a moment, before adding to it, "No real rank or anythin -- I wander."

She blinked slightly, her eyes wandering after she had replied. She felt someone .. Or something, else. Close by. She had felt their eyes for a few moments. She glanced around, though couldn't seem to find whatever it was. It's presence seemed to fade a bit, get further away, so she returned her attention to the others.


Sonomori

Established Member


Joined

: 2010-06-04


Posts

: 102

Member Info


Platinum Points

:


(0/0)




Tiers

:
~Sonomori~
Sonomori's head dipped down, shaking a bit before coming back up to face the two. "I suppose that is fine. Since your here now I dont really have a problem, however there could be some issues in the end. If these things can multiply we are going to have one hell of a night, but it seems that more powerful ones are going to start appearing soon. Probably even arancar. That is really what Im worried about. If those things catch you kids while me or bya arnt here then yer probably going to die." He paused for a slight moment, letting out a deep sigh. "I was really hoping to send you and her back to soul society so that I wouldnt be bothered with having to save your asses. And as you see, I didnt exactly take a fun path to get to this damned city to begin with. O well, if that is the case you just better stay the fuck out of trouble. Bya, I suggest you keep an eye on these. I'd do it myself but there are a few things lurking out in the shadows that I am not fond of." His eyes glanced over to the top of a building as the words came from his mouth. "Im heading off now, good luck to you all, and do please try your hardest to not spill your blood all over the damn city. Cleaning up bodies is not the most pleasant of jobs." Within his words, his body began to dissipate into the air, thinning out into lines which moved upwards in a blur.

~Hollow Horde~
The beasts began to multiply, roaming through the city. Their method of getting in was still unknown, and their bodies where even more of a mystery. Hollowfied screams began to increase, filling the city with the constant despair of destruction, and lighting even more fires across the forest of metal.
The city barrier began to waver, the ceiling beginning to open up. Swarms of black dots began to pour in like water. It appeared as a swarm of locust hollow, they had peirced the barrier and where coming straight down for the most powerful sources of power in the city. They split off into strands, arms of such, that aimed for multiple targets, one of which being the group of people that had stood the first wave and lived to tell the tale.
JohnSeever

Established Member


Joined

: 2010-06-04


Posts

: 277


Age

: 45


Location

: Missouri

Member Info


Platinum Points

:


(0/0)




Tiers

:
»» Byakko Fuyuichiro ««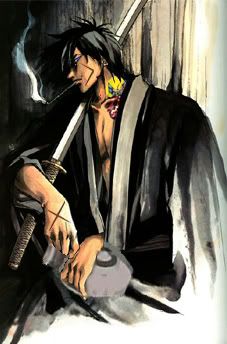 S
miling, Byakko nodded his head, "I have to agree, as there are other things lurking in t he darkness besides these Hollows. Plus, if they can multiple, and you two are caught in the middle than you could be overwhelmed," he says to them as he looks at Sonomori. Standing there, he grinned at Sonomori, "I think that perhaps you be careful as well, since there are others here who might help, but some who might hinder what we are about to do," he states as he looks at Doku and Katsumoto. "If the two of you do not mind, lets us go and help Karakura City," he adds as he looks up and a frown crosses his face. "As I think the city is going to need all who can fight against Hollows now. If you do know of any others with the abilities to fight, let us go and get them," he comments as he offers his back to Doku. "I think that if you will ride on my back, we can travel much faster," he suggests to her as he notices the new arrivals heading for them. "Stand fast and prepare for a battle," he comments as he draws his Zanpakutō and steps forward to wait for the Locust Hollows to arrive.
~~ Conor Boyd ~~
C
onor Boyd was out enjoying the night, walking out of a bar along the river front of Karakura Town, is a man who has been here for a year or so, being a new teacher and all to students at Karakura High School. Is a man not of Oriental decent, but one of Anglo-Saxon decent. who has both brown hair and a pair of matching brown eyes. He walks with a bottle in his hand, although, it is hard to see what the bottle says as his hand covers it and part of it is missing. This is normal for this bar, as there are many drunks here who tend to go a little crazy when it comes to their spirits and well, this man just happens to fall into this crowd. What is even more amazing, is that he is walking almost upright, but could fall over at any minute and is singing a song of some type.
As I came home on Monday night as drunk as drunk could be
I saw a horse outside the door where my old horse should be
So I called me wife and I said to her: Will you kindly tell to me
Who owns that horse outside the door where my old horse should be?
T
he man is a very happy and a very drunk Scots man, but the stores are that a Scots man is hard to out drink, and they can drink a lot. As he walks, the first part of this is heard as he walks the riverbank, heading for his home, or what he feels is the direction of his home. You see, Conor is directionally challenged and tends to get lost a lot, more over when he is drunk. As he walks, he keeps singing and this song must be some song form either Scotland or Ireland.
Ah, you're drunk,
you're drunk you silly old fool,
still you can not see
That's a lovely sow that me mother sent to me
Well, many is a day I've traveled a hundred miles or more
But a sow with a saddle on sure I never seen before

Now as I came home on Tuesday night as drunk as drunk could be
I saw a coat behind the door where my old coat should be
So I called me wife and I said to her: Will you kindly tell to me
Who owns that coat behind the door where my old coat should be

Ah, you're drunk,
you're drunk you silly old fool,
still you can not see
That's a lovely blanket that me mother sent to me
Well, many is a day I've traveled a hundred miles or more
But buttons in a blanket sure I never seen before
C
onor walks, singing and not caring who or what hears him, so depending on your mood and what you want to do, will matter very little to this man. Since there is more to him than being just a foreigner to Japan and Karakura Town, and a Scots man. What makes Conor different, is that fact that he is a Quincy, a man who can see the spirits of those departed and those who attack them, Hollows. Additionally, he is able to form a bow of energy in his hands to fight these Hollows, but that is the last thing on his mind, as he is too happy from being drunk to worry about fighting, however, that is all about to change.
A
s he walks, the newest arrivals to KArakura City arrive, the Hollows that have some how made their way into the city, past the protective dome. He slows as he feels them and blinks as he shakes his head when one of the first Hollows land near him and than a second and a third, all of which look the same. Conor rubs his eyes, "Oh will you look at that," he says to the Hollows. "I see one.. two.. three.. four of you," he adds as he points and counts. The Hollows roar and head for Conor who looks, "Oh now why did you go and do that?" he asks as he raises his right hand and a English reiatsu longbow. However, instead of being the normal blue color, his is colored green. Additionally, where his hand holds the bow, is a Celtic Ankh Cross. He smiles as he holds it up, "Well now look at this," he says. "This is a Quincy bow, and I am sure you Hollows know what a Quincy is," he asks in his Scottish accent.
W
ith a roar again, Conor pulls back and fires off a total of nine arrows, three to each Hollow and he watches to see if they hit and are taken out or not.
Hell of a time to do a fight, when a man walks out of a bar,
he thinks as he burps a few times.

__________________

Chao

Queen Of The Sands


Joined

: 2010-06-03


Posts

: 3419


Age

: 28

Member Info


Platinum Points

:


(60/100)




Tiers

:
Wed Dec 15, 2010 12:11 pm

locked thread: Inactivity

Akemi★

Seasoned Member


Joined

: 2010-06-07


Posts

: 1138


Age

: 32


Location

: ~Anywhere~

Member Info


Platinum Points

:


(0/0)




Tiers

:
Mon Jun 27, 2011 10:37 am
Archived ;; Locking...
__________________
• ⁞ • ⁞ • ⁞ • ⁞ • ⁞ • Akemi's Character of The Month • ⁞ • ⁞ • ⁞ • ⁞ • ⁞ •
Emer McLoughlin's Theme
• ⁞ • ⁞ • ⁞ • ⁞ • ⁞ • ⁞ • ⁞ Other Goods ⁞ • ⁞ • ⁞ • ⁞ • ⁞ • ⁞ • ⁞ •
Permissions in this forum:
You
cannot
reply to topics in this forum