Guest

Guest

Thu Mar 21, 2013 11:58 am
Yakuin Iramasha, Angel Wife of Jashin
Better let sleeping dragons lie, lest fools seek a new way to die.
The woman was suddenly stopped by a burst of pressure; she wasn't so easily felled, because not only did she have her Lord's love, but something more was in her. The girl gave out a secretive smirk. He was angry; maybe he would understand half of her feelings then! But the girl understood something more then anyone else; nothing, and she meant NOTHING could compare to a woman scorned. This very fact alone helped her to stand, when normally she would crumble; it helped her withstand the assault when her will wasn't that strong to withstand it in the first place. The girl closed her eyes and understood she couldn't hold this back anymore, as she began to concentrate. Even under this pressure the girl just grit her teeth and bore it, letting her next form come into play. She was done screwing around. This male, this entire situation, would now be crushed by the weight of her wrath! The girl suddenly felt her body slightly shift, as a white suit formed onto her, and then other things came into existence. Anyone that was sensitive to purity or impurity would instantly know that this was no joker. In fact, it would become obvious right then that Yakuin was an Angel Iramasha; her entire self was pulsating with such a purity that the ground underneath her, in Hueco Mundo, was changing. It was being purified, as her eyes opened, the orbs flashing. Then, there was blood everywhere; it sprayed all over, even as Stefan ruthlessly attacked her beloved. But that was nothing; the blood was making circles, and thus? Making it even harder for Stefan to escape. But what neither had noticed? Was the strange cable that shot out towards Justin; and with a click, it was on. And with that? ''Connection established.'' the girl muttered. That was the end game, as a smirk touched her lips.

What had Yakuin just done? She had used her Sync Cable, and connected to Justin; it was one of the easiest concepts to connect to around here. She could try to connect to Stefan, but she didn't want to take the risk. Jashin knew exactly what she was planning, and he would probably admire it. This was the exact quality that made her so indispensable to him; it was also what killed him. The girl just smirked, as she had set up something that even Stefan might find stupid. Whilst he was attacking Justin, and Justin's retaliation? She was a perfect support, as she had connected to all of Justin's sprayed around blood, and reproduced the array for his ability en masse. Hell, she even had some in the sky, her ability to manipulate and direct that blood a gratuitous thanks from the connection to Justin. But what was more, is that now, Stefan had very few places to get around them that would not adversely affect him; these symbols were not without power. The more Justin bled, the more power was given to the followers of Jashin. The girl herself was one, so she understood something, as a lightly crazy smile touched her lips. If Stefan wanted to harm her children? He'd have to think twice. But Justin had Stefan occupied; that was perfect for her. ''To Smite and to spite! Jashin, grant me that gift.'' she said softly, as her favorite weapon came into her hands. Ah, that Rape stick of hers.

Now Justin was holding Stefan, and Yakuin just smirked. She didn't even say anything, as she used her connection with Justin, the massive amounts of energy she gained, and now the easy dispensing method to begin a surprise assault. Due to the Canon she summoned, they required no time to charge, just energy. That meant? Four to Five Grand Ray Cero's suddenly shot out of Yakuin's cannon, heading straight for Stefan, moving at a high enough speed that he could possibly block one, or maybe two. Think of it as Yakuin making a Grand Rey Machine Gun with her cannon. That was pretty much it, as the girl had more then enough energy to draw on to do so; due to her connection to Justin, her energy reserves had his, Jashin's, her own, and the wings behind her. Actually, if she didn't do this, she might have been overloaded with the energy. Not that Stefan would expect this girl to attack him from behind; there was no morals in this fight, since he himself broke the rules first. Had Stefan not tried to harm her kids? She would have been content being only the healer. Speaking of which, the girl had chucked a ball at Justin, and if he accepted her energy, his wounds would heal, without him having to use Jashin's regeneration energy. That was just the lethality of this pair to be blunt.



---



During all of this, Kaveh felt himself swing back and forth, before letting out a manic laugh. This was too good, as he touched Nise. The girl transfered what Jashin power had been put in her, and the black haired male picked her up, and moved away from the crumling mountain, moving a further distance. In fact, they moved FAR out of the range of Stefan; but they were still connected, due to being bound to Jashin. ''Hehehehehe, this too much fun~'' he muttered excitedly, the girl just giving a groan. In fact, they had moved to a safe place; so if Jashin needed their energy? That was an option. But if anything, Nise had shown quite a spine, being capable of handling that Reiatsu, and with some help from Jashin. But Kaveh knew he was stronger now, that crazed grin on his face. Yes. Stronger. That's what he needed! Because this guy.. insulted the whole of the Jashinist. He needed a stab to the heart.. or five. Actually.. Kaveh had a better idea, and began to draw arrays, to drawn in hollows that resided near here. More energy, more training, more to give to Jashin and Justin.. so a source of energy. That was pretty insane indeed.. but that was what a member of the Second Division had to do, right? Right~.

So how would Stefan deal with all of this?
Gin

Veteran Member


Joined

: 2011-06-30


Posts

: 2290


Age

: 28

Member Info


Platinum Points

:


(10000/999999)




Tiers

:
After waiting for a few minutes for a reaction, any reaction, from his adversaries, Stefan was already prepared for a counterattack from them, having come up with a game plan within just a short moment, and so readied himself for what Justin and Yakuin were ready to throw at him. The Monsuta King silently and calmly watched as his primary opponent, as well as target, seemingly regenerated his chest from the massive amount of damage it had previously received upon itself. How could he sit still so calmly though, especially after what had just happened and how angry he had become? Well, that fit of rage was over, he had already come to control himself under the circumstances, and could thus come up with a battle strategy quickly and efficiently. As a matter of fact, he now radiated an eery aura of calmness, and his composure had returned to him, seeming almost statuesque, despite the current situation. Despite his previous outburst, Stefan really is a very calm and collected individual, especially in combat. He had to be.

By the time the steel-hard cable that was connected to Justin's weapon reached Stefan, his arm had already flown up and blocked it, preventing it from actually getting close enough to him to touch him. Utilizing his heightened senses he had trained for centuries, Stefan was able to tell exactly when the scythe weapon of Justin's was nearing him, and so before it could hit him, he leapt up into the air from his standing position on the ground. However, instead of just leaping over it and dodging it, Stefan decided to give his opponent a little present. Before the scythe got too far away, Stefan, having just leapt up and still being in the air, kicked himself off the back edge of the weapon. First off, this was executed with enough force to increase the momentum of the scythe by quite a bit, enough to the point where when it hits Justin, it would bisect him rather easily, doing much more damage than how much it would have done otherwise.

However, Stefan had also said something at the exact point of time when he made contact with the scythe: "Hadō 11: Tsuzuri Raiden!". At the exact time he said this and touched the scythe with his feet, a mass of electricity sparked on it, covering the entire scythe in very powerful electricity, which was actually stronger than normal due to Stefan's excessive amount of spiritual energy. Also, it should be noted that due to Justin controlling the scythe using a cable, the electricity would also travel across said cable straight to Justin's body, which would further electrocute his entire being, causing third degree burns, extreme pain, as well as doing damage across his entire self. After landing back onto the ground, Stefan's left arm immediately shot up, his hand open and his palm facing his opponent openly. He had been moving extremely quickly, most likely so quickly that Justin or his other opponents wouldn't have time to notice what was going on, and as such would have extreme difficulty with an attempt to interrupt Stefan.

"Bakudō #63: Sajō Sabaku!" When Stefan said this rather loudly, he closed his hand into a fist at the same time, which caused glowing yellow energy to generate only a foot or two above Justin's head, which then promptly moved towards Justin extremely quickly, and considering the short distance, it would not only be extremely difficult to dodge, but difficult to react to in general. The energy, which appeared to be a very thick rope chain, wrapped itself around Justin, coiling around him like a snake, and then immediately pulled itself very tightly around his torso, forcing his arms to his side. A Bakudo spell in the sixties is near impossible to break out of using sheer strength, especially considering it was someone as strong as Stefan who used it. "Bakudō #61: Rikujōkōrō!" By using these two Bakudo spells in conjunction with each other, Stefan was able to make use of the light generated from Sajō Sabaku to nigh-instantly create the six beams of light that make up this spell, and so they slammed into Justin's midsection immediately, which would serve to further immobilize him from head to toe, and thus prevent him from moving. The use of these spells prevented Justin from manipulating his blood due to immobilizing him completely before he could accomplish such a thing.

"Seeping crest of turbidity. Arrogant vessel of lunacy! Boil forth and deny! Grow numb and flicker! Disrupt sleep! Crawling queen of iron! Eternally self-destructing doll of mud! Unite! Repulse! Fill with soil and know your own powerlessness! Hadō #90: Kurohitsugi!"

Utilizing the time he would have by immobilizing Justin in very powerful Bakudo, Stefan was able to get off the entire incantation of the very, very powerful spell he used this time. As Stefan called out the name of the spell he was using, a massive torrent of pitch black and purple energy began enveloping the paralyzed and helpless Justin Washi, surrounding him on all sides. This energy formed into the shape of a massive cube-like box around Justin easily the size of an apartment building. This spell caused such a massive torrent of gravity to envelop Justin that it was distorting space and time to such a degree that attempting to escape would essentially be useless, as would trying to break the box from the outside. This would also crush Justin from all sides, as the gravity was many hundreds of times stronger than that of Earth's. However, this spell doesn't end there: hundreds up hundreds of spears made of the same energy seemed to be stabbing through the box, which would serve to lacerate every single inch of Justin's body, essentially ripping apart his entire body a thousand, thousand times. This spell was so massively powerful, that Justin would most likely be reverted to a skeleton, which would most likely be broken in hundreds of areas, with a very think layer of tissue covering various parts of his bones, with every other part of his body completely eviscerated.

Seeing multiple, powerful blasts of energy coming towards him, Stefan instinctively reacted very quickly to the assault from the Iramasha girl he was also fighting. Being a very experienced fighter, Stefan was most certainly not ignoring her, and was most certainly not solely paying attention to the stronger opponent. In fact, one of the reason Stefan used a spell as powerful as Kurohitsugi was to also interrupt what he saw as an attempt to assist Justin, which was the odd tube or cable that Yakuin had created to connect to the Arrancar. The space/time distortion side effect of Kurohitsugi would more likely than not interrupt assistance coming from Yakuin or any other being in the area. Before the blasts of energy could reach Stefan, he yelled out: "Bakudō #81: Dankū!" About five feet from Stefan, a massive, translucent wall-like barrier shot up out of the ground, intercepting the blasts of energy, which promptly hit the barrier, however they couldn't break through, and were thus stopped in their tracks and dispelled. This was due to the fact that this spell has been said to block up to level 89 Hadō, and thus possessed more than sufficient durability to stop Yakuin's attacks.

After this occurred, a mass of a pitch black smoke-like substance suddenly appeared above the massive black box that still surrounded Justin, and was thus still crushing his body. This strange 'smoke', if it can be called that due to also seeming to be both a liquid and a solid as well, moved down and covered the entirety of the Kurohitsugi cube, which made it appear to be absolute darkness that nothing could escape from. The resulting effect of this occurring was Kurohitsugi shattering underneath the smoke, but the extremely dense 'Void' still remained after that happened, preventing interaction between Justin and the world outside the new box made of Void Smoke. This void would also cause a powerful crushing force to damage Justin's most likely still-wrecked body. As this happened, Stefan placed his left hand on his Zanpakutō's sheathe, and using his thumb, pushed the sword within it out slightly, revealing its blade.

"Consume all creation, Mugenkū."

After saying this release command, which would force his Zanpakutō into its Shikai, or initial release, form, a mass of spiritual energy and spiritual pressure burst out from Stefan, which was a very, very dark, yet vibrant, violet. This outburst of energy caused gale-force winds to push out in every direction, with Stefan at its epicenter. If Yakuin could just barely stand while Stefan had his Zanpakutō sealed, his Shikai release would most likely cause even more problems for her. After the energy quickly dissipated, Stefan used his Shikai power to summon 'slates', or swords, from his Void to cause hundreds upon hundreds of every durable, sharp, and powerful swords to impale, bisect, lacerate, cut, maim, and overall destroy the remains of Justin's body within the confines of the Void Smoke Stefan had previously summoned around Justin. After all of these swords did this further damage to Justin, the all floated to the top of the void cube, began fusing to form one massive, much, much more powerful sword, and then dropped right onto Justin's head, piercing straight through his body, essentially causing him to burst like a balloon. At this point, he would most likely be nothing but random, small pieces of skin spread across a wide section of land.

After doing all of this, Stefan stepped back a few feet and began panting heavily. As someone who did not specifically specialize in the use of the demon arts, Stefan was rather exhausted from using so many Kidō spells in a row, and then using his Void powers immediately afterwards. Despite this, he was still prepared for the worst from his opponents, though he did want to make sure he wouldn't be caught by surprise, and so he dug into one of his jacket pockets and removed a small, glowing sphere from inside of it. After grabbing this sphere, he opened his mouth, and then dropped it in, swallowing it whole. Suddenly he was flooded with a massive amount of energy that served to replenish what he had used during his massively powerful assault on his opponents, and so the URE sphere accomplished its job. Stefan's heavy breathing immediately came to and end as well, as he now seemed as calm, and unfazed as ever, as though he didn't just use several powerful Bakudō and Hadō spells in a row without a break in between. With the Void Smoke still surrounding Justin, and the Dankū spell still active, Stefan said a few words to all of his opponents.

"I'm already bored with this fight."
__________________
JJ

Rower of Rock. And Souls.


Joined

: 2011-03-03


Posts

: 5174


Age

: 25


Location

: , Location, Location!

Member Info


Platinum Points

:


(20650/20000)




Tiers

: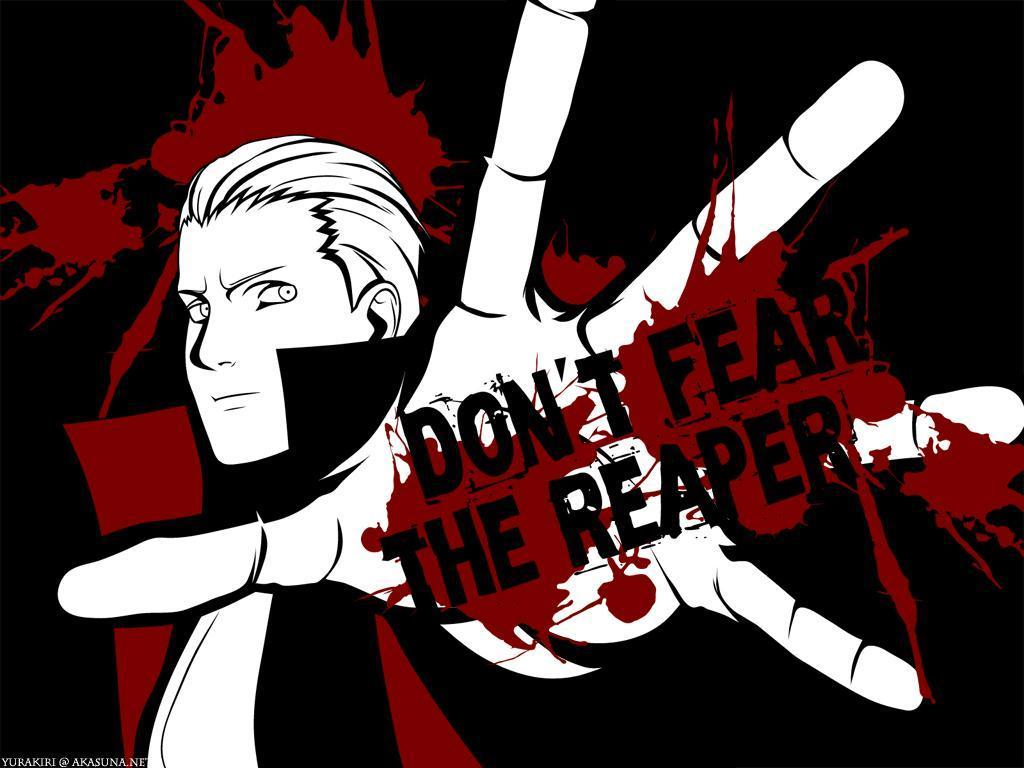 Justin Washi
__________________________
The Sparrow of Jashin

___________________________________________
THIS IS MADNESS!
His massive scythe was shooting towards him, as he smiled at his scythe, seeing it and only it slamming into the ground around him. "DEATH POSSESSION BLOOD!" His voice cried out, as the massive line of electricity shot through Justin and entered his body with rapidity, the scythe's prongs lodging themselves through his torso as he was well accustomed to, pushing him back aways as he sighed from the impalement damage. travelling as it hit his body firmly. His face was contorted in pain as the electricity cut out every nervous system in his body for a moment, acting like interference; after all, in this form Justin's body was a bit hard enough, but his nerve endings were still affected by the attack. However, he managed to smile at Stefan again, knowing how on edge the Vizard must be to be using Kidō instead of fighting him up close and personal.
The man merely smiled at Stefan as the massive tendrils looped themselves around himself, smiling absolutely sadistically as they continued to bind their way further, before suddenly it snapped shut around him, the man moving so fast that Justin's body didn't even have time to respond to the feelings as the binding lights slammed into the man, even as his entire body was sealed shut, his blood having splattered out around him from the attack.
"AH-HA-HA-HAH-A-HA-A-HA--HA-HA-A-HA-AHA-HA-HA-HA!!!"
He laughed at Stefan, repeatedly, incessantly, the sounds of his laughter completely overshadowing Stefan's speaking of the Kidō name, outright insulting the Vizard by acting as if his spell simply didn't matter to the arrancar. He continued to smile at Stefan as his entire body was completely covered by the entire box, his eyes going as at last the box enclosed itself around the sadistic, nonsensical smile on his face.
And then Justin's body felt pain. He felt immense amounts of pain as gravity began to hurt him, and it hurt him rapidly, before suddenly, withotu warning, his epxression changed completely, his eyes rolling back in his head as the literally hundreds of spears… impaled him.
His mind was completely shut down from the unlimited amounts of bliss that Stefan had gifted to the Arrancar, most likely by accident but it felt hella good all the same. While Stefan was busy with the blasts of Stefan's attacks, the box shattered without warning, as it fell down around the space where the Arrancar was, smiling insanely, his body literally nothing but blackness around his skeleton, his blood having splattered…
Perfectly in the shape of the cube that Stefan had desired. "Conditions were more then met." The man spoke simply, the tiny bits of blood that were cut into even tinier drops covering his wrist as he brought it up to his mouth, opening his tongue to show it, too, was completely covered in blood, as he licked the blood off of his hand. It was at this point that Stefan would most likely notice it in full force.
His entire body suddenly felt like it was hurting with IMMEASUREABLE pain. IT was the sensation of hundreds of THOUSANDS of stab wounds covering his entire body, as well as what felt like his organs literally being CRUSHED into one another within his body. The reality of the situation was that Justin had released his Possession form, the true one, which showed his skeleton in any case, making it perfect for Stefan's attack.
Justin, on the other hand, seemed to only be having a problem with his eyes balls, which were staring all the way up in the back of his head, still covered in ecstasy that was causing Stefan utter hell. That was the problem with using the box; because it was a walled container that drew out torrents of blood, it was the natural perfect creation for use of Justin's abilities, and as he had a sample of Stefan's blood, he completely activated the effect. The best part of all was that Stefan didn't seem to have even thought about this possibility, having left him alone there.
However, his gaze was met with Stefan again ,as a new kind of box began to cover him. His entire face began to become contorted with pain, as the extremely damaged wounds were suddenly crushed against instead, which didn't feel as good, and to Stefan would most likely feel like living hell on earth. Most likely just saying his Shikai phrase would send such feelings of pain and discontent down his throat, tongue, mouth, and lips that his jaw might even lock from bodily shock, so bad was the pain coursing through the Vizard now.
However, that was not the only thing that had happened. Justin's link to Yakuin was still in full effect; the Arrancar had no idea what would happen as a result from that, but it was highly likely that the Vizard would find himself stuck in a new predicament. Meanwhile, Jashin was having an absolute hoot within Yakuin's and Justin's minds.
This fool… just… Trapped my servant… IN A BOX… MAKING HIM UNABLE TO GET OUT… OR GET IN AT… LETTING HIM CAUSAE ITS CREATOR UNBELIEVABLE PAIN… HA! HAHAHAHA!
He laughed, completely meaning what he said. "Really?"
Jashin's voice spoke ,as out of the necklace, the only visible part of Justin remaining clothing wise due to its nigh-indestructability, floated a figure. It moved right through the Void as if it did not exist, looking over at the assembled as Stefan spoke. "This is Boring? Says the guy who won't even let my lovely servants touch him." The being known as Jashin spoke to Stefan as he floated about, completely intangible. He could do nothing as this construct of reiatsu; but the, nothing could harm him either. He could only speak. This was merely a projection of him as well, crafted from Justin's reiatsu.
"You get mad at Me when I claim to be a god, and yet you get bored from literally doing nothing but bully two other life forms? No wonder Justin saw fit to use the form which would cause you the absolute greatest pain; you are just the worst type of fighter." He informed Stefan, coldly now, before shrugging his shoulders, his eyes closed, turning back over to where Justin was as his entire body vanished, literally faded into nothingness as the projection ran out.
In the meantime, Justin's body had been completely destroyed within the sphere. However, Stefan would feel such immensely crippling pain that the likelihood of him actually being able to move his hand from the literally maximum amount of pain a body could ever have was next to nothing, as the necklace shined within the void portal.
"HOLY F#CK!"
Justin's voice roared, as without warning from the necklace shot a head, or the blackened face of Justin's skeleton. Without warning, a long, drawn out scream filled the area as Justin's body emerged from the necklace, flesh rapidly spreading as Justin brought himself back into the physical plane. However, he was still released; as such ,Stefan would ALSO feel the crippling feeling of the man reforming, even under these Void conditions ,increasing the pain roughly by ten. "OW OW OW OW OW OW AHHHHHHHHHH!" He roared in pain as his body formed completely again, in an instant.
Jashin had performed Justin's body to go back in to existence from his point of existence once again, going much, MUCH faster that it was designed or meant to be. As such, it caused Justin an INCALCULABLE amount of pain, enough so that the male just sat there on his knees within the gravity, feeling the massive amount of pain as his body regrew under these harsh conditions, literally trying to hurl but only spilling out what little stomach lining had regenerated, which soon stopped, Justin screaming still from the intensive pain his entire body was going through.
In all likelihood, Stefan would no longer even be able to stand. Never before had Jashin seen Justin go through so much pain so fast, but he had. From the sheer amount of mental stress caused from all that pain, it was highly likely that Stefan's actual body would have blood veins beginning to rupture from the stress; the results would most likely be devastating, no matter hat the result was.
However, he was not one to forget about his servants. Inside Yakuin, he widened his eyes, observing the link.
Go…
He told her, telling the deepest part of her, looking for the part of her that had long since put itself away for fear of coming back out in the world. Yakuin had what she needed… she merely needed to let it loose, to allow this Vizard to truly begin to experience the hell of the God of Destruction.
__________________
Believe nothing, no matter where you read it or who has said it, not even if I have said it, unless it agrees with your own reason and your own common sense.
- Buddha
Guest

Guest

Yakuin Iramasha, Angel Wife of Jashin
Better let sleeping dragons lie, lest fools seek a new way to die.
The girl was curious; as he was so engrossed in Justin, how fast could he shoot off those things in the mere seconds that it took her to connect, that was done during his attacks before hand, and then counter her own? It didn't matter, as a rush of energy went through her body; the Vizard had no idea who she was did he? Her lips curved into a smirk, knowing Justin was fine; he had two bodies left to go through, and even then, Yakuin had the capability of regenerating energy. But she felt an inborn hate towards this man. The hate transformed into powers, as she knew what Justin was thinking; she just had to enhance it. In fact.. she had a better idea, as she gathered raw energy; her power was on the same level as Justin, and thinking about this gap? It was no longer necessary, as the male's so called overwhelming force would have indeed hurt the former girl. But now? She was in a place far beyond that could be touched; her feet left the ground, due to how much power and energy she was channeling. ''Well, then bored? Bored? BORED?'' she asked, before a manic laugh left her lips; it's very self was rather insane, as she shook her head. ''Bored? I can't believe it!'' she said, before her face became serious; and her mind clicked. She knew how to go about this; even as the force of the beams hit into his shield, a single one was about only a single level of the strength he had placed. Rather, these beams were perhaps level #79 or so. But yet, nothing could withstand an assault of several without cost; it more likely cost a lot of energy to withstand that much power within quick successions.

''If that won't work..'' she muttered, even as he seemed to keep going; but she knew Justin had upgraded, so the pain that the male felt was given through the vizard's own body. And Yakuin could compound that, but she knew that the lord would become angry if it did; so she didn't do so. Pathetically, she didn't have many skills in which to brand out in; but she gained an idea, as a sync link left her body, and disapeared into the air. And then she had made a second connection; and this was a fun one, one she could use the entirety of Justin's devastating abilities, and the use focus of her energies with. To everyone around her, the girl lifting her hand did nothing; however to the battle field? It was different. The massive amounts of blood that had spluttered out everywhere, was now under Yakuin's control; the concept she had connected to? Blood. With a flick of her hand, the pools of blood not being used were suddenly moving, writhing, alive; and then it multiplied instantaneously, by reproducing itself at a high rate. How so? By draining on some of the massive amounts of energy that Yakuin had her disposal. With little warning, there were smears of blood pools, and now it was a blood tsunami. Another flick of her hand, and the blood spread out every which way; forming arrays such as earlier in conceivably every single surface for at least 2-3 miles, making a giant formation of seals. That meant that Stefan would now not be able to move freely, not without losing energy each time; due to Jashin's knowledge, now the battle was in their favour.

If he thought this was boring, she still had massive amounts of left over; with another flick, a blood tsunami, all shaped in arrays, started from the ground and surged to Stefan's location in a pillar, spinning. From there? Energy would try to force itself onto Stefan; he could accept or he could not accept it, as Yakuin's breath was a bit ragged. She hadn't banked on making a second connection, though it was worth it. It was a bit straining, but she focused her mind, not letting herself get off the task; there was no way this male would beat her, as the canon supported her. The wild fire in her eyes was something that should worry even Jashin; there was a wild fury that gaze, one he had seen the tip of once, when he had killed her family, and she in turn killed him. And that was a sour patch of memories for the both of them, but yet.. Yakuin knew that this man would either die, or run, from simply the tag team of attacks that were barraging him. The thing about these arrays that she had implemented? The blood was unnatural, and would regenerate itself, using her connection to the concept of blood, her energy and her healing techniques.

''Let's see you call that boring trash heap bastard.''
Permissions in this forum:
You
cannot
reply to topics in this forum