H
ohl
A
rquero
- Name:
Cero Tecla
- Titles:
Zero, Hohl Arquero
- Gender:
Male
- Appearance Age:
19
- Age:
19
- Affiliation/Rank:
Rouge
- Type:
Quincy-Arrancar
- Appearance Picture:
_________________________________
- Personality:
He is not himself/ Cero is not his own person, as he currently has most of his personality at the moment come from the apparent dominate soul within him, Zero. But there is Key's mind within him, having his little inputs on his personality in certain mindsets and emotions. He also gets a bit of advice in his mind, like whispers from a voice but it holds no emotion within him.
Key's Mind/ in moments of completely depression or anger, he will completely go calm as he gains the Mindset of key for the event before him. He will become much colder to people, although he can sound kinder in certain moments, this is just a play for his even colder motives. He will start to play games with people until he gets what he wants out of the situation and moves on. after dealing or running away from the tigger event, will he return to his Zero mindset. He is uncertain if he breaks the Zero mindset, will this one ever go away.
Zero's Mind/ His main personality and is listed below.
The Voice's Influence/ At moments in which a situation is similar to one Zero or Key has experienced, a voice will speak within his mind reminding him of things of the previous lifes, like if he comes across certain people, groups, or place. This voice may also offer him options to a situation that the other lifes would have taken, but he wants to break from this voice and find something outside of his given personality.
- Likes:
Cero likes people no matter who they are and it takes a lot get on his bad list unless one thing is involved, Hurting others and innocent. Cero also like to help other as said he has no stranger in his book. Another thing that Cero likes is peace and harmony. Music often calms him no matter what the kind is but he claims that the greatest music is one that is always in your head. Last but no least he likes people who will follow his way and join him in assistance to any task no matter the risk.
- Dislikes:
Violence and Hostility are two words that he hates but sometimes he has to act and do to stay alive and unharmed in this world. Even in Karakura there can always be danger awaiting around the corner. A rather weird thing about foods is that he doesn't like vegetables that are cooked and heated in anyway. But he keeps a garden of them for things like salad.
- Hates:
Cero hates a killer and a murderer but they are practically the same way. But in Cero's mind a murderer is person who kills defenseless people and a killer kills innocent people. Of the two he hates a killer more than a murderer because the person usually has a provoked cause to do so.But still it makes little to no exception to it. When Cero destroys a Hallow he feel that the hallow would of just been taken to hell anyway so it didn't make a difference. Also in his school he known as a kind person and protectors of others. Not one bully or jerk dare do anything hostile like in his presence. It just something about him that scares them of. Most likely it's just the thing was that a story goes around how Cero defeated a whole gang alone. It was semi-true but one thing the person who say didn't see was that Cero was shooting spiritual arrows at them only to subdue through.
- Loves:
Cero like a challenge because he tackles anything with confidence. Actually a challenge will motivate him to do better and a threat added to it just boosts him even more. Cero's favorite foods are stuff that simply easy and quick like PB and J sandwich. It seems that Cero also loves to be moving a lot since he was a small child. It may be a mental thing but one moment, he's listening to you talk in a garden and next he's looking at the flowers and smelling them.
- Brave:
Cero is not bothered by a terrifying enemy, it seems that Cero's dictionary has no definition for intimidation if you get the point. He has no very of darkness and pure silence. Actually Cero is stronger when it is like this because no one would be able to track his movements. It seems that nothing will stop from approaching a enemy a battle when you add this to his stubbornness. As this can be viewed in many ways as a strength or a weakness.
- Neutral:
Cero doesn't care to have all the attention and doesn't care about show offs who are trying to get his attention. Now that doesn't pay attention to certain things but those who are constantly trying to be popular he won't even stop to look at. Another thing that he doesn't care about really is Soul Society and Gotei 13. He is aware of the past but has no want in his heart to go attack them or affect his judgment of them.
- Fear:
Loss of a friend or ally. It can cause him a lot more pain than for usually especially if he could of done something to save them from death or what else happened to the other. It constantly plays in his head. As Cero and Haru fought Hollows on some shots he took with his bow he felt that Time would slow down and give him more time. Most of the time this happened when Haru was about to get hurt severely or killed.
- Strength:
Cero is a person who can get done from the start. usually if something is in Cero's advantage it stays that way. He is also known as a kind person and could easily be trusted by a neutral stranger. It seems like a gift he was given to him by the voice.
- Quirk:
While Cero can get things done right it's his stubbornness that ruins something a lot. Changes are not something he easily accepts right away like his lose of memory and killing of the one shinigami he fought. Also even through Cero know who's the enemy he believes that there is always a chance for them to be changed to the other side. Which is some cases can back fire on him for many reasons and effects.
Relationships/
Kindred: Cero has no family so it's unknown how he would act towards on but he considered Haru family but it's not the same exactly. To someone he loved he would embrace them in any problems and made sure they are always happy and show no sign of weakness, only strength. At first Cero might be shy because it is unknown to him what is like to love someone but he will eventually turn to being fully confident again. Many thing can affect how he might change as he discovers what it is like to be in relationship with someone.
Ally/Best Friend: Cero would act like a truly trust worth person and would accept nearly any secret from or problem they had. In this stage of a relationship with Cero you are somewhat considered his family since he doesn't really have a real one anymore at least. As any normal family member he will find peace by being around you and any activity you are doing at the time. You can ask him any favor and he will probably say yes 99.99% of the time.
Friend: Cero is considered a very friendly person and this level of knowing him and trust can be earned by meeting him a few times with good intentions. Once again favors can be asked but he might have things of more importance at the time. Such as school, his one job, and other friends and allies who also need him. It will seem nice to at least be a friend to Cero but sometimes you might worry about his stubbornness when he's in a conflict.
Acquaintance: This level of relationship is the easiest to get past as long as you are good in your heart and are not hostile to others unless needed. All explained and he will act friendly to them and might accept doing a favor if possible.
Neutral: There are no strangers in Cero's mind.
Rival: Cero would constantly be comparing himself to the person and due to his stubbornness it would stay like that for a long time. It might take a few months to even get a chance for the rival to get back to a more positive relationship with zero. Currently he has no rivals at the moment.
Enemy: Cero would want to know why this person is against him and never forget it. But a person is never fully at this level with him until he knows that trying to get them to his side is not possible. Against most of the people who are his enemies, he'll stop at all cost to end their own goals and show them what happens when you cross with someone's own dreams. A bully or criminal can easily end on this level by Cero just seeing them.
Nemesis: Seeing and knowing there is a grudge with this person might cloud what he is doing and might end of going to far against the person he has a grudge with. Something like this happened to him when he fought his first shinigami but in the end realized what he was doing.
Arch-Nemesis: This will be filled in when needed. No one is near this level and probably no one will reach it unless they kill one of his friends or something above that.
_________________________________
- Human Skills:
Basic Quincy Skills
Arrows:
Limit/ Cero can fire all of his arrows for a post with no assistance and each are as powerful as the last.
His limit per a post is noted as 5,000 if they all are noted at equal max power.
Power/ Each of these arrows can devesate the steel wall of a building and causing quite a bit of destruction.
- Arrancar Skills:
Ability to use Ceros
Sound Manipulation: Cero is capable of various uses of Sound, in which he may be increasing it, lowering it, enhancing it or enhancing himself with it. In such cases, he may increase or decrease sound to effect people's hearing and communication between people for basics. However, he can also increase sound and enhance it's vibrations to have shattering effects. As to say a normal punch from most, should crumble a building, but if the sound caused by the punch is enhanced and vibrates correctly through the structure, it should crumble easily. This can also be done on someone's body but with not as magnified effects as making them fall apart, but vibration can travel throughout their body and trigger nerves that weren't even touched by damage.
He may also use his sound manipulation at range and make it like a traveling wave or force of destruction as it fires out with enhanced vibration causing the air to travel and shatter or rip apart whatever it may come across in it's path. He may also use this in combination with his other abilities like his Sonido that produces sound on the spot and enhance his flash step to become even faster or even silent as he keeps it's sound output low, he may even be able to make it louder deafening his foes as he activates it in other cases.
Echos: Echos are a technique that Cero uses to make a afterimage replica of himself that in most cases have a mind of it's own, but is only an after image of himself. He can create the mainly from a sound reaction and it is very dependent on the amount of sound to it's overall strength and or amount that he can create. Although he can in his best conditions only produce about one hundred of these guys. They can use his sound abilities, and his basic abilities, but they may not access his abilities that are gained through Soul Unification or beyond. However he can still create them within those states.
These Echos have skills that are one step below Cero's own. (Grandmasters will equal masters in this case, making them advanced at best) They can only be present so long as sound is present regularly, so if someone were to be able to disrupt the sound flowing around them or in them, they would eventually disappear (After one post). Also The Echos can only last for a total of six posts individually. Although it isn't too draining to maintain them, he must maintain, them and as such, when they are present, Cero can only use his sound manipulation in maintaining them and creating them as such.
_________________________________
Powers and Abilities
Quincy based (Arrancar)
Arrancar Abilities:
Regeneration
Sonido
Arrancar Modification:
Cero has beyond Human Strength,Speed, and Durability for his body. In which case things thought to be impossible for the living body can be done and may surpass get to limits of any spiritual being.
Mask Appearance: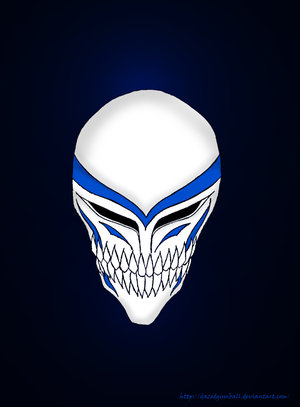 Zanpakutō Zanpakutō Name:
Sonar Bloquear (Sound Lock)
Zanpakutō Apperance:
Spoiler:
Zanpakutō Sealed Powers:
Sword Style/ Cero's style of fighting with a sword involves the drawing of the sword and going in for a quick burst of stabs. He barely ever uses slashes or swipes, when it comes to wielding his Zanpakutō. In the case of blocking he might quickly draw his Zanpakutō and push off a stab at him, or in the case of a slash, catch it before it connects by putting his blade upside down against it.
Sound Burst/ In some cases with his manipulation of sound and the air, Cero can half way draw his Zanpakutō and his energy forced through it will cause a wave in all direction pushing away from him at the speed of sound. This effect may only be activated once a post and in some cases is only seen as a stalling move. He can only activate a total of four times a thread. The sound wave loses it's push way effect after about thirty feet.
Click Swipe/ As the only time that Cero might use a swipe with his Zanpakutō, he will pull it out slightly creating a clicking noise. This is warning sign to a massive wave of sound energy that radiates around him to focus on his Zanpakutō and with a single swipe, unleashes a the energy on a focused spot. Although it isn't very far as a 15 ft. radius, but it's effects stand to push a being or a source of energy away from him by means of the air around the Zanpakutō vibrating outward at high speeds. Although this might deflect attacks like the cero, it will fail to keep back the destructive force of a gren rey cero, although it can very well weaken it. After this ability has been activated, he will have to wait one post before it can be performed again.
Draw Barrage/ Cero has utilized his manipulation of air to become an extension of his Zanpakutō, but he has utilized it so far to becoming like a spear with a handle. To describe it better though, would be a drill as the air swirls five feet away from his Zanpakutō tip. It is noted that he could deal this deadly weapon at about once every two seconds if rushing at an opponent, although, once every second if he is standing still. (This attack however severely stresses his arm after use and he won't be able to use his Zanpakutō for a post after it's use.)
Quick Draw/ With a natural talent of using his constant draw style, he has effectively mastered how to draw a blade in the quickest manner in many situations. Allowing him to be able to draw his Zanpakutō in a blocking position on a moment's notice and get it into position.
The Over-Arc (Second Motion): The Over-Arc is a expansion on Cero's Iaijutsu based, sword style, however as he has gone on with it. He has been trying to make use of not only as many strikes as he could within a small time frame, but he doesn't want any of his swings and energy to go to waste, so he developed, the Over-Arc with in addition his to Dues-ex modifications, to implement it over the time that he has had.
(The First Arc)/ Noted for how it is enacted, is through the triggering of Cero's Dues ex implants, which increase his overall capabilities even within his sealed state. The most noted characteristic of the first is the notice of Cero's Dues ex activating, and up until all of his normal strikes, would require Cero to re-sheath, to have his best capabilities, which in all honesty, he pretty much has done to perfect and hone his skill in that particular art. Using this, has pretty much become an extension of the first strike, allowing Cero to make drawn out strikes rather than a swift motion and return repeatedly.
Under the first arc, one could consider Cero's sword attacks to be very straight forward and clearly driven far more than normal, trading repetitive motion and multi-striking, for a clear, forceful sword blow. Under the first arc, Cero can't very easy alter the path of his sword from it's original position, making it a very committed attack on his enemy, the momentum that he builds into the first arc is not one easily lost or prevented by Cero himself, alone.
(The Second Arc)/ This more or less, is a counter action to the first arc, for the second arc allows one of two occurrences to take place, while Cero is using over-arc. The first use of the second arc, is to maneuver, without exhausting the entire point of the technique in the first place. Using the second arc in this method, allows Cero to weaken the over-arc, but he can bring the direction of it somewhat under his control. allowing him a slight change in on direction to the other. While in this, Cero can't make the arc do a complete 180, rather his change would typically be within a 90 degree turn. A turn that could turn a near miss, into a weaker hit in the right situation.
As for the second utilization of Over-Arc, Cero can drivve himself further into the arc, trying to not only drive himself to go faster and stronger under the arc, but pushing himself beyond the intentional mark of the arc. If the first arc was going was going across, he could trigger the second arc, using the boost to spin around in a boost for a complete 360 spin, where he can't change direction of his blade's angle. Using the technique in this method wagers a pay off in attempting multiple high powered swings with his Zanpakutō.
It isn't recommended of him to utilize the over-arc's second arc that often, in a serious situation he can only manage the Over-arc's second arc twice before it shut's down his dues ex implants and disables them for the remainder of the thread/fight that he is currently a part of at that time.
Echoing Reverberation: Cero's Echos are a wonderful utility that Cero has whole heartily, tried to incorporate into his fighting style as best as he could. Under this technique so long as sound is contained around Cero and it is within a 3 meter range of him, he can create and dismiss an "Echo" using very minimal efforts, for whatever task within that range that he might need of them. In most cases, this could range, too temporarily blocking an attack to making a timely counter attack, towards his foes.
Due to the prep and dedication to this technique that has gone into using this shortcut technique, Cero cannot make any clone within that range, stay formed, now if Cero were to dismiss the constant sound around him, he could revert to utilizing the normal echos around himself. This technique provides a new advantage to Cero onto the battlefield in a certain way, showing that he is growing closer to a specialization with his sword and melee combat.
Soul Unification Appearance:
No appearence change.
Soul Unification Abilities:
Hollow Limb/ When Cero enters his Soul Unification, a single arm will form around him from a gathering of energy in the enviorment. This arm is noted as massive as it can easily be noted as thirty feet long and twenty feet wide. This isn't the kicker though as the arm is noted to have a hand that doesn't contain fingers but a ten foot long blade that is the same width as the arm. this arm isn't easily destroyed as it can easily be recreated from the energy in the area around him. It can however take moments to recover if not in a spiritual world and has been hit by a spiritual attack beyond the basic cero. However in a spiritual world, the arm will quickly reform in end of his post no matter the attack that was used to destroy it.
This arm is controled by the movement of Cero's own arm that it forms to match. It will move around with as he does and will not leave a 15 feet limit of where he is standing at any moment. It is black and blue in color.
Hollow Scream/ In his first release, Cero can utilize the air in the area much further and faster as he can make massive waves of air movement in a single direction at the speed of sound. He may also focus these waves of air, to become 10 feet. spheres of air that break the sound barrier but not going at max one hundred mph over the sound barrier but are noted as the hollow scream for it's sonic boom as it breaks the barrier. He may utilize the massive wave only twice a post, however in the case of his spheres, he may launch about sevem of them each post with his energy reserves at best. The spheres are covered in a aura of black and blue making them noticeable to the eye.
Soul Scar/ Swinging around with his open arm can also be a dangerous motion as his arm creates wave of energy that can be utilized like his arrows. These waves are at max seven feet in length and are equal to about five of his arrows, but cost as much as twenty-five of them.
Sound Delay/ To disrupt any form of communication, all sound waves, may they be physically, though energy, or mentally, can be delayed by a post and and will probably cause severe confusion among planned enemies that are using voices and any form of noise to communicate. This only goes into effect though for enemies that are within a 200 ft. distaance of him. However if a 0 tier they won't be effected by this physically or mentally until 50 ft., and those on a equal or higher tier are not effected. This ability may also be used in his Soul Expansion.
Silence of All/ Utilizing his energy to surrond the area, Cero silences everything with a 700 ft. distance of him completely, one could only hear themself think within this area unless they are of equal or higher tier or a skill in manipulation of sound. Within this area though one can easily sense out Cero's location and sneak around if they can hide their pressence. This Silence can only last a max of seven posts within a thread. This ability may also be used within his Soul Expansion.
Soul Expansion Appearance:
No appearence change
Soul Expansion Abilities:
Hollow Body/ Much similar to his previous, hollow limb, Cero creates the moment that he enters Soul Expansion a entire being of energy that is a massive 35 feet tall and about 50 feet wide, not including two arms similar in size to the limbs from before. These limbs how ever can change between regular hands or becoming two swords. The being is black and blue in color from Cero's natural energy colors. Destroying this being is nearly impossible with energy but it can no longer protect Zero from attacks as, it enters a realm that is of a different energy. However, it can still be blocked by conventional weapons that are both spiritual and nonspiritual. and by a chance you come across a normal explosive, you might just blow the thing to kingdom come. it can also be cut at it's limbs by a Zanpakutō or such and such weapon in any state as well, as long as the actual blade is cutting it. This being can only be substained for a max of ten posts and will then fade, no matter Cero's current energy or physical state.
This being is also a reflection of Cero's body, so dealing any damage will also inflict damage on it. In a sense, by cutting of Cero's arm, this things arm would also come off. If Cero permantly lost his arm, the thing thing would never gain a arm back as well. this being is controled by the motion of Cero and follows behind him by only a foot or two.
If you want a good picture of what this thing looks like in a nutshell click the link in the spoiler or simply type in susanoo in google images, you'll get the picture one way or another. XD
Spoiler:
Soul Howl/ Coming from his hollow being, a massive sphere of air can be shot out mutiple times in a post, totaling to ten. They travel at just a little under Mach 2 speeds breaking the sound barrier with each firing. It can be noted that these spheres lose their massive effect quickly though as they will go under Mach 1 speeds after only 300 hundred meters and completely stop and vanish after 500 meters.
From his own hands, he can create minature spheres that have the same speed of the much bigger ones, he can create about twenty of these ones. If he were to use both at once, two of the smaller ones equal a bigger one and hey may not even shoot a extra smaller one after reaching ten total.
These spheres are shown by a blue and black energy that surronds them.
Avatar Arrow/ Cero can create a bow within his being's hands and may fire massive arrows that are equal to power to 50 of his but require about 250 in being created, but may cause massive damage to any spirit or enviorment in which they hit.
Sacrifical Defense/ To release himself of an infection, sickness, or disease spread by hitting him or injecting. Cero may have his hollow being lose it's limbs and as such it wil remove the limb that he had been infected on immeaditely since his body and the being are tied together. There is no limit to this move but takes the process over a post to preform.
Seperate Enviorment/ Zero may use his energy of his being and create a seperation of space within an area surronding a fifty feet area from where he is standing. This can be used to seperate the effect of one change in an area to another. However if the creator of the effect is within a one hundred foot range of him upon the effect, they may bypass this completely or lower the area to thirty feet.
Creation of Another/ (Social Power or NPCs only) If Zero encounters another quincy that has had a hollow or arrancar sealed within them, then he may assist in the process and covert them into a Hohl Arquero. He may also assist a hollow or arrancar take over quincy soul with complete success with no chance of failure.
Energy Sight/ with a form of enhanced sight, Cero can see all the energy flowing around him, he may notice demonic influence of an area, manipulation of an element before him, or the gathering of one's energy. He cannot measure the amount of energy present in one area but he can tell by signs of color of person' energy radiating around them to match energy in the area with them. By no means, can Cero manipulate with the energy that he sees by any extra means that what he could do without the sight.
Spirit Domain Appearance:
Zero takes Cero's orginal appearence.
Key:
Can't be used until this app has existed for at least three months in real time.
Spirit Domain Abilities:
Zero:

Final/

Hierro/

Key/The Voice:

Sound Manipulation/

Zanpakutō/

Regeneration/

_________________________________

Final Domain Release Apperance: Look for appearence of Spirit Domain.

Final Domain Release Abiliites:

Zero & Key:

Final & Seguda Etapa/

Cero Barrage/

Transfer/

Power Transfer/

Obliteration/
_________________________________
[b]- Background: Note: Before the current Year, Cero use to go by Zero and was a Quincy Ziamachi.
https://www.platinumhearts.net/t2915-zero-approved-0-3
Childhood (Birth-Age 5): Zero was Born on January 5th 2395 but it is unknown who his parents are or there names because of his further history. It seems that Zero isn't even his real name either but that is to be explained later as well. He had a good childhood through at this time. It was a normal single child family. His father was executive of a world wide company and his mother stayed home with him. Everything was so great at the time for them all but at 5, his parents went on a trip and he was to stay with a sitter. But it seemed that the sitter never showed up and the parents couldn't be called. When the Parents left leaving their child in a servant's watch it didn't get much better. It seemed this servant wasn't good at watching because Zero left and began to wonder the streets. During this time his parents went mission on there trip and were never seen again. The same was expected of Zero when they discovered he was gone as well.
Zero wandered the streets for a week until he meet another kid that called himself Haru and seemed to appear at the age of 7 but could be older. Eventually these to became great friends and would have some fun adventures across Central. But it was as Zero was about the to turn 6 that they faced there greatest threat which was called a blizzard. Even through they could find money for food and some cloths they couldn't seem to find good enough shelter. As they continued 3 days in the storm they came across a helpful man. He brought them to his home and said they were welcome to stay if they could help him with a few thing over the time. Ends up that this man would be worser than standing in the blizzard. Not only was this person a Scientist but a Arrancar scientist and he could see the potential in the two of them.
Early-Teenage (Age 6-11): As time went on it became a sort of bond between the three. It started as a ordinary thing where they would go out and do jobs for him and he would teach them and let them stay. But one day they crossed path with what was known to them as a hollow. It seemed that his friend Haru had special powers but it seemed they took over during contact with it. (this happened during spring when he was six.)
The creature through had knocked Haru away in a attempt to get to just Zero. But in a instant the man who gave them a home rush out of no where and cut the hollow in have with a sword that he hadn't seen before. After the creature was dead he came over to me and told me to help Haru to get home. The next day the Arrancar talked to both of them separately and together. In his talk with Zero he told him about the creature and what it was. Then he told him if he wanted powers like his friend and he answered yes.[/b]
During the night he look through both of there family trees through DNA and found Quincy heritage in Zero. So the next few days he tried to get him to understand how reiatsu works and how to control it from a Quinces way. By and of fall Zero could finally form his bow and fire a single arrow a day. But eventully this was all he really did training wise through fall and winter. but on first day of spring the Arrancar told him to fire five at a tree. with the constant one shot use Zero had grown his accuracy and limit a lot over that time. After training them both of them for the next year to there limits that they could be considered power of most experienced members of the Gotei but not yet at the seated level.
There arr-ins changed to tasks to take down hollows and demons on outskirts of Karakura Central. Also did they change as well. Both of them had changed over the two years from children playing around the city to Hunters for Hollows and demons. Then at the end of the final year they were told to hunt down a shinigami and when they found him he was relatively weak. As they engaged in combat it was about to end very quickly with two against one but neither felt that it was right to kill him. seeing this the arrancar steps in and deals the finishing blow on the Shinigami.
The reason that Zero and Haru had attacked the Shinigami because of how the arrancar explained it to them. The Hollows and Shinigami have been fighting for a long time for victory but neithier is fighting for good and the arrancar said the mix of the two called Arrancar were the ones searching for peace but to defeat a enemy force must be used. With the whole shinigami problem solved everything reverted to normal but as Zero turned then the Arrancar decided to let them roam for al little bit since they were capible of taking care of themselves with Haru's ziamachi powers and the many techquies that Zero has learned as well. He gave them enough money to last them food and shelter for two years. Anything else they needed they would have to get on there own.
As it turned out there were bounties on demons and hollows and Haru and Zero took a shot at each of them and got tons of money. As they continued this way it was how Zero got his first name because every time Haru gave him money he'd come back with zero left. Originally he was called Quincy by the Arrancar and friend and buddy by Haru. But this struck to him and suited him well. It seemed by the end of this journey that zero was twelve and Haru was 14. Even without the Arrancar they still learned at the required rate would be as smart as the average for there age.
But something bad happened to Zero over this time, he became rebellious and the Arrancar didn't like that at all.
Mid-Teenage (Age 12-Present): Zero continued to rebel being taught and being told what to do by the Arrancar and this is when the three of them began to split apart. It was in the next month that the Arrancar had created his solution. By creating a ziamachi spirit for Zero so that it would lesson to him. By taking apart of himself and creating a ziamachi called the voice was it possible. As the voice lay inside of Zero it began to take over and change him from rebellious to obident and unquestioning. Haru took notice to this two and could tell that something was wrong over the year that went by. Haru was 15 and Zero was 13 when the plan to kill the arrancar began. First by using his Ziamachi's abilities was he able to assist Zero in taking back his body.
The next day they were up earlier than the Arrancar an surprised him as he went to actually wake them up. Quickly the battle was ended and it was there victory over him. They quickly killed him and burned the home they lived in after taking multiple things with them that they knew were useful. But little did they know a small piece of the Arrancar named Key inside of Zero named the voice.
Now as Zero turned 14 the voice came out of it's dormant state and took over Zero for a short time but long enough to get him away from Haru and to erase his memories. But after two years of zero looking for his memories and Haru's search for them were they reunited again. Also during this two years of searching there skills had to be lost and regained so they both must go through training again to reach what they were once were two years ago. But Zero some what used his powers during the time of memory loss so was closest to returning to normal but the Yayjuu would help speed up the process for Haru. After so Zero and Haru joined a group for there kind called the Yayjuu which welcomed them kindly. So now Zero is 16 and live in a single room apartment and goes to the nearest public school to it.
Last Year/ In the latest year, Zero had fought a Shinigami ziamachi and demons to protect his school, both of which were very successful in the end. However when came New Years, Zero went on to fight Mana, the Demon Queen of Shadow Fall. during this time he became what is now known as Cero.
_________________________________
- Durability:
Advanced
- General Speed:
Master
- Strength:
Advanced
- Weapon Skill:
Master
- Archery:
Advanced
- Hirenkyaku:
Master
- Reishi Absorption and Manipulation:
Master
- Tool Usages:
Advanced
Perquisa: Advanced

Sonido: Advanced

Cero/Bala: Master

Regeneration:Master