Sun Apr 14, 2013 12:30 pm


Everyone needed a place that they could call their own. A place where disturbance would hopefully be kept to a minimum. For a child, an imagination could stretch far – A plain area of nothingness could be seen as a kingdom to them because they simply didn't want to accept the fact that the world really was dull, They didn't want to grow up. Rin was exactly just like one of those children, he had only recently learned about his demon heritage and although he had learned what seemed to be a huge novel to him, it had only been just a fraction and already it was more than enough than he wanted to hear. Of all the recent events that had happened, it had only made him confused. He knew his mother had died shortly after his birth and the only other relatives on his mothers' side also died after looking after the boy for a few years. But he would never see Satan as his father, not ever. Just a small part of him hoped for more though, more relatives or something that could actually tell him things that Shirou and Shura couldn't or wouldn't. But would knowing more actually help him or just make him more unhappy with everything?

After being a street kid for a good amount of years, he had known Karakura almost from the back of his hand. Although that hadn't changed the fact that it was still a very busy and possibly dangerous place to be if someone were to roam into the wrong places at the wrong time. But other than that, Rin appreciated where he lived now and had only recently been able to go to Downtown Karakura at noon to do the weekly shopping for Shirou. It gave him a little more freedom to be able to explore the stores and such despite the trouble he had gotten himself into numerous amounts of times. Nevertheless, It was nice to see so many people smiling and being social with one another. Even if the boy was quite lonely, just seeing others in a state of happiness was more than enough to make him content at times.

But Recently, Karakura had been of some annoyance to the boy. He loved the place for his lived in the depths of Karakura Forest with his brother, Shirou Emiya but for someone like him – He couldn't do much other than explore Downtown Karakura. He wanted more than that, friends, a school-life, possibly even an adventure. After his possession of Kurikara, a sword that some random stranger whom soon grew to be the same woman who was slowly teaching him how to wield and fight with a blade, it had only meant that he had to be somewhat isolated. He longed to join Karakura High School but it was hard for someone with little to no control over his powers and he couldn't exactly go roaming around a school with a sword tied to his back. The further he grew from Kurikara, the weaker he got.

Although, that was exactly the reason why the boy had walked off to random places secretly recently. He was sick of the isolation and had only longed for someone else to talk to. Even if he were soon to be caught by Shirou some-time soon, he could at least make the moments like this last. He wanted someone else whom may of also felt his pain in the past or present. Okumura wouldn't ever have the guts to go past a certain distance after reaching these outskirts, he knew unwelcome things bay lurk out here somewhere. He wanted to stay at least just a stretch away from Karakura so he knew he could return in case of any trouble. The only thing that was possibly keeping the boy from sinking in to depression was possibly the fact that the nights like these today were actually clear and filled with fresh breezes.

He found himself unfortunately standing out a lot but dark nights like these allowed for him to blend in at least, his dark-blue coloured hair and attire almost camouflaged him within the high branches of the tall trees he sat upon. The only thing that had been a pain in the past was the way that his sword emitted it's blue rays, even when sheathed but that was a problem that had been fixed with the help of a dark-red coloured silk that also helped lay Kurikara supporting on the boy's back.

Rin looked over to the horizon where the moon shone it's brightest. It must of just gone a few minutes past midnight. The hundreds of stars above him shone individually whilst the only current sounds that could be heard were the sounds of the soft wind making its way towards Karakura and almost inaudible distant cars driving at a steady pace, probably people that were on their way home from work. It was always ten times more peaceful at nights than it were at mornings but that said, both were soothing, whether it be the birds singing at the crack of dawn or just the silence that people used to reflect on the day that had just passed at nights.

"What do I do now…?" Rin whispered to himself, taking Kurikara from his back and placing the sword on his lap with a frown embracing his face. Why did he need to be in possession of this sword? Why did he need to train exactly? Many questions were still left unanswered, He had only hoped for a normal life since his times as a street kid and even this felt far from normal. He didn't want to accept whom he was and possibly never would. He was a half-demon yet he would never be able to bring himself to dirty his hands or his blade with the blood of another beings. He wouldn't be able to kill even if his life depended on it. For now, he simply just wanted to watch the night fly by quietly whilst he slowly began falling asleep into his own dreamworld.


__________________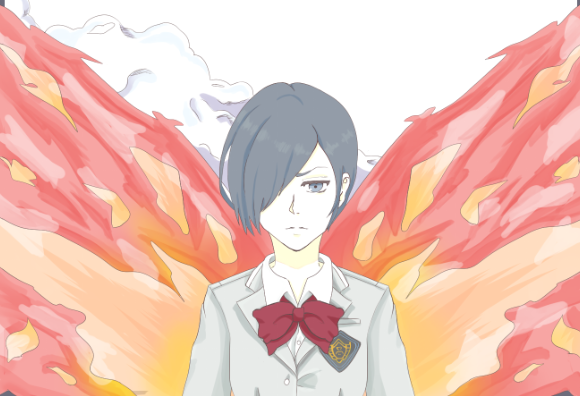 Hon Hon Baguette.
Teitoku

Blackblood


Joined

: 2011-02-25


Posts

: 2112


Age

: 26


Location

: Nowhere

Member Info


Platinum Points

:


(0/0)




Tiers

:


Night time.

The time of day that was the most thrilling, yet at the same time; the most silent. It was a weird sensation how that worked, night time had two extremes, never balancing somewhere in the middle like day time does. Night time was always either loud, with flashing lights, or dark, with the cool breeze and the trees rattling above you. That is exactly what was happening; high up above the Outskirts of Karakura, the trees were rattling, shaking softly in the breeze that slowly embraced the city. A man cloaked in a red overcoat, orange glasses and a large red hat walked among these trees, the sky bright and clear that night. As the cool whip had continued over the general vicinity, the man had placed his hands softly into the pockets of his overcoat, his black boots stomping loudly into the leaves, each step emitting a crunching noise as he remained silent. The figure kept his head down, focusing on the ground before him - rarely ever looking up when he went for walks. As he continued walking, he lifted his head up briefly, revealing his face. The man was Alucard Iramasha, a member of the Demon Iramasha family. Alucard was notorious for these walks - walking through the trees, the forests; being consumed in by the darkness that surrounded him. Whenever he left Iramasha island, it wasn't to see anyone, or even to gather supplies; it was to do things like this. To release his mind, to enjoy walks around the town and through the woods. For a man disturbed by horrible thoughts deep down, for a man drowned in his own pity, hid behind his egotistical, narcissistic attitude, it was bliss.

There was many reasons for the demon Iramasha to be out of his home, yet none of them seemed important enough to take action on. It was no lie that he didn't leave his family, his fellow Iramasha, very often because he was a weird man; haunted by ghosts and his past. He was a man who was in dire search of freedom - yet no way to make it so. He continued to walk, the crunches from the leaves crunching between his boot and the floor getting louder and louder as he went. Alucard has just returned from his time away from everyone, he had left for a while... left everything behind. And perhaps with good reason, after all, all the world seemed to be filled with was anger and destruction. For a tortured soul, for a person as deeply traumatized as Alucard, that wasn't healthy. So why come back? Perhaps it was his violent, powerful anger. Or something as simple as wanting to help out his own family, to help out his 'friends' in the upcoming events in the world. He did not know what was going to happen but he was back; and nobody could change that. At least not for a while. After a while of simply wondering through the outskirts of Karakura, he stopped. Sniffing the air, he looked up, noticing a man slightly camouflaged in his own clothes and hair. As Alucard stood there, he lowered his head from looking up and simply lent against a tree slightly, raising his leg to it.

"You take life as it comes, that's what you do."

A smirk crossed the face of Dracula as he said this. The first line he had ever said to Rin, from a complete stranger, may have been weird - or even creepy but such things did not bother Alucard in this way. He thought back to his brother, back to his nephew's, Auzre, Katashi and Koichi. He smirked at this, he thoughts about them in a way of being reminiscent. From his year of being gone, his year of disappearing from the knowledge and time of anyone, Alucard hadn't once contacted them. While he knew they would all be fine, he remained worried for him - like a father who was over-protective of his sons or daughters. He was like a father to all of his family members, yet he had left them for years at a time. Some father-figure Alucard turned out to be.

"So, Rin Okumura wonders alone in the Outskirts of Karakura. That can't be very safe for a young child such as yourself."

Once he finished his sentence, he looked up, taking off his hat and throwing it to the ground, followed by taking off his orange tinted glasses, placing them softly onto the top of his hat, creasing the hat as the glasses landed on it. Rin Okumura... He hadn't expected to see such person here, at this time period. After all, he was such a young, naive kid who had barely known anything about his heritage, who his true family was. Alucard wondered, stopping to think before he continued to say anything to the child that was above him in the trees.

I do wonder... does he know? Does he know who he truly is? Alucard wondered this to himself. It was such a major thing in a young mans life, he wasn't sure whether it was the right decision to tell him, or let him believe whatever he wanted to believe. But none the less, the demon-Iramasha ultimately didn't care. To people who didn't know Alucard, it may have seemed weird for him to know so much about people - to know their names and such like it was in his own head. To Rin, whom he had never officially met, it may have seemed weird. Most people were confused my his way of behaving, if not creeped out by it a bit. So he avoided people, he avoided contact with most people -including his family at times. His eyes remained on Rin as he awaited a reply from the boy, hopefully not running away or getting scared by the sudden appearance of Alucard. Alucard had no intention of hurting Rin, no intention of a fight or anything of that kind. Yet, he was worried. It was a weird sensation, yet he felt it.

"The world's not a safe place for someone so young to be wondering alone. There are people like me out here at this time."



How peaceful it was. These nights were missed greatly when the harsh winter season would fast approach Karakura but now that those horrid bitter-frosted nights had disappeared, that only left for the spring and summer nights to approach. Ones where most would camp out with their friends, or participate in some late-night shopping down in some of the markets. Rin wasn't exactly scared of the dark any longer, maybe it was the fact that he had learn trust, the ability to credit rely on the three people that were important to him at this moment of time, the ones who had saved him from his near-death experience of his life as a street kid which had always kept him thinking. Sometimes, the memories or thoughts prevented him from sleeping, he had always contemplated the fact that there may just be other demons out there he was unaware of. Perhaps the world really wasn't a big a place as Rin had previously thought of.

Whilst slowly falling in to a state of sleep, a soft breeze flew past him whilst his nose twitched slightly. He was unaware that his ability of smell had increased since recently and whilst it may still be slightly blurred, currently he had noticed another presence of someone else. His dark blue eyes opened slightly, almost similar to a new-born seeing the world for the first time.

"You take life as it comes, that's what you do."


A sudden voice came out from no-where, someone else was camouflaged within the darkness? The boy jumped slightly from the thick branch he layed upon, almost losing his balance for a second. His eyes quickly looked around to where the voice came from. Was this a person to fear? He had hardly spoken to anyone other than those back at home so saying the wrong thing was always of concern to the boy. He didn't exactly know how to fight in case something happened and he wasn't much of a defender for himself, he had only really learnt how to hold his blade properly now which he assumed was better than nothing. But even so, he was pretty sure that if it was anyone with an intention to wound or kill Rin, they would of done it now at least.

You take life as it comes? After coming to his senses and growing fully alert, washing out his wants for a nap, he finally realized what the man had said was in fact a reply to what seemed like a rhetorical question to the boy but perhaps that question really was needed for an answer and a good one it was. Rin had been so stuck up in thinking of the future he hadn't really thought about taking everything that should happen in the present as it traveled. There was no use hasting things up, sure he may be impatient and no one could stop that but he had to focus on the present. Which at the current time was finding out who exactly this new person was.

"So, Rin Okumura wonders alone in the Outskirts of Karakura. That can't be very safe for a young child such as yourself."


Rin quickly stood up, narrowing his eyes softly to focus more, holding Kurikara in one hand he opened his mouth slightly, no words coming out for a few seconds.

"I can look after myself…"


Of course this may not be fully true, he had grown up a lot by his own but the boy wasn't exactly aware of the kind of trouble he may bump into from now on. He noticed a small figure somewhat close, was this the mysterious man? It was hard seeing his appearance and his attire with the way it blended so smoothly within the darkness, almost making him seem like a shadowy figure which added even more mystery to him. Who exactly was this man and another question that had possibly spooked and shocked Rin even more…

"H..How do you know my name?"


Although Rin wasn't exactly the type to go around giving his name out, he was pretty sure he had never been in contact with such a man as the one just feet away from him so how would he know it, that and how much DID he know? Rin slowly watched the man's hat fall to the ground without any damage caused upon that or his glasses before his gaze averted back up to the figure. He indeed was a naive boy and he was aware of this, if someone were to mention other names even the well-known Ketsu then the boy would be completely clueless. Maybe Shirou had chosen not to tell Rin about such people just yet in order to protect him, he knew that from what Shura had told him, fighting will be inevitable in the future for him so he had could only train from then on. But being the kid he was, it hadn't ceased to spark his curiousity even more, he was only aware of the Shinigami and Sugiura but he still felt some sort of feeling that there was a whole lot more than that out there and yet he hadn't even stopped to think the man he had stumbled upon this long night was just that.

"The world's not a safe place for someone so young to be wondering alone. There are people like me out here at this time."


People like him? The boy was indeed aware of the danger within the area and had to be alert at all times after all.

"If you intended to hurt me. You would of done so already. I'm not scared…"


Rin kept his balance upon the branch, keeping his sights set upon the figure, was he really not scared? Possibly not. He was only young so he still had a lot to learn about whether or not he was trusting the right people but perhaps that was all about taking risks, right?

"Who are you…T..Tell me how you know my name…I've never met you before…"

__________________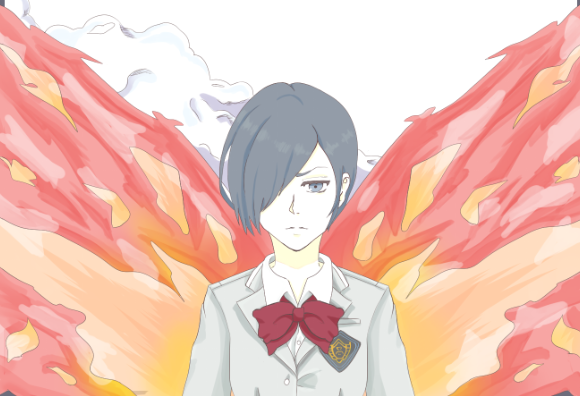 Hon Hon Baguette.
Teitoku

Blackblood


Joined

: 2011-02-25


Posts

: 2112


Age

: 26


Location

: Nowhere

Member Info


Platinum Points

:


(0/0)




Tiers

:
Tue Apr 16, 2013 10:02 am


It became cold as the night progressed, the cool breeze picking up and not showing any sign of it stopping anytime soon. Although the sky was clear, a smell of wetness remained in the air, the sort of smell that lingers around in a piece of land just after the rain had come and gone. It was a nice smell, a calming smell, and perhaps something weird for someone such as Alucard to enjoy. But as time progressed through the entire world, he found more peace in the land of the living than in any other dimension - be it Soul Society, Hueco Mundo or even K-world. He didn't get out so much, but even when he did, it was to come to places like this. He remembered as a little child, he always used to come out here by himself, even from the age of twelve and onward, he'd come out to places like this and escape from his everyday life into this sort of evangelical, clear and calm forests that surrounded much of the living world. The Demon Iramasha turned his head, returning his gaze to his feet before a cigarette appearing out of no where, lifting up from his pocket and flying into his mouth, already alight. He smirked and kept the smoke hanging out of his mouth - remaining focused on Rin's reaction to his sudden talking. Each time he looked up, he noticed Rin sort of agitated it seemed, sort of hesitant as he spoke. A smirk crossed his mouth, smoke erupting at the same time. Dracula's dark, black hair blew in the breeze as it whipped over and through the trees, wildly.

"Don't be so sure. I know many things about everyone, my knowledge of you seems limited, though."

He looked up again, returning his gaze to Rin high up in the trees. Despite his outfit being a dark red, he still blended in rather well with the darkness that shrouded the trees in the Outskirts of Karakura. Alucard wasn't a person to really care for people like Rin, he didn't care whether his family was out here or not. Though, for some reason he took interest. The reasoning? Even that was oblivious to the man, something about the kid that was sat high up above him was enthralling him into taking interest. Something about being back in Karakura, something about being back into the world where people could recognise his existence... it made him feel wanted, in a way. Something Alucard had never felt in his life, every moment of his life he was used to be under appreciated in everything he did; although he continued on with it. Didn't attempt to please anyone, get people to notice him unless it was for absolute fear. Why? Because in Alucard's twisted mentality, everything you did for people was thrown in your face. Or, they'd try to kill you in the end. No matter what he did, he trusted nobody. He hadn't wanted to shut himself off - but he did. And now, it was all he knew.

The darkness that shrouded the two of the people calmly sitting alone in the forest was not something that could likely be picked up by outsiders. In most cases, they were hiding their reiatsu from anyone around - even if they were very close in proximity. Alucard had hid his reiatsu completely from everyone, so it wouldn't attract any powerful attention. As Rin still sat up in the tree calmly, Alucard placed a foot forward before twisting his body into shadows, the darkness reaching out and grasping onto the tree and grabbing onto the branches with a claw like hand. Within seconds, Alucard had appeared behind Rin, floating in the air, his face solidifying out of the smoke, leaning in close and coming right up to the child's ear, softly whispering;

"If I wanted to hurt you? I'd make you suffer in the worst way possible."

As his face solidified and said this, his voice would remain deep and menacing, while a large flow of hair covered his left eye, still waving as the wind blew in the breeze. After this, his face would simply fade back into the darkness and manifest itself beside Rin on the branch, solidifying into Alucard's normal appearance, his red overcoat and all. On the branch, it would manifest so he was sitting beside Rin - his darkness clawing itself back into his body. The Demon Iramasha looked straight forwards, the lights in the distance, then shifting his eyes up to the clouds above them before turning his head to Rin, his red crimson eyes glowing in the moon light in a menacing fashion.

"Who am I? I am everything and everything. The very darkness that holds your body at night, the very air you breathe. Every movement, every second of your life - that's who i am."

His voice paused for a moment, returning from looking at Rin to straight ahead and into the night sky.

"Alucard Iramasha. And luckily for you, I don't have an appetite for young kids tonight."

There was many things that Alucard could have done to this kid, he could have kidnapped him, tortured him for fun. Eaten him, wrapped his sharp canines around the kids neck and simply sucking the blood right out within a moments notice. But why? There was an underlining factor that echoed in his mind, yet he didn't know whether or not it was a good idea for him to express it. So he waited, he waited until he learnt more about Rin Okumura before finding a way to sink his teeth into the delicious information that he had simply held behind his tongue. The dark man wasn't sure if he even knew about most people in the world, he wondered if he even knew all of his family. To fill in the gaps would definitely be entertaining, and perhaps even crushing for Rin to learn all of this information. Something that could definitely be fun.



Even though the recent days had proven to be full of a summer-like nature, the night temperatures were still at a cold peek around this time. It was more or less that the wind actually welcomed everyone with a bitter greeting, numbing people's fingers and ears. So it was defiantly still the occasion to wrap up warm or to at least not go around wearing very little that was of course if someone wasn't used to such weather. Although Rin could use his flames to warm him up, he didn't really want to abuse his powers like that, perhaps it was the fact he was scared about setting everything around him alight but Shura had also told him to try his hardest to not unsheathe Kurikara or use his flames without her consent and guidance. It had rained recently and even though it had been a mild day, it was still sort of…refreshing. Even the fact that sitting up so high from the ground and being able to see Karakura's dazzling light display from afar was even more than enough to give off a magical feel. It made the boy think about the every single person that lived here, they were all important to him even though he may not know every single one of them. They were all similar to everyone; they all had a daily routine and a goal they were working 200% towards. Such a thing like death may indeed be inevitable for most but Rin hadn't ever wanted to think about that, not now at least. He didn't want to think about the same fate he shared with others, he simply wanted to take the man's advice and take life as it came to him from now on.
Since Rin may not be all that clever, he was still able to take into consideration about the weather which led on to him bringing a hooded jumper to at least provide protection from the cold to his arms. The crunching sounds of the leaves attached softly to the branches above were heard rattling with every time the wind blew at different paces, every now and then the crispy green and orange coloured leaves would fall off from the harsh force. Although, this was a sign. New leaves were growing, new life was being welcomed. The boy could hardly make out what the figure in front of him was; the dark night had given him this disadvantage whilst the light smell of smoke was picked up by the boy, a cigarette that had somehow already been alight. Making Rin have a small second spark of hope that someone else may also share the same power as he did. Although it was somewhat hard for the scent to stay with the breezes that seemed to be picking up every few minutes. He knew that the man would be of no threat but that was only because he wanted to believe that. If only life was as easy as that, being able to take everything and able to to trust everyone in return, no fighting or wars but everyone should have at least some knowledge that such a world would never exist. All people could do now was watch each other's back or in some unlucky cases, watch their own. Perhaps the reason for Rin being so curious about the figure in front of him and wanting to know more was in fact that he was indeed lonely and had only wanted someone to become friends with, he even had the urge to ask for a friendship at one point but perhaps this man was someone that should be the type that most would want to stay away from.

"Don't be so sure. I know many things about everyone; my knowledge of you seems limited, though."

Rin questioned quietly at this, he was aware of the fact that his brother had known a lot of things but he had never met someone whom had a knowledge over everyone. Had this man met every person or did some sort of information broker provide him the information? Those were the only two possibilities Rin could think about due to his own knowledge not being that wide. That being said, it still did confuse Rin as to why exactly the man didn't know much about him. Then again, he wasn't quite sure if he wanted someone he had never met before to know more things about him than he knew himself or quite the opposite. He wanted to know just how many people knew about his background and who exactly he was, he had only hoped it had been Shura and Shirou but he was told otherwise by them. The thought of one day walking down a road in Downtown Karakura and being shunned by individuals was one of the boy's greatest nightmare. Although Rin hadn't any clue what Reiatsu really was, he still noticed that at times he could feel some sort of presence emitting from most. Shirou's was more of a welcoming one, one that allowed another to feel like they were wanted, that there was no harm to be done. Whenever Rin was around Shirou, he felt like he was able to accomplish most. But with this person it was cloudy, dark, dull, words Rin couldn't even summarize. It felt completely different to the presence he felt from Shirou, it felt unwelcoming.

So why? Why hadn't Rin ran off now, any person in their right mind would have done so but Rin had almost felt like he was paralyzed, similar to a fly being trapped within the depths of a web of a spider. Even if Rin could move, how would he find his way? He felt as if he was unmatched but by how match was unknown to the boy. He had no idea how strong this person truly was and he wasn't the type of person to pick a fight with a random stranger neither and had no intention of doing so. Now at second look, the darkness around them also was a thing that seemed unwelcoming, almost scaring the boys, making him slowly get lost in the surroundings around him and giving him a new fear.
Just a few seconds after a small silence, Rin not knowing what to do nor say. The figure moved forwards by a foot and soon shockingly to the boy disappeared, a claw appearing out of no-where whilst making Rin question to himself that maybe the person he had stumbled upon the night hadn't actually been whom he thought he was. He wasn't Human, Rin knew that for an obvious fact…so what exactly was he? His eyes were locked on the tree that the man had been on, only now taking acknowledge that he wasn't there anymore. A cold shiver overcame him suddenly whilst he felt trapped in some nightmare of his own.

"If I wanted to hurt you? I'd make you suffer in the worst way possible."

A quick solid breath was heard from Okumura that he couldn't help from doing, why couldn't he turn around? Why was he so scared? Even though Rin indeed didn't like thinking about death, it was one thing he had in common with others, he feared it. He didn't want to die nor suffer a long and painful death and it seemed that the man really had no remorse whatsoever. Rin's body automatically refrained itself from not blinking, it felt petrified in case the fact that if he were to close his eyes for that split millisecond and open them, he would see worse. His fear of the darkness and only just sunken in slowly through Rin's head, the freedom that he felt just a few moments ago hadn't been so free now. Inhaling deeply, Rin opened his mouth to speak, his lips and whole body soon shaking for a moment…but not from the coldness around them now. When finally building up enough courage, the boy looked behind his shoulder quickly, his fists clenched hard whilst his nails dug into the very depths of his skin. But nothing, nothing was there at all, he didn't want to believe he had imagined that. He knew it happened. Rin brought one foot behind him by a few inches, careful to not fall from the tree whilst he contemplated on trying to run away but just the last few movements of his muscle had taken more than enough courage than Rin had at the time. He had now regretted being so high up now, access to the ground would have been a much easier way to escape in case of something like this. When the boy looked forward, he soon noticed the figure besides him, making the boy flinch from his skin. Now the mystery was just a little bit more clearer as to whom this man was. Had the darkness that Rin felt emitting from something been all his doing? Was the power gap between the two really that huge? Rin couldn't even think about lifting a finger against this man anymore. When he noticed the man look towards him, the boy gulped quietly, small sweat drops falling from his face for a second as his body refused to take his eyes away from the man's. The red eyes that belonged to the man had only added an even darker aura to the man, because whenever someone like Rin would come across red eyes, especially in the beloved manga or anime then they'd easily associate them with evil.

"Who am I? I am everything and everything. The very darkness that holds your body at night, the very air you breathe. Every movement, every second of your life - that's who i am."

Rin sighed out softly when he looked away, but then thought about what was just said. Everything…was him? Rin gave a confused look for a second, but it was hard to explain as to why exactly. He could only explain the man as a god at that time or something similar, but when he thought about it again he thought of a darker version…similar to a devil. He quickly shook that thought away, not wanting to think about anything associated with something that would remind him of Satan.
"Alucard Iramasha. And luckily for you, I don't have an appetite for young kids tonight."
The colour on Rin's face soon paled somewhat. Appetite? Would he… Rin stepped back to the face of the tree trunk that connected the branch, he was hating the closeness of the too. He had already seen how fast Alucard was from his appearance within the front of Rin to the back, he could be dead within a second and Rin wouldn't even know about it. "I…." Rin finally spoke, wanting to break the feeling of being consumed by the darkness in attempt to redeem his old self. Although what would he say? He obviously couldn't greet himself because Alucard had known who he was. "I…" What if he were to say the wrong thing? So many questions whizzed through the boy's mind at one time. Even though Alucard had said what seemed to be that he didn't want to kill or hurt anyone tonight, he still was unsure if he could trust him. "T..Then what do you want, Alucard Iramasha?" Rin's voice stuttered clearly whilst addressing the man, his grasp on Kurikara tightened by his side although with no intention of using the blade it was the only thing that at the moment was making him feel like he was protected. Like it was keeping him sane, from running off or breaking down. Rin wanted to know why such a person would be out at this time and why he was so cruel to get the boy so muddled up with everything and that's just exactly what he intended on finding out.

__________________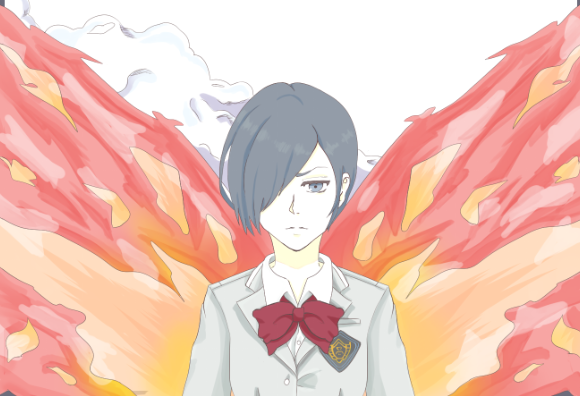 Hon Hon Baguette.
Teitoku

Blackblood


Joined

: 2011-02-25


Posts

: 2112


Age

: 26


Location

: Nowhere

Member Info


Platinum Points

:


(0/0)




Tiers

:
Fri Apr 19, 2013 11:56 am


This kid is interesting.

That was the only thought that continued to pound it's way into Alucards head. Every reaction, every word, every second he spent around him was that thought. Although his words may have seemed creepy to the kid that was beside him, his thoughts were pure. For a man such as Alucard, pure thoughts weren't something you would expect to be expressed; especially since his dark aura is usually the only thing that is emitting from his body, it made it difficult to think past that aura. Each time he was around someone, his words were filled with egotistical, narcissistic tone to them, yet he didn't express his true thoughts. The night was getting colder, the continuous cold chills whipped over the trees and among the soft leaves and grass below him. The weather wasn't much of a concern though, at least not for the demon Iramasha for his blood always ran hot. No matter the temperature, he was always warm. His demonic blood heated up his body so much, the cold barely even felt like it was touching him. In fact, it seemed like he was always like this. The cold weather of the world never working it's justice against his body - rather just performing a meaningless task of making everything else cold. Of course, he felt it, but it didn't phase him.

His eyes shot across from his body, soaring over to Rin as he seemed to be put on edge. Every movement he made, he seemed to be more scared as he was around Alucard. However, this wasn't the Iramasha's intention in the slightest. Alucard would have to reassure the kid that, despite appearances, he wasn't here to hurt him. Rather, Alucard was here on the opposite of reasoning's. His crimson eyes bellowed as he look deadly into Rin's, snapping off a piece of bark from the tree with his hands and holding it up into the air above him. His eyes averted to the bark, black hair blowing in front of his face and illuminating his face with the aura and reiatsu he began to build around them. Dracula then closed them, before letting out a single breathe, almost as if he was sighing - an emotion that was found when he didn't think someone was worthy of his time. However, this was not the case.

"You see, Rin... I'm not here to hurt you, to scare you, to instill any type of fear inside your head. You're doing that on your own accord, judging me by the manner in which I present myself. What you must understand is this: I'm not your enemy. I am, you could say, family. You're so oblivious to your nature, to your heritage, because nobody has told you; and you've had no interest. I'm worried that you're going to just let that be a close on your life - that you're content with knowing nothing. But perhaps -- perhaps it's better to know nothing, than to know everything."

Alucard closed kept his eyes closed, snapping the piece of bark in between his right hand fingers, index and middle finger. He opened his eyes again slowly, the crimson reiatsu that built up in them fading into the darkness of this already dark red, maroon, coloured eyes. The demon Iramasha gave a look of concern, his brow low and his mouth partially open, about to speak a plethora of words to the young kid. It almost appeared as if Alucard had managed to frown so hard, it actually looked like he was showing emotion - which was not often seen from the demon Iramasha, unless it was pleasure from a tough fight, or his normal smug, narcissistic attitude. It was true that Alucard was concerned, for Rin had not shown, or even been told, what ran in his veins, what sort of people his 'family' was keeping secrets from, and that worried Alcuard deeply.

"I am not evil, nor am I good. I describe myself as the darkness that kindles your body into it's slumber before bed, yet you do not know it's meaning. That worries me, deeply. The people you live with, Shirou, whoever else who takes care of you - they have not shown you the pleasures of information - the pleasures of knowledge and the amount of leverage it can give you, or even happiness. A foolish race of people we all are, yet everyone see's you as a child. And a child you may be, but that does not define you. My main concern, is allowing knowledge of who you're affiliated with."

All of this information had just, so suddenly, be blurred out from Alucard. He had not fully comprehended whether or not the young man would have taken all of this information in, or even considered whether or not he'd think about it. After all, he did care for Rin - even if he had not known who Alucard was - it was finally a time to meet and let him know... let him know his true nature and family.

Alucard's eyes returned to facing in front of him after the speech he had just suddenly smashed out into the open - his cold demonic voice shrouding the words, yet, with good intention. His deep black hair continued to blow in the breeze as his he lowered his head to look to the floor below them - not even taking his eyes back to Rin, waiting for a reaction. Dracula knew that it could, maybe, be all a bit too much for him to comprehend, yet he said it anyway - in a hope of actually getting through.