[ N A T U R E I R A M A S H A]
|B|A|S|I|C|I|N|F|O|
________________________________________________Name:
Akisame Hashi
Age:
Unknown
Gender:
Male
Hieght
6'11 ft
Appearance:
Nature Iramasha Type:
Rot
|P|E|R|S|O|N|A|L|I|T|Y|
________________________________________________Personality:
Despite being a nature type; he believes that one's reputation must come from their own actions, not their birthrights. He is seen as cool and calm, and able to process any information he may recieve, no matter how shocking or disappointing it may be. Akisame often appears aloof and indifferent, and rarely shows any emotions other than slight annoyance or dissatisfaction. He thinks highly of himself and is cruel to others, though he is protective of his clan. He cares little for others, and thinks that humans, while at times amusing, are merely mortal and ultimately expendable. He believes that struggle is the only way for survival.
Akisame is willing to do whatever it takes to accomplish his goal, even if it means lying to his followers and using people as bait for the outcome he desires. However, he has trouble putting those he is close to in harms way for the sake of his goal, which is a weakness as a commander but a remnant of his humanity and sanity. He views equality and justice as an evil that must be dispelled and encourages social battle to maintain evolution within society. At a very early age, it is clear that Akisame displayed a desire to be different and set apart from others. He also showed an eminent fear of death, considering it a human weakness. He feels no desire or need for human companionship or friendship, and is unable to accept the idea of love or affection for another. People claim that he possessed almost no sense of self, no emotions, no real interest in self determination.
He can appear to be more warm toward others, but retains his ruthless instinct in battle. However, he keeps his arrogance in check, and humbles himself towards individuals that are felt superior.. He is very brave, risking life and limb on numerous occasions for his mission. Akisame was also known to have an occasional sarcastic interface. Despite his bravery, it should be noted that Akisame demonstrates extreme caution and reluctance at times, and chooses his friends carefully. He is slow to trust and often comes off as remote and intense. Always keeping his word. In combat situations, he seems fairly deceptive.
He tends to crack dark jokes at times, that even makes the likes of Haseo seem normal. Sometimes breaking out into hysterical laughter upon causing death, destruction, and mayhem, and possesses a hatred of virtually everything in the world; Akisame only joy in life comes from causing death and chaos wherever he can. What begins as simply a disregard and indifference to life develops into a sinister nihilism. He isn't afraid to use dirty tactics, and downplay his own powers, often calling them useless, and fitting for weak man such as himself. In combat situations, he seems fairly deceptive. He will often downplay his own abilities so that he can shock a target later on with their true nature. But most of the time he prefers to overwhelm them greatly giving them no time to react.
It should be noted that when Akisame becomes serious, the change in personality is quite pronounced. He becomes more focused, his spiritual energy more sharp, while at the same time maintaining a degree of calm authority that serves to unnerve those he encounters. He is also generally quieter, and strangely, more observant to subtle details. Such as his attacks become a lot more dangerous, and turning the tables, if he happen to be on the losing side.
Akisame habit is to note every detail oriented when it comes to anything ranging from just simple talking all the way to fighting. He notices his opponent's mannerisms and discerns with ease the reasons behind those actions and the weaknesses and strengths of his opponents.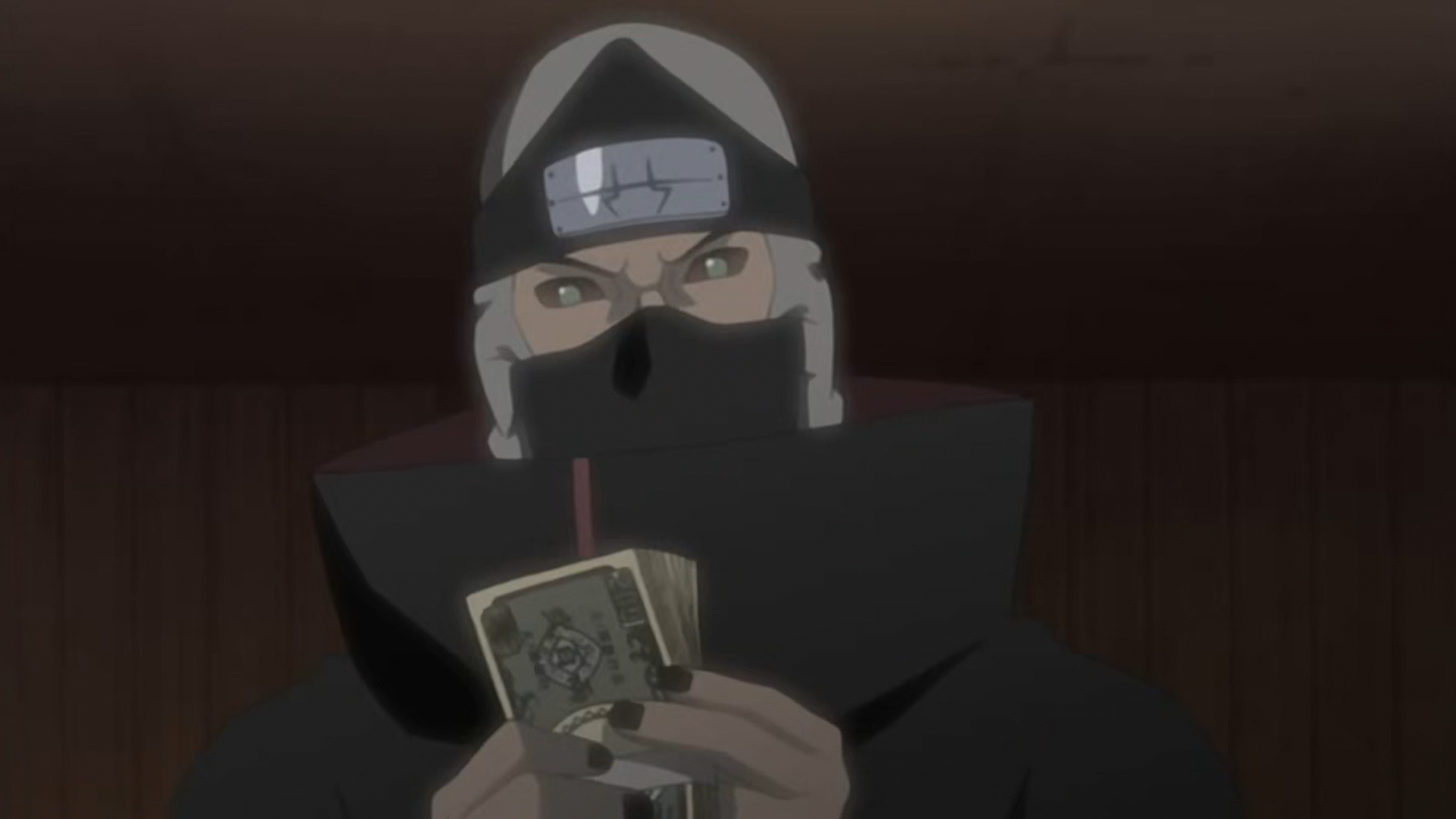 Akisame is also an greedy, miserly individual, arranging goals in terms of the highest profit he could gain from them, and was often unwilling to involve himself in something if there was nothing to gain from it, as well as claiming that he tended to forget opponents who were not worth any money after he was done with them. He even remarked that money is the only dependable thing in the world. Due to this end, he referred to himself as the "Treasurer". Given his friendly relationship with bounty collectors, , it would seem he collected bounties rather frequently to earn cash, and did so (or at least tried) during his missions on several occasions. The frequent side-tasks and devotion to money were both major points that cause contention between Akisame and his ally's. He also seemed to respect an opponent who thinks.
Akisame's greed and occasional habit of doing or saying blasphemous things, such as attacking a temple and killing a head monk for the bounty on the monk's head. Akisamei's also rather impatient with drawn-out speeches and battle styles. Due to his violent temper, Akisame often killed anyone close by when enraged. He seemed to forget the greater goals of the organisation when enraged, such as killing targets, destroying landmarks, or even attacking. Akisame can also be bride with money to ward him off, or even silencing him on important matters.
|B|A|C|K|G|R|O|U|N|D|
________________________________________________Background:
The Finding of Aki
James had been fearing this flare; some 500 more seasons had passed since the last emergence. He had been feeling this power growing; it hadn't started like Inanna's or Alex's. It was there, but it wasn't possible for him to track it. It was dim, and all around, for it was one of the most pure of all the Elements of Nature. It was Decay, the Element that thrived and gave out energy from death. James wasn't sure what it's wielder would be like, but he could fairly tell from how the energy had been shooting up. Soon, it had become large enough for him to track, and he went out in search of it…
He came upon the owner fairly soon, a strange man with a mask over his face and very quiet looking. He looked quite annoyed as James approached, finishing off an animal meal. James gulped as he approached the sitting figure; the swamp he had gone to via the ocean wasn't very welcoming.
"What do you want here?" The man asked, his voice gravelly.
"I… I am James Mizumuzi," He began hesitantly, but his voice picking up in strength. "I am a Nature Iramash-"
"I Said." The man interrupted him in his gravelly voice. "WHAT DO YOU WANT HERE? I don't care who you are."
"I am here for you." He said simply. The other man looked shocked for a moment, but then interlocked his fingers, speaking again.
"Explain."
And so it was that James began to explain about the Nature Iramasha, the same as he had done with Inanna and Alex. The man sat there squarely, eventually answering him when he finished his tale. As he did so, the ears appeared on his head, further bizzaring the situation.
"… Very well. If you are telling the truth, which you must, considering how you were able to find me, then I suppose I will join you and these Narture Iramasha. HOWEVER." He said sharply, standing up. "If I feel that you are failing to help us survive, I will not hesitate to devour you and lead them myself."
James paused for a few moments, walking over to the swamp again and gesturing in, speaking again. "Very well then. I swear to do my very best to help us ALL survive. Now, if you would just tell me your name, you can step into this bit of water and I will be able to show you our headquarters, and you can be free from there. Anytime you need something, just send out a burst of Nature energy. I have instructed and will instruct any others that I meet to do the same, and I will perform it when we all need to gather."
"Hmm. Very well then. I've not had a name for quite some time, but if you wanted I suppose you may call me Akisame."
"Aki it is then." James said shortly as Aki stepped into the water. James poked Aki's cloak, and they were off, to show him the house. Then they went their separate ways, until they would need to meet again… The Nature Branch was created soon after by James, Akisame followed watching James till this day.While Akisame homed his skills to his max. James recently joined a organisation known as the Vanguard's, James trusted Akisame enough for him to lead it for now at lest.
S|E|I|S|H|I|N|B|U|K|I|
________________________________________________Seishin Buki Name:
Jiongu(Earth Grudge Fear)
Seishin Buki Appearance:
When it isn't active, it has a form, rather, its apart of his body it self. When its in use, it becomes thousands upon thousands of thick threads coming out from his body. This makes his body seem like a rag doll adding unnatural movement, sometimes stiff movement, then switches to full range motion.
Seishin Buki Abilities:
It transforms Akisame body into something similar to that of a rag-doll's, which is held together by hundreds of thick black threads. Akisame was able to manipulate these threads for many purposes. He was capable of sewing up any injuries that he or others might suffer, most commonly by reattaching body parts. It can temporarily fix injuries by binding bleeding wounds, reinforcing broken bones, and fixing dislocated joints. It does this by piercing the flesh from the threads with thin barbs like threads and spikes if required the threads granted him a degree of immortality (though he declined to think of it that way). The threads could pierce the flesh and bodies of others, allowing him to remove their organs and integrate them into his own body, thereby extending his life. He commonly removed hearts in this fashion, keeping a total of eleven at any time, and requiring that he be killed at least twelve (the eleven hearts and his normal life) times in a battle before he truly died. He could detach parts of his limbs and then manipulate them, to the point that he could even send them underground and then reattach them when he was done with them. He can also put one of those hearts into his limbs and have them move individually, such as to set up traps. These hearts Akisame had taken from others are stored in various mask across his body,granting him vast amounts of energy and numerous elemental affinities. He could detach these masks and have them take on a body of their own, composed entirely of threads, but that dons't makes him more limited on his own. Thanks to Akisame ability to create "threads" from his body which, when striking an opponent or object, he can break down the bonds that hold them together and deteriorate them. Akisame can at will use the deteriorate effect, so he can use them for binding, without harming the target. Once ensnare the opponent as the Threads around their body immobilizing them. The end of it remains in Akisame hands allowing him to control the path of the threads before and after capture. These threads are near unbreakable, but by no means impossible to cut though, these threads also seem to help Akisame with his already insane defense, due to the nature of the threads in it self, he can compressed them to already increase his defense all over his body. These threads all have emendous extension and contraction properties, it can move up to 13 km (8.1 miles) at 500 times the speed of sound: exactly 171,500 meters per second in order to arrive at its full length in under 0.08 seconds making it one of Akisame fastest moves.
As Akisame body is made of these threads, they are his own only weapon, and has such great skill with them its almost unreal. Each thread is really 0.1 microns wide much thinner than hair, so what is shown when in use is really a countless number of threads working as one. These threads are extremely strong, initially able to lift 100 ton each by itself, so this shows that the threads themselves are not only strong, but can withstand the strain of 1 ton by itself. Akisame has complete control over each and every one of his threads, though the more he uses at once and the more precisely he maneuvers them the more thought is needed, however this isn't as much of a problem for Akisame himself, as he has so much control, they cost as much as simple breathing to him.
Akisame has an enhanced sense though his threads,. His enhanced sense of touch is used through his threads. which are called "Feelers". Although far too thin to be seen by the naked eye, Akisame has threads are always spread around him in a 300-meter radius, probing the environment. Threads sense of touch is very delicate, approaching the sensitivity of fingertips. This gives Akisame constant feedback on everything around him, and lets him explore the environment via touch alone; he can even defeat beasts without having to look at or be near them this way. Akisame can tell, detect low temperatures, high temperatures, pressure, and painful stimuli.
Using his threads, Akisame alters the flow of power and reflects it back at his opponent. His threads themselves require a little bit of his stamina. As such this makes physical combat with Akisame hard, as he can easily predict the movement with his unseen threads before the attack even reach him.
Using the invisible threads he always has probing the environment around him, Akisame can suddenly 'lock' the threads around his opponent in place, restricting their movements. Weaker opponents are totally immobilized by the technique, while stronger ones still have full range of motion, but must use extra strength to overcome the threads resistance. By spreading his threads across a body of water, Akisame is also capable of spreading his weight, in a similar manner as a water strider. Then by supporting himself on his abnormally strong threads, he is capable of seemingly floating in mid air while over water.
Rules Of The Mask
As stated. He could detach these masks and have them take on a body of their own, composed entirely of threads, but makes him more limited on his own. These masks were capable of attacking separately, unleashing devastating blasts of elemental energy. That being said he can only have eleven hearts at a time, meaning his hearts follow this set up, fire, earth, wind, water, lightning, plant, steel, and Gravity. Three hearts are kept as spares. This atop of his regular element of Rot. Makes all the elements into new ones. While they lack normal names, they are rather powerful elements, as even if someone is immune to said element, they still take damage, since its no longer that type of element anymore.While he can use all the elements when all the mask are on his body, once all the masks are in there own body, he becomes sightly more limited in terms of attacks he can pull off. Akisame also gains buffs when he has a heart and a mask in him. Also Akisame is immune to each if the elements below as long he as the hearts.

Earth mask: This heart had an earth-affinity mixed with his rot element became rotted earth, and took on the shape of a demonic, beaked bipedal. It allows Akisame to use a move called Earth Release: Earth Spear: The user flows engery through all parts of their body causing it to become noticeably darker, which increases their defensive power to its utmost limits by making the skin as hard as diamond. Furthermore, the destructive power of physical attacks is increased, making this a great all-purpose technique. The amount of techniques that can break through the areas hardened by the Earth Spear are close to zero, excluding its undeniable weak point: Of lightning based attacks, and heavy loss of speed. Even though if this mask was destroyed, Akisame is still able to use the Earth Spear technique, though it only hardened his arms. Earth Release: Earth Shield: Creates a large amount of "Sand" In sufficient quantities, this move could be fashioned into a diverse range of forms, with the most simplistic employed to attack or block an enemy. When used offensively, Akisame tended to form dense fast-moving surges that could range in size from narrow streams to colossal waves, intended to injure a target by violently crashing the compacted material into them. However, when used defensively, he instead created thick barricades of the sand that were durable enough to block even several powerful attacks at once. Akisame can causes a considerable quantity of Sand to erupt from beneath the surface, by placing both of his palms onto the ground directly in front of him, before manipulating the resulting substance into a wave of tidal proportions. The amount of sand produced by this ability is comparable to a large lake. Making use of this,Akisame can rise it above him to create a thick barricade in order to block incoming aerial attacks, whilst using hand gestures to dictate the shape that the barrier adopts. This ability is strong enough to guard against many powerful attacks. Also due to his own powers, Akisame doesn't have to use his palms, as long he can touch something "akin" to the ground. When This mask is on Akisame defense is increase slightly

Fire mask: This heart had a fire-affinity which fused with his Rot element becamed Decayed Flames, and took on the shape of a demonic tiger. It could use Fire Release: Intelligent Hard Work: The fire-element mask fires a small fireball that erupts into a giant fire-storm after making contact with a surface, causing widespread destruction to the area. Since the flames travel along the ground, and cover such a wide area this is a difficult technique to evade. When combined with Wind Release: Pressure Damage, this technique is amplified to the point of being able to evaporate a large amount of water in an instant. Since these flames are now infused with his rotted element, it can damage those who have a fire immunity. Akisame also has a close range of this move called Fire Release: Vulcan Punisher a technique of great power and versatility that utilizes the transfer of heat to produce a situated explosion with an excellent deal of precision. In order to super-heat the air about a recent transfer of motion; for example the air resistance of his threads or the sparks produced by a collision of blades. This heat produces a destructive explosion, capable of completely disintegrating solid rock, evaporating water with ease, and effecting an area directly proportional to the energy dedicated to the task, with Akisame this makes blocking his threads, or even hitting him more dangerous, as he can use to heavily damage the attacker, or his target. Akisame has increased attack power with this mask on.

Wind mask: This heart had a wind-affinity, and took on a strange four-legged body with thin wings. It could use Wind Release: Pressure Damage: A tornado-like mass is compressed until it has a very high density and is then released. The wind pressure is raised to its highest limit, and once the technique hits the target, the resulting blast, inflicting massive damage on both the target and their surroundings. This technique can be combined with the Fire Release: Intelligent Hard Work, to increase the flame's potency in a great scale, causing a massive fire-storm the damage done is comparable to a nuke. Wind Release: Vacuum Serial Waves:Akisame takes a deep breath and exhales several blades of wind at different angles, by rapidly moving their head in various directions. The power of this technique can be dramatically enhanced when utilised in conjunction with the effects of extreme suction, such as that generated by the Misaiko, where the augmented attack proved effective enough to even slice through the defences of a complete mouton of ice and stone. With this mask is on, Akisame gains increased attack speed.

Lightning mask: This heart has a lightning-affinity, and took on the shape of some sort of deformed bipedal. It could use Lightning Release: False Darkness: lightning-element mask emits lightning in the shape of a spear from its mouth, which then pierces the enemy. Its destructive power is great enough to even pierce through rock; meaning it has a high killing potential. Akisame when the mask is on himself, he can increase the number of spears to attack multiple enemies. This, coupled with the sheer speed of the lightning, makes it a difficult technique to evade. Also this is the only mask to offer another Lightning Release while it is on him. called Lightning Release: Armour: Akisame body is covered in a layer of lightning energy that, instead of being used offensively, is used to electrically stimulate the nervous system. The technique speeds up neural synapses to react faster to danger and to push physical prowess to the absolute limit, allowing for tremendous raw speed. This armour, combined with his attack style, allows Akisame to utilize extreme reaction time, speed, and power. The armour also increases Akisame defenses, drastically reducing, if not completely negating, damage from incoming attacks varying on who they are from. This combine with Earth Release: Earth Spear makes a deadly combo.
Lightning Release: Solemn Spirit- Akisame extends his hand above his head and produces a bolt of lightning from the palm which extends and transforms into a dome of lightning, stationed far above his head and fastened to the ground by a large number of lightning pillars. A single pillar also extends from the top of the dome into the sky. This move of great power capable of affecting the weather similar to the way that Tōshirō Hitsugaya's Hyōrinmaru can though its power is geared toward thunder and lightning storms bringing forth dark clouds to facilitate the use of its powers. Through the use of hand gestures, thread movement Akisame can direct powerful lightning bolts to strike his opponents from the sky. These lightning bolts are strong enough to level a city block. Akisame has increased reaction time with this Mask is on.
The Lightning made by this mask is known for its high cutting force than voltage, being able to cut down high level defense with ease.
Water Mask: This heart has a water-affinity, and took shape of a large snake with spider like legs. It used the Water Encampment Wall: This defensive technique creates a wall of water around the user. Enemy attacks are completely intercepted by a fence of water blown out from the mouth, and is raised from below with tremendous might. The water is blown out in the form of a circle around the user, and it makes for a defence without openings. It is also possible for the user to control the amount of water and duration at will. The wall's strength and resistance change following the quantity of energy poured down into the water. Furthermore, because the field of vision is maintained even while defending one can easily go on to the next move, which is a great advantage. The wall can also be formed from a pre-existing water source. While on himself, he can create the wall in front of him. Water Release: Hidden Danger- After creating dozens of bubbles, Akisame manipulates them to surround the enemy in all directions. Only the slightest amount of physical contact with an opponent is required to make these bubbles burst, resulting in a small but powerful explosion when they do. Akisame can then make the entirety of the bubbles detonate simultaneously with a snap of his fingers. One bubble is comparable to a blast of C4. Akisame has increased recovery time with this mask on.

Plant Mask: This heart is of the plant- affinity, and took shape of a large bird, with long arms, and short legs. It uses Plant Release: Great Forest Technique: A technique that changes his own arm into big trees. Using the energy, the tissues are transformed into trees at the cellular level. Then, by activating the trees, stimulating them to grow rapidly, they lengthen at high speed and fork into many branches. It is possible to capture the enemy with these branches and at the same time, if one changes the ends into sharp stakes, turn them into countless, sharp, spear-like piercing weapons. This also allows allows him to manipulate and produce trees as well as create explosions by condensing the power of the Earth Mask into the fruit of the created trees. Furthermore, it allows Akisame to merge himself with trees and transport himself elsewhere in the area with a tree.. It also gives Akisame the ability to harness all of the power stored within the Earth itself. Draining the power of a land instead of himself, as long he has this on his own body.

Steel Mask: This heart is of the steel- affinity, and takes shape as a lizard with large needle like spikes. This uses Steel Release: Impervious Blades Which is a technique that summons countless, dust sized blades, that always stays around Akisame, in groups it takes form as a dark like mist. It can reach the range of a half mile, he can attack and defend at once, The force behind the blade's are 80 tons, but the speed alone near bala level speed's, in group's, Akisame can create wall's of blades, they are thick enough to block the force behind strong strikes, and then some engery strikes, while its good to block physical attacks, they are best to defend energy attack's, almost nulled any sort of energy based attacks that hit the wall's, however it can't block forever, so normally after one attack the wall's return to there dust like state. The blades can expand dramatically in size. Imbuing these sphere forms, in this fashion serves to greatly enhance their destructive potential to the extent that they can easily destroy sekiseki stone structures, subsequently obliterating the impaled object with a substantial resultant explosion and if needed increase the number of spheres to make more explosions. Akisame gains increased attack and defense power while the mask is on him.

Gravity: This heart is of the gravity- affinity, and takes shape of a large humanoid man, with its mask in the center. It uses the Gravity release: Shattered Heaven: regarded as Akisame most powerful and cherished of the Mask. Its main abilities revolved around the manipulation of attractive and repulsive forces, allowing it to repel or attract objects or people. However, it could not perform these techniques in rapid succession. leaving it vulnerable for a short period of time after each use. This period of time between usages varied from five seconds to several minutes, depending upon the force of the repulsion or attraction that the Mask had used. What Shatter heaven Allows is the ability to manipulate repulsive force and manipulates attractive force. At Akisame will to push matter away. Depending on the amount of force the he puts in this technique, it can easily shatter wood, bones, metal, or sekiseki stone. By using this technique as a defensive measure, all attacks directed to Akisame will be deflected, no matter the size, power or mass. It can also be used to repel flames caught on his body. The only downside to this technique is that there is a short period when it is unusable after being used. The minimal time period is about five seconds, but it varies depending on the amount of power put into the attack. This part of the technique can be countered to some degree if faced with an equal and opposing force, or or if the person to whom the attack is directed can barricade themselves such with a strong enough barrier. It is also be possible to withstand the technique by focusing reiatsu to the feet and using a strong enough high speed movement to get by the force. The second part to shatter heaven is simple the manipulates attractive force, It will to pull matter towards Akisame. It has the same five second limit as the first part, It is possible to attract multiple targets at once, causing them to collide with each other, it shares the same drawbacks as the first part. When this mask is on him, his reaction time is boosted, as well gaining minor defense increase.


|P|O|W|E|R|S|
________________________________________________
Nature Powers:
Rot: His element, what he is, but what does it do? Simple. Its a kind of substance which could turn virtually into anything he wants, and can be intangible at will. It can negate Kidō on touch, can appear from almost anywhere on his threads, it can slow down healing factors when it hits something, It can negate the harmony of one's Zanpakutō, or Guardian beast. Those with a Zanpakutō find that there powers are Nulled as long they are in contact with Rot. In the case of Vizards inner hollow, is where the twisted power of Rot comes into play, making one own inner hollow to go wild. In the case of Guardian beasts. For the Guardian beast if they are already out, and come in contact with Rot , they shall be in never ending pain, but still able to fight, another factor is that it is limited to his threads only meaning he has to touch, and grab these things in his threads for the effect to work of this element. This element of his also makes him immune to the effects of death energy. The element of Rot is also very passive on its lowest level. In fact Akisame can create solid objects with this element, normally formed with his outfit. The cloak he wears is really a rippling mass of rot that slithers and writhes with every step, expanding outward, and enveloping Akisame like a living cloak. Like a shadow his movements are soft and quiet. He doesn't move so much as shift from one location to the next, reappearing in a smog of inky black darkness. This power wreaths Akisame in a black fog-like cloud, obscuring his movements, and making it extremely difficult for his opponents to launch any sort of successful attack against him. Reminiscent of a "rapier and cloak" style of use, Akisame will use the writhing darkness to throw off his opponents attacks, befuddle their senses and mask his own attacks and movements. When Akisame moves with this shroud active, his movements become erratic and difficult to follow, even to the most trained eye. Opponents who thought they had struck Akisame realize they had only attacked a shadow or a mirage as he seemingly shifts from another position unharmed, generally initiating a counter-attack. The shroud also distorts the senses of his opponents, displacing sound, light, even his spiritual signature. The exact range of this ability is unknown as Akisame has been to "appear" at least according to the Pesquisa and spiritual awareness of other beings in several locations at once within a hundred meter radius, even though the actual cloak barely covers his own space. He can also spread his spiritual power over a large area, making it impossible for his actual location to be pinpointed.
As stated before rot element makes Akisame immune to the effects of death energy, but the element is very weak to light based elements, as such any thing deemed as "holy" can damage Akisame more. The likes of Poison and virus are useless to Akisame.
Immense Spiritual Pressure: Akisame possesses a powerful amount of reiatsu. It materializes itself in a spiritual aura with also contains dark purple sparks of reishi discharge; making a deep crackling noise when Akisame focuses his reiatsu. His body glows dark green when this is preformed, as his energy interacts with the energy in his surroundings, changing their properties. Akisame also made a Vice captain, feel dread and nearly passed out just by being near her, and had to be dragged away in order to breath correctly, because of his level of power, people wonder if Akisame can every truly run out of energy.
Enhanced Strength: Perhaps due to years of combat experience and time on the battlefield, Akisame has a very large degree of physical strength, most commonly displayed by his ability to fight back his opponent's attacks with a single arm. Repeatedly, he has shown clear evidenced of his strength from acts like fighting off hordes of hollows. Using nothing more than his physical Powers. He is strong enough to level a whole city block in one punch, let alone his threads also carry this physical power in them.
Hand-to-Hand Combatant: Akisame is extremely well-versed in hand-to-hand combat. His fighting style most resembles a mix of Boxing and Bājíquán as he possesses amazing footwork. He isn't a master per say, but skilled enough to hold his own in combat. Akisame also seems to favor using a mix of jabs and short movement to quickly move around his foe.
Unmatched Endurance: Perhaps Akisame most unique trait is his unnatural endurance, not only in terms of his mental threshold for pain, but in terms of his physical durability as well. He can take a near unbelievable number of attacks to bring him down. While it takes a lot to bring him down. It still possible to harm him. And the fact his body is only made of a few organs, and the rest threads makes him pretty much immune to pain. Akisame also survived moves meant to wipe out large islands. Countless assaults of Dust release, and even attacks of his own with barely any damage appearing on him. People refer to him as a monster, as it takes a lot to even damage Akisame, let alone trying to kill him.
Enhanced Reflexes- Akisame has developed his reflexes to the point that he no longer has to think about dodging attacks, as his muscles instinctively react to incoming danger. This are not as great as his speed but there just good enough to dodge some attacks from high-speed users.
Bodily Manipulation: Akisame has the unique ability of manipulating the anatomy and physiology of his body. He usually elongates his finger(s), which can be used to grab, or stab, his opponent. He can also transform any part of his body into an edged weapon. He can even transform parts of his body, each one can go up to a max of 50 meters. Additionally, he is able to freely relocate any of his internal and external organs around and inside his body, being able to avoid a lethal damage to his body, this is due to his body being composed of threads and flesh rather than bones. which made killing him virtually impossible. He could even liquefy his body if he wanted to. A related ability to this is his extraordinary regenerative abilities. There are ways to counter this however such destroying him all in one blow, with powerful energy blast.

Claws are Akisame primary anti-personnel power and the first offensive form to use. When activated,Akisame shifts his mass in his arms into three-fingered, one-thumbed talon-like appendages that he can use to shred flesh and bone, with which he can tear through human-sized enemies with ease, however it is very effective against armor and larger creatures. He can shift his mass from the claws are channeled into the ground to erupt and impale a targeted enemy of a group.

Hammerfists are Akisame "anti-vehicle" weapon form. Large amount of his mass shifted into his fists, Akisame can then create massive, hammer-like hands which can be brought down to crush his enemies.Akisame has a move called Smackdown which is devastating of it's own kind. Capable of destroying armored vehicles with a single move, but at the cost of movement. While charging the power, Akisame is unprotected and prone to attack from the opponent.

Musclemass, hile active, it boosts Akisame vast strength to immense proportions, increasing the damage done in close combat and the damage and distance of thrown objects.Musclemass increases Akisame melee damage tenfold and increases the speed at which he strikes. At its base level, a normal attack will turn any human enemy it strikes into bloody chunks; Objects thrown with Musclemass will hit harder, fly further, and move faster than objects thrown at Akisame normal strength; all of Akisame Combat abilities, save for the Devastators, will be enhanced by Musclemass. This facet of Musclemass makes it one of the most damaging powers in his use.

Shield, Akisame donates a large amount of his mass into his arm using the same process as the Blade but molding it into a black-biomass shield made of near impenetrable materials. It is normally not seen while Akisame is standing still, and only as a mass on his shoulder, but is clearly shown when he is sprinting, targeting, or other more active moves. While running with the shield you basically become a living battering ram. Shield, unlike the Armor, completely nullifies damage instead of merely reducing it, though only against attacks directed to the front of Akisame. It will block all incoming fire until its damage threshold is reached, at which point the Shield will shatter and require time to "recharge" before it can be deployed again. It will also automatically regenerate to full effectiveness during periods of inactivity. It can withstand rifle fire almost indefinitely and block several grenades, but will crack if hit by a missile. Unlike the Armor, Alex's mobility is not hindered when the Shield is active. When sprinting with the Shield on, the Shield will be deployed in front of Akisame as a battering ram to push away cars and human-sized enemies, killing the latter instantly in most cases. Since the Shield is a defensive power, Akisame may use it in conjunction with an offensive power to attack his enemies while staying protected, and the shield only comes into view in the case of running or being attacked.

Whipfist is one of many abilities Akisame has at his disposal, consisting of a tentacle with a blade at the end. Given its unique status as a ranged attack. The Whipfist is an extremely useful or clearing out large groups of enemies when Akisame is surrounded. The Whipfist can be used to grab enemies, civilians and vehicles from a great distance away. The Whipfist has an alternate attack known as the "Street Sweeper". This cuts human-class enemies around Akisame in half with one shot, which can kill 15 enemies in 1 swipe.However the damage done by whip-fist is jokingly weak, but its the fastest, has a long range and good for surprise attacks.

Blade:, When the power is activated, they grow an elongated double ended blade from their elbow downward, turning their arms into a giant razor sharp cutting machine. Though not as fast as the Claws, or as powerful as the Hammerfists, it provides a balance of these traits. The Blade is a strong close-combat weapon, excellent for taking down opponents that are hard to kill. While not as fast as the Claws, the Blade still has a high attack speed and only loses to the Hammerfists in terms of damage output. It is effective against both living targets and defense.

Armor. While in this form, Akisame takes less damage, but the added density results in loss of movement speed. It also disables his flight and dodging abilities. He can still climb buildings, but while sprinting he will smash through anything in his path, be it cars, humans, hollow's. or other small obstacles. Larger objects like tanks and heavier barriers will block his path. In addition, Akisame will most likely crush any human enemy he jumps on while the Armor is active, as if they were hit by Musclemass.The Armor provides an alternative to the Shield. Unlike the Shield, which completely negates damage at the cost of having a finite ability to absorb punishment, the Armor significantly reduces the damage taken by Akisame without losing effectiveness. It also reduces damages from all attacks, whereas the Shield will only negate damage from attacks that impact the Shield itself. It is ideal for close combat, allowing Akisame to go toe to toe with the strongest foes without taking large amounts of damage. Conversely, running from a fight is somewhat more difficult, and Akisame's ability to dodge attacks is hampered. The Armor is very effective against fighting powerful enemies because it never breaks, but it does not completely negate damage like the shield, instead reducing it to a fraction of what he would normally experience. While using the armor power, it can clear a path through enemies and vehicles. The drawback to the Armor is its decreased mobility. Movement speed and jump height are reduced while it is active, making it more difficult to escape enemies

Devastator attacks are Akisame "superweapons"; they inflict massive area damage to his surrounding at the cost of using up a portion of his health to execute, making each use risky, as well dangerous to his own being. The Tendril Barrage causes spikes made of hard, fibrous tissue to erupt from Akisame's body in every direction, impaling everything around him for up to a half mile in distance. It will wipe out entire crowds of humans and cause extreme damage. The Groundspike Graveyard is similar to the Groundspike power granted by the Claws. When used, it causes massive spikes of biomass to erupt from the ground, creating a deadly circle of spikes in close proximity to Akisame. It is highly effective against hardened targets like hollows and tanks, but less effective than the Tendril Barrage against living enemies due to its shorter range and smaller amount of spikes. This Devastator can usually destroy a military base in a single blow, leaving a 50 feet deep crater in its wake.
Manipulation:
"Decaying threads"
Aura:
Dark Green Aura. Black blood
Regeneration:
Akisame Regeneration is different form any other being, not only because of his element, but he can recover just like any other Nature type just as long he has the hearts to due so, he can eat dead things to recover larges amount of power, eat fire, earth, wind, lightning. moon rocks, plants, limbs, people, himself, machines, metal, and possibly anything else a nature type can eat. He is not above eating other Nature types that fail him, nor is he above even eating children. He can eat from any part of his body, be it his mouth, hands, feet, back, as long he can make physical contact he can devour his meal.
Ranmyaku Blast:
To perform the Ranmyaku Blast, Akisame places his hands up to his side and forms a mix of nature and chaos energy between his hands. Then, he fires a Ranmyaku Blast that is bigger and much more powerful than a normal version, inflicting a huge amount of damage. The damage can break past the thick chunks of earth and into the stratopause, which exists at approximately 160,000 feet in the air, and even below, it went 160,000 feet below. This unreal and powerful attack born from Akisame own power, this move is known to cause fear to other nature types, as Akisame can fire this nearly instantly
Nature Spell(s):
Dorō: is primarily used to disable. The practitioner raises his/her palm up to the target and closes his/her hand into a fist. The move calls forth a yellow energy in the form of very thick rope to ensnare an opponent., this spell binds the upper body of a target, physical strength alone should not be enough to break out of Dorō.
Hiiruuindo: A defense move, that can block a single attack at a time. It forms a barrier in front of them, that is as tall and 45 feet wipe in front of the user. If someone fires a energy attack of any power, it shall reflect that energy attack back at the opponent, if a physical attack hits the barrier, the opponent shall get a wave of energy with the power behind the physical strike towards them, with a strong cutting force. Afterwords the barrier shall fall apart and cant be used for another 4 post. While the barrier can appear instantly it varys on the user
Byakko: An attack created from compressing reishi onto the user fingers and causing it to spiral rapidly until it becomes a warped color. Once fully formed they fire it as a double helix shaped beam of energy. That possess a compact form with devastating results when launched. When it makes contact with the target, it expands it's size as it engulfs the opponent in a massive explosion of reiatsu that implodes inwards once it expands, causing even greater damage than a regular reiryoku-based attack, such as Cero, this attack is classed as the user version of a gran rey.
Sōryū: This technique allows for the user to speed up the reishi around a target, causing them to become volatile and explode. This action requires physical contact and only effects the area where contact occurs. Its secondary effect is to freeze the reishi around the target in place and can be used to halt the target's movements of that area for half a post. This technique requires physical contact with the target to halt or to speed up the movement of reishi. The damage done can never reach fatal levels, but can make a zanpakutō snap, but on others, it is like being hit by a powerful force that sends them flying backwards.
Chaos Moves:
Chaos Web: The move takes a lot of concentration. It creates an invisible web of chaos energy. When an opponent is trapped in this web their speed is drastically decreased as well as slowly decreasing the amount of reiatsu the opponent has.
Chaos Javelin: The user focuses chaos energy into his palms and forms it into a lance like weapon and hurls it at his enemy. The power and destructive speed of the lance is defining. Upon impact to an area or person the attack destroys a large area.
Chaos Link is a technique where advanced and master users of Chaos Energy can enter someone's mind in order to read their memories and past experiences. They can also share their memories with the person they linked with. However, the link can only happen if the other person accepts. There is no way to perform Chaos Link against someone's will.
Chaos Flurry: The user summons chaos energy and molds them into bird like forms. These birds can be sent to attack the enemy with amazing speed. Their power is low but the speed in which they attack is blinding. Upon impact the birds will explode. Many birds can be summoned at once and one can combine them into bigger versions to increase the power. However, the speed of which will decrease.
|F|O|R|M|S|
________________________________________________
Rotted Return:
Command:
"Peer into the darkness."
Description:
This form burns through his skin, forming a black sphere that was mixed with Akisames own blood until the sphere explodes, leveling the area around him and revealing a pure mass of threads, all the mask spread over his body. He is large enough to rival Yammy in his release state, but is able to compress himself to more of a human size. The energy's internal support became Akisame's physical mass, with every living thing in its way a target Every benefit of the base form was transferred to Rotted Return with massive upgrades; a simple wave of his hand was powerful enough to fire shock waves and the energy wrapped around Akisame's body was so hot that victims were burned by the foul energy. Whenever Akisame is hit, a second body would form out of the threads to attack instantly. It can generate numerous bodies, almost completely altering its own form into an amorphous blob, with which it was able to attack from all directions, and create a twister with just one slash from its threads.
Bijūdama: The only new move in this state. To form the attack, they gather both positive black energy and negative white energy, both of which are found commonly in outer energy. The threads then shift, into the center, and shape it into a sphere, and then compress it inside a "mouth". The black and white energy needs to be balanced at an 8:2 ratio respectively or it will backfire on him. The ball can be fired differently, either in sphere form, which gives it a wide area of damage, or as a concentrated beam of energy which gives it explosive penetrative power. Akisame can rapidly fire this attack with great power and speed.
Rotting Strike:
Command:
Rotting Strike, kill everything!
Evolved Seishin Buki:
To say the lest there is no change in there basic forms and powers. However thanks to the great size they are now, making it harder to dodge, and there faster speed isn't to overlook as well other than that, there is no change.
Description:
This form is his largest so far, being about the same height as a mountain. But able to compress himself to yammy size. The energy's internal support became Akisame's physical mass, with every living thing in its way a target Every benefit of the Rotted Return was transferred to Rotting Strike with massive upgrades; a simple wave of his hand was powerful enough to fire shock waves and the energy wrapped around Akisame's body was so hot that victims were burned by the foul energy. Whenever Akisame is hit,numerous body's would form out of the threads to attack instantly. It can generate numerous bodies, almost completely altering its own form into an amorphous blob, with which it was able to attack from all directions, and create a twister with just one slash from its threads. It can spread itself to create a dome over the area while hollow on the inside it makes a good defense for a city, as well trapping foes within himself to attack from every angle. Again his hearts are the weakness of this form. They are spread thou out, but the more go down the more unstable this form becomes.
Decaying Purity:Command:
Dust to dawn! I shall devour EVERYTHING
Description:
In this form Akisame eats himself in a sense, compassing all his threads into a single body. A black sphere appears that is mixed with Akisame's own blood until the sphere explodes. Showcasing this new form. Unlike the others forms which where so massive they can rival Yammy or a mountain. This form is the same height of his base form, and he can bypass the other stages as well skipping into this state. Every benefit of the Rotting Strike was transferred to Decaying Purity with massive upgrades; a wave of his sword makes a powerful wind blade capable of slicing sekiseki stone with ease. The armor wrapped around Akisame's body was so hot that victims were burned by the foul energy. Whenever Akisame is hit,numerous thread's would form out of the armor to attack instantly. This is due to the armor and his body is completely made of threads compassed and changed there shape, and create a twister with just one slash from its swords. The armor gives the Akisame incredible strength and endurance. It does this by allowing him to bypass the natural subconscious limits that prevent him from injuring himself when using full strength. It can temporarily fix injuries by binding bleeding wounds, reinforcing broken bones, and fixing dislocated joints. It does this by piercing the flesh from within the armor with thin barbs and spikes if required, making each destroyed area stronger since his body is now threads. IF he has any/all hearts in this form he is able to use all there powers at a much greater level, even the releases. A downside for this form is simple enough in two ways, its a massive release of power, and thus drains a lot of power, meaning he has to nearly eat non stop be it the earth around him, bodies, water, clouds, fire, steel, if he is unable to keep eating to keep his energy up, he shall eventually tire out, and return to base form unbelievably tried.
Deadly Gaze: The "eyes" around Akisame serve to being able to "See" much better and enhance his vision greatly, being able to see more frames per second. It is also able to Projects energy beams from its hands and the assorted "eyes" all over its body to cover all sides, these beams are highly powerful, and has
the ability to cut through the entirety of the third dimension. Whatever comes into contact with the beams will be cut as well. His control over the location and shape of the cuts makes his utilization of the dimensional distortion considerably more effective then a surgeon. There are limits to this, while said cuts are powerful, they can't be thicker than wire, and only be sharp as a sword, while it can bypass defense, it is noted, it is see able, easily avoidable. And most of all, these cuts can't move, and even Akisame would be damage by them. He can only make a total of 120 cuts at a time, anymore would reset it back to "Zero" till he hits the cap again.
|R|O|L|E|P|L|A|Y|S|A|MP|L|E|
________________________________________________
Roleplay Sample:
|E|X|T|R|A|I|N|F|O|
________________________________________________Class:
The Angel Of The Living Mass Of The Dead
Skills:
(DO NOT FILL THIS OUT UNTIL TIER IS GIVEN!)
0 Tier is allowed 1 Master, 2 Advanced
1 Tier is allowed 2 Advanced
2 Tier is allowed 1 Advanced, 2 Adept
3 Tier is allowed 1 Adept
4 Tier and below only get beginner.
These rules apply to both General and Racial Skills
General Skills
Durability:

General Speed:

Strength:

Weapon Skill:

Racial Skills
Chaos Energy:

Chaos Control/Warp:

Chaos Blast:

Chaos Sync:

Nature Control:

Nature Spells:

Nature Energy:

Element Control: