I. Personal Information
Name
Sophie's birth name is Sophia de la Motte as a human, it wasn't until her marriage that she would change her surname until she passed away and moved onto the Soul Society, there she took on the name Sophie from her adoptive brother's nickname for her and she adopted his surname Suzuki resulting in her name now being Sophie Suzuki.
Alias'
As far as titles to her name Sophie is not a noble, she is a brat from the Rukongai and has nothing to her name. She has a nickname or two, her very name being a nickname as her birth certificate would still say Sophia. Sophie's also called Soph by select people in her life.
Age
492 years old.
Gender
Female
Sexuality
Bi-Curious
Species
Shinigami
Affiliation
Gotei United | Shino Academy | Final Year.
Appearance
Sophie is a young woman of who stands slightly taller than the average woman which for her is around five feet six inches. Her curves are pronounced like a teenager just about to finish her with her development giving her a frame that reminds people she is a young adult and not a child. She has cherry blossom pink hair that is straight and is styled to cover one of her eyes usually. She has matching lavender eyes to go with it. She does wear glasses but at times she is known to wear contacts for the convenience.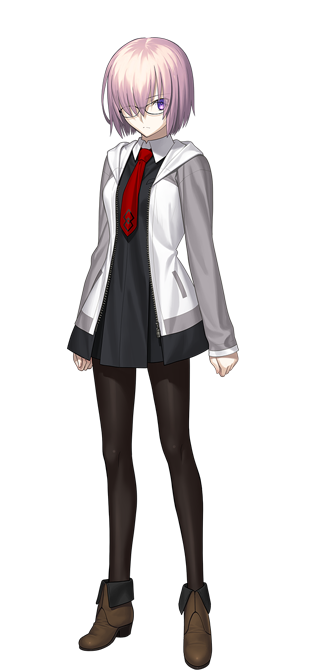 I. Psychological Analysis
Sophie is a person that one would probably look at and think she was just the stereotypical quiet girl that has very little friends and kept to herself. To an extent that is true. Sophie is indeed quite the introvert who would rather keep to herself and a nice book as opposed to the company of other person. Relationships were never her strong suit and instead she would spend most of her time with her brother Ibuki if she sought the company of another. That's not to say she is a shut-in though, no Sophie is quite capable at socialising and can build positive relationships but there is just something about people that she doesn't like.
She is a nerd, sort of anyway. When it comes to Kido she's the genius of her class, she understands the careful nature of energy flow and being, she is also quite adept at medicine in general as one could easily say she possesses the medical know-how of a doctor and surgeon on top of this. Overall as well one could say Sophie is much smarter than the average person but you wouldn't call her an Einstein of this generation. Machines are just one of those things that allude her, hence why she isn't really into the Phantom Tech or technology since it will usually confuse her to try and comprehend.
Respect is an important thing to her, while she doesn't mean respect as in sticking your nose so far up the captain's ass you'll be able to compliment them on what they ate three days ago. No to Sophie respect doesn't have to be like that but is seen in how you talk to someone and treat them, she'll talk and act respectfully towards you but don't think she'll kiss your boot every time you walk by and she expects the same.
Sophie is a girl that has a lot of confidence in herself, she knows she has that appearance that people would kill her for and she is comfortable with her body and definitely not a prude but she isn't going to go off and flaunt it willy nilly, she has a filter for social situations but she does like to be a bit of a tease with those she is comfortable with.
She is a musical person, often you'll find her humming a tune or with earphones in. She loves to sing and is afraid to let down her hair on a karaoke machine. You'll often see her drawing as well and she is quite the talented artist.
She deeply loved her brother and his very recent death is something she has managed quite well, having already gone through the stages of grief Sophie is all but through with it although she still feels a little lonely at times and will occasionally weep for him. She doesn't like to talk about him much and is often a little hostile towards people who insult or talk about him in a bad way and is quick to violence at those topics.
She holds a strong grudge against the person that was his doctor, blaming them for being unable to save him or prevent him from dying and any real topic of her brother will often result in a rather hostile attitude and bad thoughts towards them from it.
I. Historical Information
Sophie was born shortly after World War One, in the year of 1926. Sophie's family were quite noble, so while the aftershock of the War did hit them they still had a fairly reasonable life compared to the rest of the French population, she was born in the peak of the society getting back on its feet. The economy was picking back up and she was able to grow up in a fairly good position. She was the good child, with an older sister and a younger brother she did everything as she was told. Even getting married to a young man from the French Nobility partway into World War 2.
It was all quite easy, things were peaceful and good. During the war things got harder but she could survive. It wasn't until the Germans invaded that things turned very bad, the occupation of Nazi Germany into France resulted in her death, the destruction of her home and left her alone in the world after death. This is where she was sent to the Soul Society via Konso. It was a strange new place, a harsh new place as well. She lived in the forty-fifth district of the West Rukongai. It was quite alright but it was no where near the best.
She met up with a group of men, the "leader" being Kento Suzuki who took a liking to her. She was alone in the world and at the time it was purely somewhere to stay and a roof over her head. She was caught off-guard by his protectiveness of her, she had no interest in any of them romantically but her looks betrayed her, she was attractive. She didn't like the Rukongai, she never felt safe walking around. It wasn't until certain people in the group began to get more involved in shady activities, one of them even tried to get Sophie to be a prostitute which resulted in a very bad experience for that man when Kento found out.
It eventually ended up with Kento leaving the group and taking her to the Seireitei, where he became a Shinigami and supported them. When he got sick she tried to help him, and do more for him but ultimately she resolved that she'd become a shinigami to try and help him. She wanted to save lives, so she ultimately tried to do just that. She couldn't though. She didn't learn fast enough and lacked the skills to actually save him. Her studies in the Academy were incredibly proficient in healing and kido but she was just not at that level of skill.
I. Combat Specs
Kido
By far her most skilled category, Sophie possesses a prodigal affinity for the subject of Kido. Specifically Kaido. She understands the underlying nature of reiryoku and the way it is incorporated in Kido which allowed her to get very talented in this area.
Hoho
She is not the fastest shinigami, that's why she needed to compensate for it. She trained her speed a lot, although you'd only see her speed present through Hoho. Otherwise she'd be pretty avereage. She is not as good as this in comparison to her kido but there is still quite the bit of skill in her Hoho.
Zanjutsu
Her skill with a sword is not the best, she unlocked her shikai and practices Jinzen but otherwise she is not one to actively engage in a sword fight. This doesn't mean that she cannot but it most certainly not her preferred style of combat and is her only implemented when she is in trouble or must.
Hakuda
Same with Zanjutsu, she is alright at it but she sees it as to risky. Getting involved in a close-quarters confrontation puts her at more risk and she tries to avoid being directly involved in a fight. Hakuda doesn't provide the same methods that kido provide and hence she avoids it just like zanjutsu but has adequate skill in it.
I. Zanpakuto Information
Name
Sanko and Nanako. Although not their true names they have adopted their own individual ones. Their true name is only revealed when they enter shikai, otherwise for convenience Sophie uses these names to address them individually.
Description
Sanko has darker skin than her twin, she is also more out-going and extroverted. She likes to light up the environment and try to make everyone feel really happy. She has a childish quirk and an impish attitude. Rarely does she take anything seriously unless Nanako - being the more introverted and responsible one - pulls her into line. They compliment each other very well in that regard.
Sealed Appearance
[See Image]
I. Shikai Information
Name:
Shichiken Ryōiki [七鍵三領域, Seven Keys, Three Realms]
Type
Primary:
Kido-type Zanpakuto.
Secondary:
Illusion-type Zanpakuto.
Shikai Abilities
The power of Sophie's shikai is divided into two separate abilities, the Seven Keys and the Three Realms. Sophie's zanpakuto posseses the first theme of locking, unlocking and subjugation while the second theme defines the three "realms" which can only be truly used to the fullest of strength when combined with the first aspect.
Seven Keys of Subjugation:
Sophie's power is primarily seen with the first power, the ability to lock and unlock the target. This is best seen through her "fake shikai" form which takes the form of hand-cuffs. These hand-cuffs are dull and black in colour with spines along the outside and are subject to being able to have their size manipulated allowing for the chain to grow between them and the circumfrence up to twenty times their normal size. These hand-cuffs have the unique ability to prevent energy flow, as an example if Sophie was to be able to chain someone's arm then their energy would stop being able to flow and also make them unable to move it anymore unless they could break out of the cuffs with force above advanced in strength. If she is able to catch them around the neck and close it then the entire body is unable to move while they are bound. In this case it requires master strength to break the hold over one's body. These cuffs are good for Hakuda as they can be worn around her knuckles and used to make her attacks much more dangerous.
In its true form Subjugation instead focuses on the key aspect, being able to "unlock" and "lock" via keys. In this form the shikai is complete and allows access to her second facet which is unavailable in the "fake shikai". Using the keys Sophie is able to place a lock on something, as an example if someone was to fire a kido at her she could lock that kido and prevent it from working until it was unlocked. That would apply to all attempts at that specific kido. In some cases Sophie could potentially lock an opponents release and prevent them from using that release (if she locked the Shikai then one could still bypass and go into bankai). The primarily issue of this power is that she can only use her ability to lock down something seven times and the lock only lasts three posts, once she uses all seven her subjugation ability is unable to be used for seven posts this is done through tactile contact only.
Three Realms of the World:
The three realms is the second aspect of Sophie's shikai that can only be used in her true shikai, while it can be used on its own a lot of its purpose is to supplement her seven keys ability. The three realms allow her to define a zone, which she can then lock. If a person was to stand on this zone then they would find themselves moved to a different zone which is "unlocked", at least one space must be unlocked at all times. Using this Sophie can set traps by forcing an opponent with teammates into a locked zone and causing them to shift into a known location. Each realm lasts for seven posts and has a cool down of three posts once they expire they cannot be moved or redefined until they expire and this lock applies to allies as well meaning an ally could trip a trap. Ultimately these realms have one more facet when used with "locking" and "unlocking". By defining an area with allies in she can unlock their power at the cost of that realm, this means gives them a boost of power akin to entering shikai and/or removes all cool-downs on any ability. Used on an enemy the realm will temporarily make it harder to move, slowing them by 1/3 of their speed. A realm can also be used to form a large shield which can block any projectile that comes into contact with it and remove the entire force behind it in exchange for shutting down her shikai for the rest of the thread these realms have a max range of a kilometre.
Like the Seven Keys of Subjugation there is a "fake shikai" which is available when her keys are locked. The three realms instead allows her to apply an illusion to the "three senses" of her opponent keeping to the key motif she is able to "lock" one of them while leaving the other two "unlocked" - it should be noted that while her power affects the opponent's senses the effect is directly part of the blade, it does not affect the person's actual senses but the blade will be perceived differently. What this means is that her blade will either be incredibly difficult to perceive visually, audibly or through touch. The higher one's focus is the easier it is to perceive this effect. A beginner would have little to no hope of sensing the blade with their "locked" sense. A more reasonable level of focus could potentially sense it by instinct at times, while someone with master and above would probably be able to react just by pure instinct the blade's status.
I. Bankai Information
UNOBTAINED
I. Skill Information
General Skills
Durability: Master/Advanced/Adept/Beginner

General Speed: Master/Advanced/Adept/Beginner

Strength: Master/Advanced/Adept/Beginner

Weapon Skill: Master/Advanced/Adept/Beginner

Will Skills
Willpower: Master/Advanced/Adept/Beginner

Mental Deduction: Master/Advanced/Adept/Beginner

Pain Endurance: Master/Advanced/Adept/Beginner

Focus: Master/Advanced/Adept/Beginner

Racial Skills
Hoho: Master/Advanced/Adept/Beginner

Kidō: Master/Advanced/Adept/Beginner

Zanjutsu: Master/Advanced/Adept/Beginner

Hakuda: Master/Advanced/Adept/Beginner