THE DEMON TEMPLATE
Traditional Demon Profile
中空アーチャー
I. Basic Information
» Name:
Esyllt Balar
» Titles:
» Age:
Appears 25, is actually 379
» Gender:
Female
» Affiliation/Rank:
Currently rogue
» Shifter Appearance Written:
Esyllt's shifter form is quite a change of pace from her true self in quite a few ways. The first thing that differs the two is that Esyllt's size makes her appear much more human. At only 5'6" and barely scratching triple dige, she appears quite normal, if not a bit on the petite side. She's quite slim and relatively fit for her size, but one thing that doesn't seem to change on Esyllt is her rather large bust, a generous double D-sized cup.
Her dark burgundy hair stands out quite a bit about her, an odd contrast to how fair her complexion normally is. Esyllt's hair is not very long, most strands of hair barely reaching down past her chin, but she has two long bangs that frame the front of her face, reaching all the way down to about where her elbows are. The very front of Esyllt's hair line is often kept curled around some sort of silver hair pen. Whenever her hair pin is taken out, several chest length bangs hang directly in front of Esyllt's face, often making it a bit hard to see part them.
Esyllt can often be seen wearing a low-cut dark red corset with a short sleeve with short, white puffy sleeves and a high collar. She'll often have a sleeveless magenta trenchcoat that flares behind her which is shorter and pleated in the front over the top of her corset. Lastly, she wears a red choker with a gold pendent with a large green jewel, along with black, elbow length gloves that have golden bracelets at the very end of them. Rounding out her outfit are a pair of red high-heeled pumps.
» Shiifter Appearance Picture:
» True Appearance Written:
Esyllt can often be quite a sight. Standing at nearly 6'5", she often finds herself towering over most others. Her bust has swollen out to that of an I-cup, as well as her hair growing out until it is reaching the small of her back, as well as becoming light violet in color. The bangs of hair framing her face from her shifter appearance are now gone, replaced with much shorter ones that reach down to her cheeks, parting just out of the way of her right eye.
Her fair complexion hasn't changed much at all, but her body has become much more 'defined.' Compared to her shifter form, she's put on quite a bit of muscle mass. While not visible ripped, she's certainly someone that seems quite physically in shape. But as a demon, that's where things stop looking human. Esyllt grows a pair of small black horns atop of her head, along with a black, crown like hair piece.
Esyllt appears as if she's always ready for war, dressed up in her own blackened armor with a golden metal line prominent through the sets. Her breast plate, unlike what you would expect for armor, is opened at the bust, the metal plating ending just under her breasts with a black and gold corset underneath to provide her with support. A dark grey and red bordered strap snakes up between her bosom to connect her breast plate to a purple shawl with a gold and white stripped border. The corset continues on as her sleeves until giving way for long silk, violet gloves, with her wrists encased in a vambrace that have sharp, tooth like points where it bends at the elbow.
Esyllt really isn't one for pants, as someone looking at her might think. The only thing providing her pelvis with cover is a thong matching the rest of her armor, with a pair of metallic hip covers. The covers are no more than three golden prongs with matching lashing holding them against her thighs. A gold and white band cross over the front and back of her pelvis with a thin light purple cloth attached to both sides.
The closet looking thing to pants on Esyllt are her upper thigh high black socks with her black and gold boots that are topped with a purple and gold cuff.
» True Appearance Picture: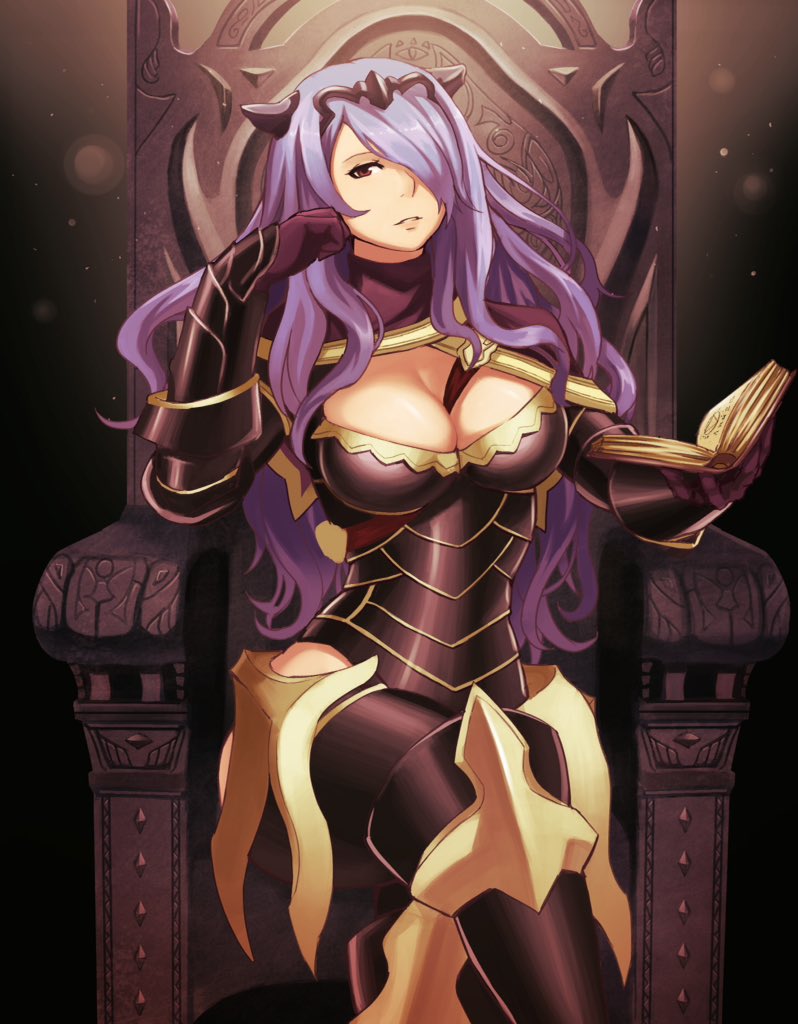 I. Personality Traits
» Personality:
Esyllt currently finds herself in the middle with what is happening around her in the world, and finds herself being quite indifferent on sides. She has no vested interest
(What is your character's personality like? This may be written in any way however it must be at minimum 2 paragraphs for it to be approved.)
» Likes:
(This is self explanatory. What does your character like?)
» Dislikes:
(This is self explanatory. What does your character dislike?)
I. Character History
» History
(This is the section where you write out their history. They must be at least five paragraph's with four to five sentences each.)
I. Equipment
» Equipment:
(If your character has any equipment, then you should put it in this section. Otherwise, if they don't, do not fill in this section and you can leave it blank.)
I. Natural Abilities & Skills
» Natural Abilities:
(What type of powers come naturally to the Demon? This can be, in addition to, their natural abilities and up to four other abilities.)
I. Unique Abilities
» Unique Abilities:
(What type of special abilties, attack's or powers does your demon have? Be clear on what they can do!)
I. Adjustable Demon State(s)
Note: Feel free to change "Adjustable State Appearance" to any title you'd like for your Demon's Stages.» Adjustable State Appearance:
(What do they look like if there is any kind of stage? If they have stages, feel free to repeat as necessary.)
» Adjustable State Benefits:
(Do they get any nifty powers, abilities and things of this nature? Put all of that here in seperate sections and feel free to repeat as necessary for other forms.)
I. Skill Sheet
(To Find Out about what these skills are for, please
READ THIS THREAD
before you try doing anything to it. After you have read it, do not fill your skills out until a staff member has graded your thread. The staff member checking your app will also give you Will Skills in which you can add to your app when approved. Click the spoiler below to see what tier gets what kind of skills.)
Spoiler:
General Skills
Durability: Master/Advanced/Adept/Beginner

General Speed: Master/Advanced/Adept/Beginner

Strength: Master/Advanced/Adept/Beginner

Weapon Skill: Master/Advanced/Adept/Beginner

Racial Skills
Za Koa Skill: Master/Advanced/Adept/Beginner

Demon Magic: Master/Advanced/Adept/Beginner

Shadow Movement: Master/Advanced/Adept/Beginner

Akuma Kyōdo: Master/Advanced/Adept/Beginner

Will Skills
Willpower/Determination: Master/Advanced/Adept/Beginner

Mental Deduction: Master/Advanced/Adept/Beginner

Pain Endurance: Master/Advanced/Adept/Beginner

Focus: Master/Advanced/Adept/Beginner

I. Roleplay Sample
» Role Play Sample:
(Show us what you got by posting a sample of how you role play. Any previous thread or new material is accepted!)