THE SHINIGAMI TEMPLATE
Enter The Shinigami
非再生可能
I. Basic Information
Essential Information:
» Name:
The Lady Vaelynn Couteau
» Alias:
"Red Foot"
» Apparent Age:
Early 20's
» True Age: 240» Gender:
Female
» Association:
Gotei United & House Couteau
Vital Statistics:
» Height:
5 foot 8 inches
» Weight:
140lbs
» Hair:
Black
» Eyes:
Indigo
» Handedness:
Right
» Origins:
Pure Shinigami
"The only way to remove temptation is to yield to it."
Vaelynn is a lithe and athletic woman appearing to be in her mid-twenties. Her long, glossy, raven black hair is most often left down and straightened to a nearly immaculate degree. Her lips, full and slightly pouty, are most often adorned with either feminine and light colors like pink, or darker and more sultry colors like cherry red. Her eyes, naturally marbled indigo, are set behind smokey eyeliner and eye-shadow. They deepen and intensify in color as she uses her powers or channels her energy through her well-muscled form.
Beyond the face, Vaelynn is a woman of seductive curves and athletic tone. Her silhouette that of an hourglass, measuring 36-26-36, and usually wears a uniform modified to reveal some of her modest but ample 34C cleavage. Her complexion is fair but also a little bit ruddy and she enjoys showing strategic amounts of skin at almost all times. Rarely if ever will she show a truly scandalous amount of flesh in any formal setting, but, in private or in moments of abandon such as combat all bets are off and she will shed whatever happens to be getting in her way.
With regard to body language, Vaelynn stands with a noble and almost regal demeanor. Straightened back, shoulders pushed back and square, chin up; she's worked long and hard at capturing an aura of authority and class from which she can look down and judge others. Although her gaze can be stern thanks to the hard lines of her jaw, she is prone to showing the most subtle of smirks in the corner of her mouth for whatever private reason entertains her.
As far as accessories go, Vaelynn enjoys multiple piercings and pieces of jewelry that accentuate her style. On her right ear, she has three piercings including one in the helix. On her left ear, just two. Each of these pieces can vary from day to day depending on her mood or because of other reasons such as appearances that need to be made. On the left side of her nose, she keeps a small, simple nose ring in whenever circumstance permits. It is silver in color and generally understated.
On each hand, she wears multiple rings of brass, gold, and silver with heavily filigreed patterns and adornments; curiously, no gems of any sort are embedded in any of these things. Her left-hand has a thumb ring, her right-hand does not. On her left wrist, a brass bangle about one inch wide. And around her neck, a black silk choker connected with a silver loop rounds out her accessories.
While she often has to wear the uniform when on the clock, she prefers to operate in a modified black and dark blue bodysuit that lets her shoulders move free of fabric or restriction. This bodysuit is usually worn with boots to make it easier to run rather than the standard sandals a Shinigami might wear. Vaelynn has adopted many of the more practical elements a shinobi or a member of the execution squad might wear in order to fulfill their missions.
» Appearance Image: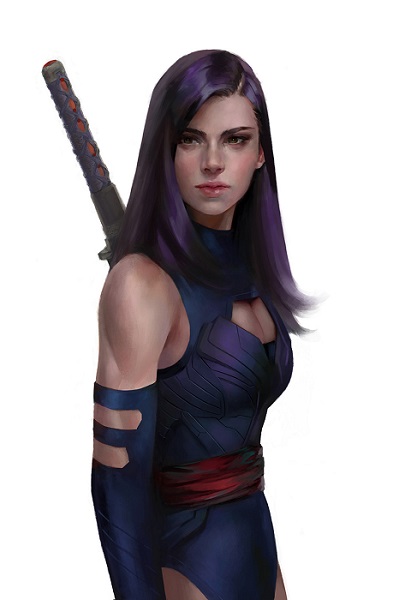 I. Personality
» Personality:
Not immune to the dichotomy that most Shinigami find themselves mired in, Vaelynn gladly bears a polished, carefully tended facade, however, her inner turmoils such as rage and doubt linger just beneath the surface.
The traits that primarily define her to others are her outgoing pursuit of personal relationships, the desire to make sure everyone has a chance to have fun, and unwavering confidence in her own vision. She has taken great care to establish herself as a rock for her squadmates, whether or not her rank reflects that social standing, both in the field and in the barracks. Vaelynn likes the camaraderie, the talking and joking, the times together...Because without those to steal her focus? Her crippling issues begin to bubble to the surface.
Privately, Vaelynn is plagued by a lack of validation and a deep-seated desire to acquire it. In these times of strife, many of her heroic deeds have gone unrecognized given how many people may have died before they could share the stories of her efforts. It has definitely left a chip on her shoulder and she feels the desire to play nice and be recognized for 'good' waning every day.
Professionally, Vaelynn has always done a fine job for the Gotei. She completes tasks and objectives but cares substantially more about doing right by her brothers and sisters than by her superior officers. This, in combination with what appears to be an 'apparent lack of focus' has held her back to this point. Lately, however, she seems to be running out of patience for the endless mountain of bureaucracy above her. Tired of protocol, she yearns for action.
Deep down Vaelynn seeks the acknowledgment of her skill and an opportunity to take her place at the rank she private feels she is worthy of holding. All of this acting nice? It better fucking payoff or she's going to crack.
Dislikes:
» Falsehood ||
Perhaps it's a fine line to draw, but The Lady Couteau doesn't mind lies of omission; she minds being lied to when asking direct things. 'White lies', social contracts, and other things like that can be forgiven and allowed; after all they have their place in polite society. But offering a falsehood, to either her or in an official capacity? Simply intolerable. It's the fastest way to make her shit list.
--"It's better to offer no excuse than a bad one."
» Excess ||
It's an entirely different matter to go into 'overkill' when you don't know what will be necessary. But to surround yourself with the habits and trappings of someone who lives, works, and plays to excess is a sign of personal and moral failing. Of utter inability to control yourself or manage your own fate. While Vaelynn certainly looks down on this behavior, she oddly doesn't extend such mistakes or scrutiny to the realms of people who drink or find comfort in other such activities. Private excess and excess that effects other people are entirely separate ideas.
--"It's the sign of a great person to dislike greatness itself and to prefer things in measure over things in excess."
» Indifference ||
One of the greatest signs of weakness a person can give off is either the refusal to take a side or the density to think you are not best served by taking one. Sometimes, yes, that side is "neither" but it should still be a choice. To stay your hand and idly await a fate determined by anyone else but yourself is the definition of folly. It's cruel to your own past and your own legacy to allow such a failure to stand. Because of this, she encourages others to critically examine a great many issues, even at the cost of other things they should be doing that might rank more important.
--"The opposite of love is not hate, it's indifference. The opposite of art is not ugliness, it's indifference. The opposite of faith is not heresy, it's indifference."
» Grandstanding ||
Speeches, rallies, talking. It's all so trite and often meaningless. People deserve direct, curt communication that succinctly captures feelings and intentions. Big long speeches are the refuge of politicians and the weak-minded to give and take comfort in careful measure. Vaelynn very much prefers a life led by example both for herself and for the men and women she serves with. Actions, most definitely, speak louder than any word.
--"All of it was so noble, so stirring! Yet utterly unrelated to the heart of the matter."
» Breaking Rank ||
Hierarchy should be observed. People have obtained or been appointed to their station because of an establish order that works, and that established order should always be respected. Always. Whether it be listening to the opinions of your elders when they are offered, or whether it be accepting the commands of your XO without question, the order of things is very important. In order for society to succeed and thrive, there must be a stratification of man. Thankfully, Vaelynn's place is near the top.
--"Hierarchies are celestial, divine. In hell, all are equal."
» Giving Up ||
Why in the nine hells would you stop after coming this far? If you were not committed to seeing a thing through, you never should have begun in the first place. To be fair, sometimes the natural conclusion of a thing is that you will lose and loses should be cut. But, there's no reason to stop fighting so long as you bear even the slightest odds in your favor. Battles may be lost, but may you never be accused of having given up on the war.
--"If you quit on the process, you are quitting on the result."
» Artists ||
While she appreciates art and the results it produces, and what it does for society, she is deeply disappointed in the life and times of an 'artist' in and of itself. Wasting time laying around thinking about ideas and intangible concepts and how to make them tangible...it's all so romantic and it's all so fake and empty. What a vapid way to live your life in the day by day. Art should come in fitful and fevered bouts of inspiration! Painted or created with a fevered dream trapped inside of you that must be purged. Go big or go home.
--"Artists are electric with delusion, trapped between moments of perfectly valid inspiration."
» Dumb Luck ||
Fate often conspires to make a good story and Vaelynn has been the victim of this 'universal philosophy' more than once. That may sound like an excuse, and it is, but the times that 'dumb luck' has screwed her over it's never caused her to quit or give up. She pushes on in spite of the cosmos itself reaching up yanking on her braids, giving her a tough time. What a happy mess reality is, and she hates it.
--"Luck has a way of evaporating when on you lean on it, and precipitating when you know you can't."
» Beta Personalities ||
Shy, emotionally responsible, and moderate. Three of Vaelynn's least favorite words altogether in one personality. Easily embarrassed, unsure and insecure about their personality and looks. All of these things combine into something that is really...unattractive to the Shinigami. This isn't to say she goes out of her way to spite them or to avoid them or making life any more difficult for people of this persuasion, merely that she will never consider one of such stock to truly be her equal. However their one redeeming feature is that they are pieces on the board she loves to move.
--"Once bitten twice shy? Sure. But why not get a bigger dog and bite them back?"
» Runners ||
Specifically those who engage opponents through 'avoidance'. Those quick little nimble hoppers that dodge, dodge, dodge rather than standing and meeting a challenge. Situations where she finds herself pursuing types like these or competing against types like these bring out the worst in her with little difficult. Even worse are people who outright run away rather than fighting. Retreating tactically is a move she can respect but to not even pretend to stand for something? Pathetic.
--"Yeah, you can run. But sooner or later I'll make sure you run out of places to run to."
Likes:
» Good Literature ||
A window into another world, or another mind, or another life. Vaelynn loves all literature of both modern and classic penning. She loves to study its diversity, especially in stories where the words on the page might age but the sentiment endures, evolving into a timeless message that goes well beyond the confines in which it was written. While few contemporary works catch her interest, there is always some degree of hope for the modern masters.
--"Good friends, good books, and a sleepy conscience are my ideal life."
» Mentoring ||
Weak links really bother her. Not so much the idea of weak links, but the idea of being surrounded by them. And in a squad and division where you are not only expected to trust others to have your back, but required to do so as a way of life, she goes out of her way to prevent such traps. Vaelynn is very positive about imparting her knowledge onto others and pushing her squad-mates to not only improve individually but refine themselves as a unit. She tries to extend this point of view to all facets of her life, seeking to better the things and people she relies upon.
--"Training costs less than incompetence. Substantially less."
» Playfulness ||
Often trying to merely sustain her sense of humor rather than let it run wild, Vaelynn enjoys joking with others, playing card games and bonding with the fellas, laughing at stories and telling a few of her own. She also enjoys partaking in sports or organized athletic events, or otherwise just being as jovial as she can afford to be given her job. As a dealer of death, sometimes it's all she can do to keep smiling from day-to-day. She values the same approach in others and it's an easy way to bond with her.
--"A little nonsense, now and then, keeps anyone young."
» Resilience ||
Faith is important to her. Passing tests against it even more so. You can spit in her face, kick her down, take her wealth and well-being, wound her pride. And she may bend, but she will never break. Her certainty in herself and in her mission is a source of great strength for her and maybe even those around her. Finding inspiration and strength in things beyond yourself in order to stand strong is the surest way to win her most confident respect.
--"Resilience is accepting your new reality, even if it's less good than the one you had before. You can scream about what you've lost, or you can accept that and try to put together something that's good."
» Superstition ||
Perhaps partially a comforting placebo effect, Vaelynn indulges in specific rituals that she believes gives specific results. Most of this conduct is self-reinforcing, since it's all in her head anyway, and the 'high' she earns by complying makes for a dangerous loop. While this behavior doesn't expressly interfere with her actions minute by minute, it does occasionally short-circuit her logic and lead to undue risks. Because of this, routine is important for her and she believes all of her warriors and officers should strive to find one of their own, as well as keep other customs in mind.
--"The root of all superstition is that men observe when a thing hits, but not when it misses."
» Sonder ||
Sometimes you just need to feel small. Vaelynn enjoys big cities, or strolling around the Seireitei or the Rukongai incognito, observing people and watching life unfold. The confluence of all of the personalities, creeds, beliefs, and all the other messy pieces that make humans unique collide and shape themselves into something so beauty and endlessly interesting. So long as she's watching from a comfortable distance, that is. Things are easier to appreciate at an arm's length.
--"Humanity is a beautiful ocean. A few drops of dirty water does not taint the whole."
» Ikebana ||
Sometimes traditional, sometimes more Western in approach, Vaelynn loves to set aside time every morning to savor the art of flower arranging. She allows for very few true 'creature comforts' in her private life, so inviting a bit of beauty, a bit of class, and a bit of the puzzle of creativity that comes with true Ikebana is a great way for her to get her juices flowing each day. It's also a delight for her to see the look on other people's faces when they realize that the arrangement on the table was made by her very own hand.
--"The flower which is single need not envy the thorn which is numerous."
» Baseball ||
Her favorite pastime to observe and take in on a lazy, summery afternoon. Vaelynn loves the game of baseball and has occasionally participated in recreational leagues between both Japan and America, as her duties and sabbatical have allowed her to do.
--"Baseball is like church; many attend, few understand."
» Cherry Blossoms ||
The simplistic beautify of the white, rose, and pink blossoms captivates both her senses and her imagination. She often models her fashion sense after these Japanese main-stays and tries to pay subtle tribute to the motif whenever possible. Having said that, the display is for her own enjoyment, not necessarily so she can be seen in such things. This leads to often subtle choices.
--"What a strange thing, to be alive beneath the cherry blossoms!"
» Sparring ||
Constantly evaluating your own strengths, weaknesses, and mind for tactics is of vital importance to the mind of warrior. It is only in resting on our laurels and accepting that we know enough, or have nothing more to learn from those around us, that we allow ourselves to invite defeat. Sparring is akin to breathing for the true warrior.
--"If you want to find real competition just look in the mirror. After awhile you'll see your rivals scrambling for second place."
» Competition ||
Objectively being slotted ahead of another is a great feeling, no matter what anyone else tries to tell you. Vaelynn embraces this and savors the thrill of competition in virtually all the forms it takes. Sometimes that's racing to Mess, sometimes that's racking up a kill count in a battle. Hell, sometimes that's even in something so simple as who can tie their running shoes faster. Either way, it feels good to compete. Almost as good as winning.
--"Competition is a rude but effective form of motivation. Especially for the self."
Flaws:
» Single-Minded ||
Okay, so maybe she gets a bit of tunnel vision on some things, like the need to chase after a good, clean, honest fight that might jeopardize other duties on any given day. Despite her dedication to the mission, priorities become fuzzy when something is already in motion. She just likes to finish what he starts, okay? Unfortunately, this naughty habit is often reinforced by the attitude of some of her friends and squad-mates who like to see the grittiness that comes with it.
--"The only thing more terrifying than a rampaging maniac with no goal is a rampaging maniac with just one."
» Brutality ||
If you wanted to be polite you could call it a rage problem, but it runs much deeper than that for Vaelynn. There is a terrible, primal need within her that once unleashed is very difficult to get back into its cage - to rip and cut and tear and smash anything she can get her sword on - until everything in the vicinity has been relegated to goo and/or dust.
--"I once heard someone say that civilization weakened natural selection. Well, I am to fix that."
» Sadism ||
Decades of being ignored, forgotten, overlooked took their toll on her. In her heart, Vaelynn yearns to be remembered and to leave a lasting impression on those whose lives she enters. In her younger years, this was a much more healthy and positive interaction that saw her striving to add joy and hope, but this sentiment turned to ash in her mouth as she discovered her talent for inflicting pain. You see, fear, pain, terror...these things last much longer and stain much more deeply than the lighter tones. She'll be remembered by all those that cross her path.
--"The healthy man does not torture others. It is the tortured who turns into the torturer."
» Prideful ||
She's done some stuff and she's not shy about taking credit for that. Vaelynn is a good looking woman with a bright future, a good career track, and the skills to pay the bills. She tries not to be vain about it but it takes very little time for her to relapse into a less humble woman than she should be. Because of this pride, it's not much of a stretch to see her as cocky although a trained eye might be able to understand that the bravado is motivated by something more than mere confidence.
--"You aren't born with a walk like this - you have to earn it."
» Bottled Up ||
All the gregarious, friendly, extroverted qualities aside, Vaelynn is genuinely rattled by the risks associated with everyday life and the career she commits to. Thoughts of oblivion, of lost friends, and of the murder inflicted lurk in the back of her mind somewhere deep - but only if she lets them. If she ever stopped, she might actually have to face them! And that's just...well..that's just not okay. She finds release at the bottom of a bottle or at the end of her sword.
--"I try not to let my head tell me what to do any more than I have to. That fucker gives up too easily."
» Aloof ||
The way Vaelynn's mind works, it's often difficult for her to seem genuinely interested in interpersonal matters, or with the plight of 'humanity' as a whole. True, she enjoys camaraderie and fostering togetherness but she always,
always
, maintains a professional distance about her own matters. It's her duty as an officer and her duty as a woman of 'good birth' that she should be above the petty dramas and squabbles of her lesser Shinigami. Unfortunately, rather than knowing how to actually draw that line she simply turns that side of herself off.
--"Something terrible could happen to your right now and wipe you off the face of the three realms. And while I might be sad for you for a little while? Neither I nor the universe would really bat an eye."
» Predictability ||
Something she acknowledges as a fault, if only privately, is just how obvious Vaelynn can be to someone looking at her. She tends to swing exactly where it looks like she is swinging, to run exactly where it appears she is heading, and say exactly what her words were intended to convey. But for her, it also means that a promise is a promise - if she tells you that she will be there to bail your unit out in five minutes, well, set your watch. This isn't to say she is unimaginative or incapable of improvising, merely that deceit just doesn't show up in her playbook in professional matters.
--"Ironically, engaging people with just what they expect from you is the best way to get a predictable response. I want you to think I'm predictable. At all times."
» Shameless ||
One of the core tenets of reform and self-improvement is to acknowledge the bad features about yourself, the bad behaviors, and to feel regret, shame, or remorse at expressing them. While Vaelynn does recognize that parts of the self need improving, even in her refined case, she simply will never be made to feel shame about them by an outsider. By someone who doesn't understand her. So to this end, her process has been greatly slowed by careful adherence to this artificial barrier. Her conduct, he outfits, her battlefield 'etiquette'...she feels no shame.
--"Shame is an ornament for the young and the disgrace of the old."
» Busybody ||
Vaelynn is not at all interested in sharing her own social or private woes with her acquaintances or subordinates. But she is deeply and genuinely interested in sticking her nose into whomever else's business she can get her hands on. Knowing the ins and outs of other people's relationships is of great use in manipulating the dynamics of her division or the politics of the Soul Society in general. Knowing who is emotionally compromised, knowing who could be, knowing who cannot afford to be...all of these things add up to create a full picture that she finds very valuable to have during both times of war and of peace.
--"Only a few people care; the rest are just curious."
» Indulgent ||
There is always time for spectacle, for gamesmanship. Vaelynn enjoys her vices and the routines that come along with them. Honoring the dead by drinking or celebrating to their names. Playing drinking games. Offering opponent's sporting chances. Entertaining ridiculous pleas from subordinates and making them into even further games. All of these things add up to a convoluted collection of personal rules that she can get away with imposing or using simply because she is the one with the upper hand in the power dynamic in her Division. And in places where she isn't? She uses these same rules to try to engage the other person and bring them into her dynamic actively. What's the worst they can do? Say no?
--"The only way to rid yourself of temptation is to yield to it."
Habits:
» Yoga ||
Often accused of being quick to adopt modern and Western styles of fashion and sensibility, Vaelynn has certainly embraced yoga and made it a part of her daily routine. Every morning involves ritual stretching and flexibility training through yoga which then transitions into a short Tai Chi exercise to center herself for the day.
» Gourmand ||
While this falls short of excess, as evidenced by her still slender figure, Ms. Couteau very much enjoys the foods and cultures of the world. Searching out interesting meals and enjoying them in their intended manner is one of her greatest delights, so much so that it's how she prefers to spend the majority of the vacation time that she takes. Many of her interactions with the men and women of her division involve group meals or being hosted in the homes of her officers where they may share a meal together. She'll try just about any good at least once, and is even an okay cook in her own right.
» Karaoke Star ||
Something of an open secret is Vaelynn's love of Earthly music. While she's old enough to have this interest 'evolve' over time and include some very old music, she loves the reality that music turns over so often and seems to live and breathe in concert with the modern times. Pop, hip hop, a bit of country, bit of rock...She's liable to be singing something virtually any time she gets engaged on a task that requires less than her full concentration. Alternatively, she also sings when she's genuinely having fun; a mixed blessing for her opponents as she pummels them into submission while screaming N*SYNC.
» Colorful ||
Although she always wears the 'required' elements of her uniform, Vaelynn loves to add accents and splashes of color that constitute her personal touch. Chiefly, she ties her shihakusho with a light pink silk sash decorated with cherry blossoms. If she's in a situation where the uniform is not required but she wants to add the color, all the same, she may tie her hair up using that same sash.
» Fingernails ||
When one or both of her hands are idle she almost immediately begins playing with and digging at her nails. The reality of a life of swordplay means that they never grow too long and never look quite right, so with the rare exception of times she pampers herself with day trips to the spa, manicures, and other feminine indulgences, she is constantly playing with, picking at, or even sometimes chewing on her nails.
Fears:
» Disappointment ||
More precisely disappointing her family. Vaelynn's earliest seeded complex involves the persistent and ever-present fear of measuring up against her siblings, her cousins, and her parents and coming up short. As a youth she always strove to be recognized, given even the smallest morsel of attention and praise for her achievements, but she was denied. As she aged, rather than being offered the help and aid of her family necessary for her to achieve she was instead shown only cold indifference. The day she finally broke through that and earned recognition was the single sweetest taste in her entire storied life. Unfortunately, the lasting effect of that only made her failures taste all the more sour.
» Being Forgotten ||
Related to the above, Vaelynn strives to build a legacy that will survive beyond her death and shape the future for generations to come. But more than merely striving to be remembered, she deeply yearns for people who will be there to remember her, in addition to having noteworthy deeds. A husband, children, a successful career. The respect of her co-workers, the fear of her enemies. All of these are tools she craves to wrap around her finger as she pursues a legacy. It would be one thing if she were after these elements because she genuinely wanted the fulfillment they bring. Instead, she fears not having them at all. If she were to ever achieve a portion of security against this fear, it would merely morph into something more--the crippling fear of losing what she had managed to gain.
» Exposure ||
Although she is chiefly and supremely confident in her abilities as a leader, as a warrior, and as a Shinigami of the Gotei...Vaelynn has a corner of her psyche that nurtures the subtle worry that one day someone may come along and soundly embarrass her as a warrior, exposing her as some sort of childish and disappointing fraud. It's an unreasonable fear, but to her it would spell the end of everything she feels she has become since she stepped into her own.
Goals:
» Achievement ||
Recognition from peers, enemies, and allies as one of the strongest and most potent Shinigami to have ever lived. It is her intention to dwarf even the most optimistic expectations of her family and show them the error of their ways. And in so achieving this end, she will force them to admit they had always believed in her and known she had the potential, even if that's a lie.
» Legacy ||
To be worthy of a husband and a family in spite of her true nature. The natural mechanisms of love and acceptance denied her for so long, will be hers to freely give one day. Having said this, it's not enough that she simply finds a willing partner she can tolerate. The idea of true love isn't something she denies, but it's also not something she accepts. There are standards to uphold if society is to benefit from her legacy at all. Best not to start things off on the wrong foot.
Alignment:
Lawful Evil. Vaelynn, despite being a generally free-spirited and optimistic person when examined in a bubble, relies upon systems of order and law in order to methodically and intentionally pursue her own interests and the agenda of her allies. These tactics often come at the cost of the well-being or success of others and seek to manipulate legal and systemic advantages in order to remain in power, or in control of a power dynamic.
I. History
» History:
PLEASE SEE THE SECOND POST FOR CHARACTER HISTORY
I. Equipment
» Equipment:
[Section is being skipped for now]
I. Racial Techniques/Abilities/Skills
» Abilities & Skills:
Over the course of a long life, Vaelynn has seen a share of battle well in excess of the average for a Shinigami. With such exposure come certain benefits, skills, and other tricks of the trade that make the warrior.
» Bakudo:
Vaelynn is an expert at a number of advanced bindings and seals she uses to trip up her opponents, ensnare, and ultimately imprison them. Regardless of whether or not it's due to her cruelty or the effectiveness of bindings at as a form of Kido, she's practiced and proficient at it.
» Shunpo:
While Shunpo is a skill all Shinigami are familiar with and have some degree of practice in, Vaelynn is especially good at short, blurred steps within a small area. Big, dramatic movements that create lots of distance are something she struggles to do well or often, preferring to stay near her opponent's weak spots and him them hard and fast.
» Zanjutsu Expertise:
Vaelynn's top priority and signature as a warrior has always been her ability to inflict both intentional damage and intentional cruelty with her sword. She's learned in a wide variety of techniques taught to her by several different tutors and masters that were hired by her family in order to give all of their children the most capable education. Preferring to fight aggressively, Vaelynn utilizes her skill and training to immediately press advantages and exploit weaknesses rather than waiting to feel out an opponent by allowing them to do this to her.
While she prides herself on being observant and discerning such weaknesses in order to exploit them, she would much rather savor chasing over being chased.
» Reiatsu Pressure:
Vaelynn's dark purple aura is especially piercing when channeled through her Zanpakuto. This is most often used in combination with her other ability to absolute devastate fortifications, other structures, or other items such as shields and armor. She's learned to focus her power on the tip of her sword, rather than collecting it along the cutting edge.
» Pain Tolerance:
She wouldn't be a very good sadist if she couldn't also take some pain. This isn't to say she enjoys the feeling but rather she is intimately aware that dishing it out also requires taking it. Pain lets you know you're alive, for better and for worse. Vaelynn will often sacrifice her body and take deliberate hits so she can close into intimate range and deliver a far worse strike of her own. Reckless? Perhaps. But unarguably effective.
I. Sealed Powers
» Zanpakutô Name:
Kugyō, "Penance"
» Zanpakutô Spirit Appearance:
Kugyō appears as an ill-defined, amorphous mass of inky blackness in a constant state of chaos and turbulence. Large pseudopods of the mass rise and fall from its body, occasionally taking on clearly defined, rigid, solid shapes with their own colors and textures. Some of these shapes include squid-like tentacles both massive and minuscule, viscous bubbles that swell and pop, large eyeballs with elliptical pupils, and skeletal hands that seem to be trying to claw their way free rather than merely surfacing from Kugyō.
While such undulations are not constant, their frequency seems to rise and fall with the desperation at which Kugyō tries to communicate with its master. While capable of speaking to its wielder in slow, drawn-out whispers befitting the eldritch mass that it is, it often chooses even more vague methods for communication. Games, scavenger hunts, pantomime from the fallen warriors, and full-scale recreations done by the long-dead. All of these methods and more, combined with the elements at his disposal, make Kugyō one big hot mess to try and get a straight answer from.
And truthfully, the spirit loves to be convoluted. As a foil to Vaelynn, Kugyō is many things she is not. Opaque in both intention and language, fluttering about from topic to topic and place to place without ever reaching the point, it's a deeply frustrating experience for Vaelynn on even the best of her days. Having said that, bridging the gap to arrive at the intended message, the whole point of these exercises is something the two of them find deep meaning and reward from completing. They agree they frustrate each other. They agree with why. And they agree that it's worth it.
Kugyō itself is often silent in most situations, preferring to stay its amorphous hand until he is called upon by his wielder. At this advanced stage of their bond, the two understand their dynamic well enough to know that Vaelynn will first and foremost do her best to overcome a challenge. If, and only if she fears she may be lacking, will she turn to the council of her other half and invite more poignant lessons. What it has already taught her are a great many tidbits of knowledge she keeps near and dear to her heart.
In more personal matters, Kugyō is the single greatest encourager of Vaelynn's sadistic tendencies. The two of them revel in the pain and mayhem that they cause; a language they both speak and understand -very clearly-. Mutually, they both feel the pain of neglect that was strongest during the forging of their emotional bond all of those decades ago. For better and for worse, it was their first taste of each other.

» Inner World:
Vaelynn's inner world is a desolate, darkened battlefield that stretches to the furthest horizon. A craggy plain of rocks and blood and swords turned down and jammed into the earth, her Inner World is the site of an ancient battle fought between unknowable forces.
Scattered about, between the discarded weapons, lay pieces of armor and sun-bleached bones long since picked over by vultures and other predators of opportunity. The place smells of blood, of death, but there is no one to be found save for her Zanpakutô and the empty howling of the wind. Several major sites are scattered about and occasionally the ghosts of the past manifest long enough to play out their ill-fated battles one more time before collapsing back into ether and nothingness.
Although she's never known for certain, Vaelynn believes that these battles, these scenes, are how her Zanpakutô tries to convey its convoluted messages to her at one of their most deep and sincere levels. Perhaps she's merely finding patterns in the madness, seeking to assign meaning to the unknowable. Perhaps one day all of this will be illuminated.
» Zanpakutô Appearance:
Very simple in design, the Zanpakutô takes the form of a slender, single-edged blade with a slight curve and a 'shobu-hi' style blood groove running its length. The blade itself is a bit longer than average at 38 inches in length, has a square guard that is wrapped tightly with a simple black grip and is adorned with two thin, woven braids hanging from the hilt. Each of these braids is about 10 inches long and serve no purpose save for style. Vaelynn will occasionally rewrap these braids in order to change the color, and most recently swapped them out to one light pink and one cherry red braid.
» Sealed Zanpakutô Power:
Her Zanpakuto is almost always coated in a thin layer of the acidic substance used by her Shikai. As such, this blade is highly effective against objects, literally melting them with prolonged contact. Wounds caused even by her sealed Zanpakuto are somewhat more difficult to treat and heal than normal cuts due to their caustic nature.
I. Shikai
» Shikai Release Phrase:
"Cry out for judgment, Teishutsu ni Kugyō!" [lit. 'submission to penance']
» Shikai Release Action:
Holding her blade out and angling it downward, Vaelynn speaks the command phrase.
» Shikai Appearance:
Upon completing the release phrase, the blade begins to weep a viscous, black substance from the guard and out of the blood groove which coats the weapon. The excess liquid flies off of the blade and scatters about as she swings her sword, clinging to all materials it happens to touch. As Vaelynn continues to fight, the liquid will gradually darken her hands, wrists, and even her uniform as it continues to splash on her and weep down the blade. Despite the effects of her Shikai, this liquid has no effect on either Vaelynn or her equipment.
» Shikai Abilities:
Ruination -- The substance created by Kugyō becomes substantially more potent and can be flung from her blade in large dollops of the material. From this state, the black goo also takes on a number of its own emergent properties including the ability to generate up to eight limbs and pseudopods for grabbing and restraining opponents as well as generating up to four large ophidian eyes capable of relaying information back to Vaelynn over a mental link. The Pseudopods restrain similar to a Bakudo, and the Eyes act as Vaelynn's up to a maximum distance of 200 ft.
Opponents that have this material touch their skin will see their flesh immediately become translucent and their skin paper-thin. Even mild exertion or tugging at the skin will cause it to painfully split spilling out their vital sap and exposing the muscle and bone underneath to the full and corrupting influence of the raw, exposed material. Resisting this effect is based on the difference in Reiatsu pressure between Vaelynn and her target.
Additionally, this effect takes place even through thin layers of clothing such as shirts or pants though someone especially desperate to avoid the effect has a few seconds to remove that article of clothing before this process begins. The black goo does not seem to be able to penetrate thicker substances like armor or the leather of boots, but, such things do still have cracks or seams or other places for the goo to find its way in. Semi-Liquids are a bitch like that.
I. Bankai
» Bankai Release: Calling out, "Bankai, Kugyō Zentai-Shōhi Kyūshutsu!" Vaelynn's sword erupts in a great billowing fountain of cancerous, lumpy, black, rotten energy that sends wave after wave of the inky substance up into the air. As this geyser of chaotic energy blooms, the sword begins casting off huge chunks of the substance that splash onto all nearby terrain, flora, and fauna coating them in this viscous material much like an oil slick. Vaelynn herself undergoes only a minimal transformation; her hands and arms are now deeply stained if they weren't already, all the way up just short of her shoulder. Her fingers have elongated slightly and narrowed into something more akin to claws than hands, and her touch is capable of infusing the things she drags her nails over with the corruption of Kugyō. [lit. 'Penitent All-Consuming Deliverance']

» Bankai Abilities: Perdition -- Escalating to even greater effect, Kugyō's black goo gains more potency and Vaelynn can grasp even more fine control over its writhing mass. The black patches of the substance now scattered across the battlefield are now capable of forming into massive, articulated human-like hands and arms that reach and grab and claw at whatever living things happen to be nearby. These arms grow to a size proportional to the patch from which they are spawned, although many arms may spawn from the same large patch. The viscous material that these arms are composed of is the very same acrid, black, corrupt mass that Vaelynn makes use of in her other phases, therefore, any attempts to cut the arms down are likely to only result in getting someone or something else covered in the black goo. Although it is possible to resist the effects of the acidic goo, it is more difficult in her Bankai.

These individual arms are certainly vulnerable to attack, as they must solidify and take on tangible and textured forms in order to interact with the things around them, but as they are formed from the soupy mass they can simply gather back up again if knocked to pieces. Small puddles of the material are capable of moving and forming together with other small puddles in order to create larger masses and therefore larger arms. These arms act with a will of their own but are not wholly independent. Vaelynn may command them either verbally or mentally although they are far from perfect soldiers. When commanded in this manner they generally hang on to the last order given, such that they cannot really be distracted from their task unless Vaelynn herself becomes similarly distracted.

And as a final note for this ability, wherever these pseudopods and arms happen to strike or slam their mass against, they transfer small amounts of their viscous sludge onto that surface. In this way, even if an opponent is capable of eluding their grasp and making it to safety, they are very likely still struck somewhere by the acrid substance even if in small measure.

When Vaelynn seals her Bankai, these arms will collapse back into their sludge piles even if they are in the act of restraining someone. While this spares the target the pain of being further crushed or directly maimed by her Bankai, this does not absolve them the painful wounds either caused by or exacerbated by her Zanpakutou.

I. Skill Sheet
(To Find Out about what these skills are for, please
READ THIS THREAD
before you try doing anything to it.)
[spoiler]6-Tier: Allowed all beginners.
5-Tier: Allowed all beginners.
4-Tier: Allowed 1 Adept, 3 Beginner
3-Tier: Allowed 3 Adept, 1 Beginner
2-Tier: Allowed 2 Advanced, 2 Adept
1-Tier: Allowed 1 Elite, 2 Advanced, 1 Adept
0-5 Tier: Allowed 1 Elite, 3 Advanced
General Skills
Durability: Elite/Advanced/Adept/Trained/Beginner/Untrained

General Speed: Elite/Advanced/Adept/Beginner/Untrained

Strength: Elite/Advanced/Adept/Beginner/Untrained

Weapon Skill: Elite/Advanced/Adept/Beginner/Untrained

Shinigami Skills
Hoho: Elite/Advanced/Adept/Beginner/Untrained

Kidō: Elite/Advanced/Adept/Beginner/Untrained

Zanjutsu: Elite/Advanced/Adept/Beginner/Untrained

Hakuda: Elite/Advanced/Adept/Beginner/Untrained
Will Skills
Willpower/Determination: Elite/Advanced/Adept/Beginner/Untrained

Mental Deduction: Elite/Advanced/Adept/Beginner/Untrained

Focus: Elite/Advanced/Adept/Beginner/Untrained

I. Role Play Sample
» Roleplay Sample:
SEE THE SECOND POST, AS THIS HAS REACHED THE CHARACTER LIMIT.
Hazard Rating: C
Power: C

Influence: D

Resources: C