The Spiritual Human Template
Basic Information
_____________________________
• Name:
Gattling Galeon
• Titles:
Captain C1/ Red Rider (Alias)/Soccer Team Captain
• Age:
15
• Gender:
Female
• Affiliation/Rank:
"None", techinically.
• Appearance Description:
Gattling stands at a height that would be considered tall to some girls and short to most males, being around 5'6 in terms of height. Her athletic nature keeps her in top form, as that as well as a super fast metabolism keeps the girl from gaining too much weight (and keeps her from gaining much of a body as well.) Her skin is a creamy white and without any notable flaws on it. The red hair she has is rather short, only going a little below her neck.
She tends to wear athletic clothing and is rarely seen in anything outside of that unless she is being forced. It's namely red or crimson in color, and she's bigger fan of tennis shoes over sandals. Whenever she decides to wear anything that shows off her stomach, she's proud to flaunt it off in all of it's flat glory.
• Appearance Picture:
Character Theme 1
Character Theme 2 (When Transformed)
_____________________________
Personality
• Personality:
Adventurous
Gattling has always enjoyed the thrills of adventure, as a child she was known for wandering off constantly and giving her family fits as she effortlessly and intentionally turned casual grocery store trips into a escapade. This is namely because she's into exploring and always wants to learn about what a area has to offer. From a new city to a new shop that opens up on the corner of the street, if there is something that should be explored she is more than ready to explore it.
"So how is your daaaaaaaay?~"
Gattling is a very talkative and friendly person to the point many would even find this annoying. She is quick to make friends and is known for being the most socially active in her group. Her attitude is that it's always fun to meet new people whether they be a friend, rival, or foe. Though such a trait can get her in trouble as well, as she can talk herself into as many situations as she can talk herself out of. If it comes down to it, she is the one person that if put in a room with a bunch of other people she will befriend someone rather quickly and she takes pride in being the life of the party.
"Who the hell are you supposed to be ? "
Gattling has a slight attitude problem amongst other things. This has come from the fiery personality she adapted from her mother that the woman has long since abandoned. To put it simple, there is a certain sassy side to her that she usually flaunts whenever she has been provoked enough. She has a rather sharp tongue and is very witty in the art of trash talking, so naturally it's only fair to say it plays in hand with how she normally acts.
"Are you gonna finish that?"
Gattling can really, really put food away. She can eat seemingly large and excessive quantities with little to no issue. She prefers meat and sushi above everything else, but as long as it's food she won't be the one to complain. It's not uncommon to hear the girl whining about her stomach hurting after she "thinks" she ate way too much. She blows most of her allowance on food as well, so she is not that smart of a manager when it comes to money at all.
"…Race me then."
Gattling is a very competitive individual. She doesn't like to lose, and is just as sore as a winner. She turns just about everything into a competition, from something simple like a walk home, to something a bit more strange like a food eating contest when she goes out. This is in part because of her exposure to sports and her refusal to have her sister be better than her at anything.
" I'm A Hero Too!"
Gattling can be a very aggressive individual when she wants to be, but this doesn't make her any less heroic. She is one of the more violent members of the team, and in most cases can easily be portrayed as the "bad cop". She doesn't like those who pick on the weak and hates injustice, but at the same time she still has compassion. And though her mother doesn't believe people can change, her father always did and so she tries to see the good in everyone regardless of how evil they may seem. Though she won't allow her kindness to be her weakness, and will not hesitate to pull the trigger if need be.
"Just follow my lead."
As one of the rare red sentai, she was expected to be a great and powerful leader. Rather quickly, she was able to get her friends to respect her because of what she can do, rather than what she wears. She has a natural talent for leading people and always has, as even when she was disrespected in the past by peers she was still able to get them to listen to her whenever a team situation came up and they needed her guidance .
_____________________________
Natural Attributes & Supernatural Powers
• Natural Attributes:
-Athleticism : As expected, Gattling is a top notch athlete that keeps herself in peak physical condition. Due to this she is quick on her feet and fast as her body allows her to be. Her form does not have a lot of muscle mass if any, though she is still able to throw a mean enough punch.
-Jeet Kune Do : A fighting style focused on speedy attacks with minimal movements. The objectives is to be fluid, and with less wasted movements and wind ups, hit the enemy at faster speeds than they can react.
-Bicycle Kick: Not so much a power. She just takes a powerful leap into the air, and aims to kick the enemy in the face numerous times while making excessive noises.
• Powers:
-Red Robin : This power is used to augment her physical attacks to greater heights. These physical attacks however MUST be with her own limbs and not weaponry (hands, legs,ect.)
[Adds onto her strength by a multiplier of x 1.3 for up to eight posts, after that it becomes 0.5x]
-Multi Four : She has the ability to make clones of herself. These clones however can only take a single hit before they explode in a red colored puff of smoke.
[ Can create up to 2 in a single post.]
[Thread Limit: 6]
[Cooldown: 4 posts]
*She cannot create another / anymore clones until the first one is destroyed.
- Red Dawn:
This ability was something she was naturally born with. Essentially, her eyes change color and her body glows with a faint red outline for a moment. When it's activated, she gains a small boost in all parameters.
[Strength 0.8x]
[Durability 1.2x]
[Speed 1.3x]
[Boost lasts for 5 posts.]
[Thread Limit : 1]
*CANNOT ACTIVATE DURING HER SACRED RELEASE STATE
-Crimson Crusader: She holds out a open palm as a orb of red energy is formed in it. The function of it is to smash the orb into the enemy, and once that has happened it bursts into a energy beam.
[Hits at the strength of a cero.]
[Thread Limit : 3]
[Cooldown : 2]
------------------------
- Morpher Model : Red Riding Hood
(Her Anima Stone That's Inside Of It Below)

A morpher fused and augmented with her anima stone inside of it. It's best usage revolves around being able to store her weapons, which would include:
-Red Revolver :
A blaster that looks like a toy. It shoots out red marbles at speeds of 1,700 mph.
*Can hold up too 10 marbles.
*Can recharge marbles 2 times a thread (each recharge is 10.)
*Takes up a post to recharge.
*Has 10 marbles upon being drawn.
*4 Shots can be fired a post.
POWER SHOTS:
Red Dragon Wave x5- Similar to Dragon Wave, only a single shot is fired with a small red tornado coming from it. This shot is the strongest shot she can use currently.
[Hits at the power of a cero, is as fast as one as well.]
[Thread Limit : 2]
[Cooldown: 2]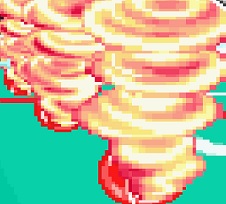 Red Dragon Wave – Three shots are fired off at the speed and power of a bala with a small red tornado coming out of them.
[Thread Limit: 3]
[Cooldown: 2]
Dragon Split – A single shot is fired that splits into three, all with a homing effect that try to slam into the enemy.
[All three hit at the speed and power of a bala.]
[If the ball is knocked off course before it can split, the attack is canceled. ]
[They go to home in too the enemy for 2 posts, if they don't make contact they harmlessly fall to the ground after.]
[Thread Limit: 4]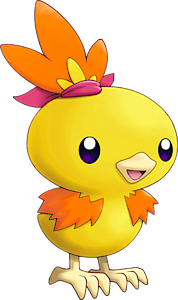 Rita The Rooster
*Stays summoned for up to 6 posts in combat threads.
*In none combat threads has no limit.
This "weapon" is more of a pet, and she cares for it like one. Rita still has human needs, such as needing to eat and what not, but this small pet is more than combat capable as well.
- Get Chicky With It : Rita is as fast as anyone would expect for her small, 1'4 height and lightweight frame. She is just a bit quicker than her summoner.
-Light You Up : She is able to fire off excessive small orange balls of energy at the enemy,and this is her main method of attacking.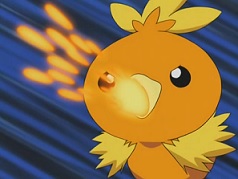 [Speed and power are equal to that of a bala.]
[Up to 5 can be fired in a single post.]
[ Thread Limit : 15]
[Cooldown: 2]
-PECKING ORDER : She pecks the enemy aggressively. Her beak is as sharp as a normal katana.
-Red Ronin :
A red katana, it's very run of the mill. When it is first drawn, it gains the sharpness of a zanpuhkto in it's base state for 2 posts.
[It's a basic blade after the 2 posts are up.]
*All of the above must be used separately. For example, Rita can't be out if she's already using Red Ronin.
Riviting River : The name of her anima stone.
[Spells]
-Sizzler : Red Ronin gains the ability to fire off red shockwaves from it.
[The shockwaves hit at the speed and power of a bala. ]
[She can fire one a post.]
[Thread Limit: 4]
-Zig Zag : A moderate boost in speed. (1.1x)
[Boosts lasts for 3 posts.]
[Thread Limit : 2]
[Cooldown: 4 Posts]
---------------------------
• Pure Abilities:
Crimson Survivor : Due to the trait of Red Dawn, she is also able to handle travelling at faster speeds with fewer drawbacks.
_____________________________
Sacred Release
• Sacred Release Appearance: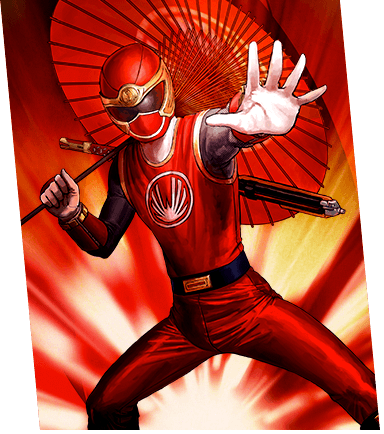 Crimson Captain 3 : This form makes Gattling look like a true hero. It essentially ends up giving her an entire power suit of red armor that adjusts so it's not too tight or too loose. Forms like this one usually make "adjustments" on female forms so nothing is poking out or too noticeable. Since Gattling is not that endowed herself, minimal cosmetic adjustments are needed to hide anything. A red mask tops it all off, keeping the face behind the mask a secret. Until the form runs out, of course.
Her morpher, like in the form before, is now seen on her hip.
• Sacred Release Powers:
CRIMSON CAPTAIN 3 BUFFS:
[Durability 1.1x]
[Strength 1.0x]
[Speed 1.5x]
*All buffs lasts until Gattling reverts out of this form. She can stay transformed for up to 8 posts.*
*It goes without saying unless she gets assistance with her energy from an ally, she can only transform 1 time a thread.
CRIMSON CAPTAIN 3'S POWER:
-The Way Of The Dragon: Similar to her previous ability, this operates as a buff to her attacks. When she hits the enemy with any kind of physical attack, a medium sized circle with two dragon heads swirling around the outline of it will be seen. This is to represent the buff in action.
[Strength 1.1x for a max of 5 posts.]
[Can only be used once every time she transforms a thread. Meaning if she only transforms one time in a thread, she can only use this buff once.]
[The attacks MUST be physical. Meaning this buff is not applied to any attack involving weapons. Something like a punch, kick, knee to the stomach, ect.]
CRIMSON CAPTAIN 3'S LOADOUT:
Baho Blade : A katana of amazing power that doubles as a blaster. By pressing the buttons on the blade, the user can increase the strength of it. When in blaster mode, short and small red beams of energy are fired from it .
[Katana is strong as a zapuhkto in it's base state. If powered up, it can cut like a zanpuhkto in it's shikai state for a max of six posts. This is once a thread.]
[When in blaster mode, the beams are all at the speed and power of a bala.]
[Blaster mode beams limit is up to 3 shots can be fired in a post.]
[Thread Limit For Blaster Mode Beams: 8]
[Cooldown: 2]
Daring Avenger: A sidearm blaster with a bigger punch than the Baho Blade in it's blaster mode. Used in long range fighting.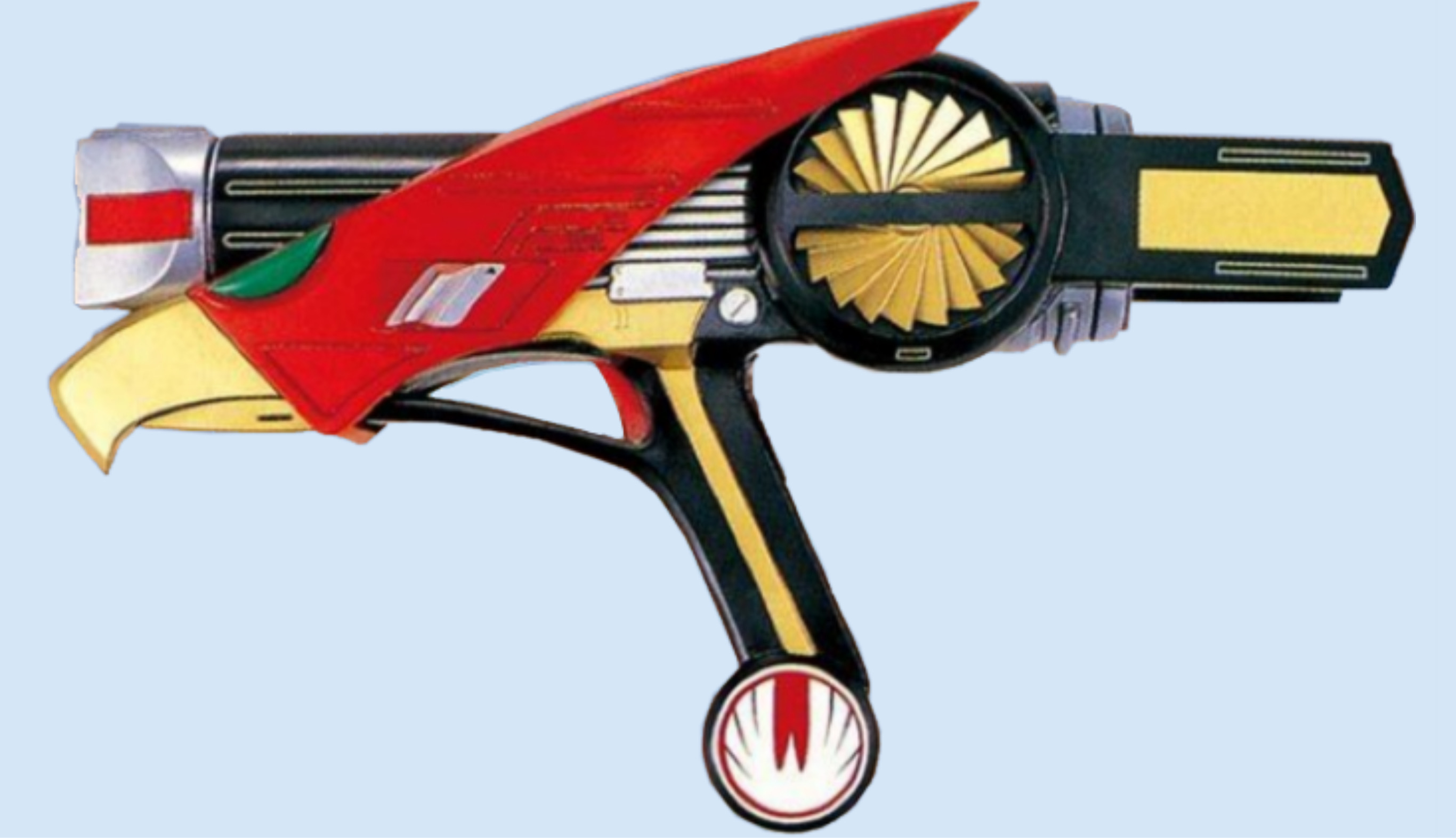 [Daring Avenger's beams hit at the speed and power of a cero.]
[Only one blast from it can be fired per post.]
[Thread Limit : 6]
[Cooldown: 3]
Multi Five : Similar to her Multi Four ability, only now she gains the ability to make a couple of extra clones. The clones still vanish after being hit one time, but they can deal damage on their own.
[Can make up to 3 clones a post.]
[Thread Limit: 6]
Queen Burnout:
A stronger companion for the now stronger Gattling, Queen Burnout shares characteristics very similar to Rita, as far as her existence. The difference in the two however, is that Queen Burnout's summoning is usually due to a battle (as the transformation in itself drains Gattling of energy), so Queen Burnout doesn't need to eat as much as Rita. She still does if in the midst of a training session. Not because she needs too, but because she can. Abilities include:
-Spinner : She curls into a ball, and the flames on her back start to surround her all over her being. She then aims to spin right into the enemy while engulfed by the flames.
[This attack can cause burns to enemies with Adept Durability or below.]
[Otherwise, due to the energy infused with the flames, it feels as if the enemy just took on a bala head first.]
-Hyper Flame : An attack charged up in the beings mouth that she fires at the enemy. A beam of energy with flames surrounding it is hurled at the enemy.
[This attack can cause burns to enemies with Adept Durability or below.]
[Due to the energy infused with the flames, this attack is essentially a cero in terms of power and speed with flames around it.]
[Thread Limit: 3]
[Cooldown: 2]
_____________________________

Ascended Sacred State

N/A (Currently)

•Ascended Sacred State Appearance: (Describe what your human looks like when they release their spiritual power. This is essentially equivalent to a Shinigami's Bankai.)

• Ascended Sacred State Powers: (Does your human get any additional powers from this transformation? For instance, if you had the power to control Fire in your base, could you control heat and magma in this state? Or would you gain something else?)