Teitoku

Blackblood


Joined

: 2011-02-25


Posts

: 2112


Age

: 27


Location

: Nowhere

Member Info


Platinum Points

:


(0/0)




Tiers

:
Although Kyle's body remained weak, he could see that Guillermo had become annoyed. He wasn't sure what he grew annoyed with, the fact that the weaker arrancar didn't go down so easy? Or the fact that he released his recureccion? either way, he knew the espada he was facing would try to finish it efficiently. The challenger cracked his knuckles, seeing that he had not gone into this form for some time. "Feel good, you're the first person to make me go recureccion out of my hundreds of enemies for over a few good years."

"Come and finish it!" The challenger taunted the espada in hope he would grow impatient. He began to spin the naginata at a fast pace in the palm of his hand before grasping it once again. Seeing that Guillermo was coming from above gave Kyle a good chance, using the handle he would raise it up above his head smashing it into the oncoming knees. The steel of the handle smashed against Guillermo's knee's surprisingly pushing Kyle back, he thought it must be due to the such fast pace he was coming at Kyle with. Only just, he managed to push the 9th espada off and sheathe his zanpakuto on his back.

Using sonido, he closed the gap that was between the two, appearing Directly in front of the the novena. Beginning to sway his body from side to side 4 times along with his head, before drawing his fists back which were now engulfed in fire. Within a split second fists flew everywhere, the fiery trail following behind as he punched. First, aiming 3 hard punches aimed at the face, 3 more punches to the stomach and 1 to the liver. These punches could without a doubt split the skin if made fully contact. If none of these punches connected, it would without a doubt be horrible for Kyle later on. Even if all of them hit, it would still end bad for him. Using this ability would take up most of his stamina, almost to the point of drop dead.
Ryuuichi Nakajima

Site Donator


Joined

: 2011-02-15


Posts

: 173


Age

: 32


Location

: North America

Member Info


Platinum Points

:


(0/0)




Tiers

:
Wed Mar 02, 2011 10:15 pm
Guillermo's grin changed to an expression of pain. Walls were something, but steel was definitely something else, and his knees through it weren't something that seemed likely to happen. He took a defensive stance as soon as he landed, taking a turtle shell stance, covering his chest with his arms. He took a peek to see that Kyle closed the gap between them, and that his fists were engulfed in fire. Before Guillermo could do anything, he had already taken three punches to the face, his vision beginning to see a crimson curtain taking place, at which moment Guillermo decided to stop defending

"Screw defense, let's beat the kid at his own game." The Espada thought, still shaken, as he took three punches straight in his defense, before he saw Kyle attempt another shot, that one being the signal for the arrancar, whose arms and face were covered in blood, with deep cuts opened because of Kyle's ability. Guillermo sidestepped to his left, avoiding the liver blow, and attempted to use a left straight to punch Kyle's jaw, from an angle that Kyle would most likely have a hard time seeing. He would then attempt to once again slide his arms under Kyle's, to use the same Sonido-enhanced grappling takedown he had used earlier, hoping that it would be enough to put Kyle away without him having to show his resurreccion.

__________________
Guillermo - 1-2+ - Cuatro Espada
Ryuuichi "The Flying Dragon" Nakajima - 1-1
Teitoku

Blackblood


Joined

: 2011-02-25


Posts

: 2112


Age

: 27


Location

: Nowhere

Member Info


Platinum Points

:


(0/0)




Tiers

:
Wed Mar 02, 2011 10:36 pm
The punches were a success! Well most of them. The punches would have without a doubt hurt Guillermo but as soon as he saw the gap in Kyle's fighting, he took it. When Kyle threw his right handed punch towards the espada's liver, a left straight smashed him in the face. Putting him off thinking for a bit, before he knew it he was in the same hold as earlier, which made his face the state that it is in right now.

The sonido-enhanced grappling takedown almost had no way to counter or even block it for that matter. As soon as you were caught in that hold, you were done for. Kyle new the destructive force of this move, the guy seemed to use it as if he was taking the weaker arrancar down for a final hit. Thoughts rushed through his mind, would he be able to counter it? No. He didn't think that he would use it again. Let alone think about countering it. Once again, everything felt like it went into slow motion along with the challengers own body movements. Yet, his mind still wondered at the same pace.

Yet again, the grapple made a tremendous impact as Kyle hit the floor face first only to worsen the cuts and wounds engulfing his face. He laid there... Motionless... The cold floor of las noches up against his face blood seeping out of his wounds. His skull most likely cracked, blood pored out from his head as well. Within a span of 10 seconds of motionless body lying on the floor, Kyle began to cough up blood breathing heavily as he did so. He managed to turn his body so he was now looking at the roof but no were else. "How... How is this possible? You didn't even use Recureccion..." He asked out of curiosity, he was weak. He couldn't move any more.
Ryuuichi Nakajima

Site Donator


Joined

: 2011-02-15


Posts

: 173


Age

: 32


Location

: North America

Member Info


Platinum Points

:


(0/0)




Tiers

:
"Kyle...Kyle...Why do you ask questions that are so simple to answer. It's experience. I've been fighting my way out of everything for thirteen years, always striving to improve my fighting style, become less and less predictable, so that when I get in a fight that actually asks something out of me, I'm already ahead of the person standing in front of me." Guillermo told Kyle, as he had noticed quite a few things while fighting him, a few flaws that had left the lesser arrancar wide open for moves that eventually end up costing him the fight.

"You're interesting though...People on the verge of defeat don't always try to continue going forward, and tend to back away from the challenge at hand, seemingly accepting defeat. However, you didn't accept defeat until it was forced into you. I have to congratulate you on that, because I haven't seen someone do that in a long while..." The Espada said as he got back to his feet, wiping the blood off his forehead, his white clothing becoming stained with a familiar crimson color, the one that usually was staining Guillermo's chest.

"You should come back here once your wounds are healed, I feel that you and I could do great things...No one will be able to stop us at some point, I know it." The arrancar whispered to Kyle, aware that the Octavia Espada was here, but so that he wouldn't hear anything of that. The Espada looked at the other arrancar, as if he was expecting an immediate response.

__________________
Guillermo - 1-2+ - Cuatro Espada
Ryuuichi "The Flying Dragon" Nakajima - 1-1
Teitoku

Blackblood


Joined

: 2011-02-25


Posts

: 2112


Age

: 27


Location

: Nowhere

Member Info


Platinum Points

:


(0/0)




Tiers

:
Kyle's body still laid there, motionless. The words spilling from Guillermo's mouth were some what of a shock to him, he thought he could win, he obviously didn't have the skill or power to do so. He only just managed to sit up, however as he did so straining his wounds even more, he looked up at the 9th espada, he didn't know what to say everything came as a shock to him right now.

"N-no doubt... You are strong no doubt about that. You can defeat me easily, I didn't expect such a fearsome opponent. Heh, I don't stop until I am at my limit, even then i usually pass my limit to much. It's just the way I fight and the way I am..." Kyle stopped, his thoughts and speech was stopped at the sudden realisation of what the novena espada had said. Speaking so only Kyle could hear, it sounded like Guillermo wanted Kyle to join him in a conquest to become stronger, and stronger over time.

"A-Are you asking me to follow your order and become your fraccion?" A long pause echoed throughout the hall of las noches, trying desperately he managed to stand up dragging his body towards Guillermo placing his hand on his shoulder saying softly, his hair draping over his face, "Would be an honour..."
__________________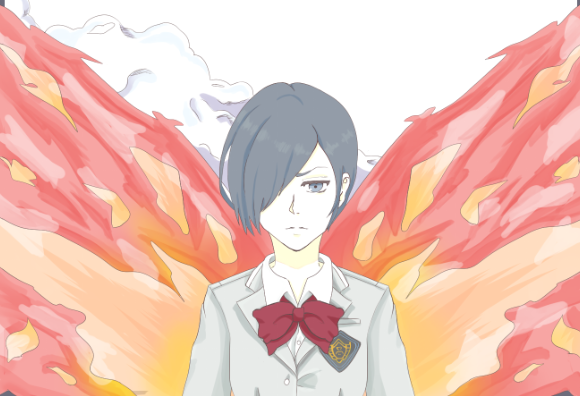 Hon Hon Baguette.
Permissions in this forum:
You
cannot
reply to topics in this forum