[ROOK]

Established Member


Joined

: 2011-10-30


Posts

: 168


Age

: 24


Location

: The Realm of Inconceivability

Member Info


Platinum Points

:


(500/999999)




Tiers

:
Fri Jan 31, 2020 11:57 pm
THE SHINIGAMI TEMPLATE
Enter The Shinigami
非再生可能
I. Basic Information
» Name:
Noroshi
» Alias:
The Forgotten, King of Thieves.
» Age:
Early twenties
» Gender:
Male
» Association:
Unaffiliated/Rogue
» Appearance Written:
Noroshi is a lazy looking young man with dark skin and black dreadlocks styled in a half-ponytail. His height is considered average, estimated to be about 172 cm (5'7½") and weighs roughly 72 kg (158 lbs). His deceptively lean build hides an impressive physique suited for most seasoned athletes.
He typically wears long sleeve jackets with a white dress shirt underneath and khaki pants that match his brown (or black) loafers. The white dress shirt, however, seems to be more prominent in his standard attire along with a set of accessories. These accessories can range from his small red hoop earrings to the silver rings and wrist bands found on either hand.
» Appearance Image: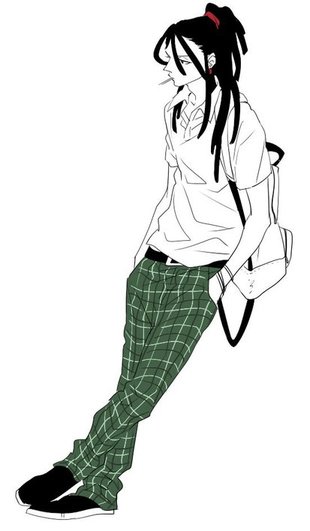 I. Personality
» Personality:
[Please describe your Shinigami's personality. Please be sure to use at least 5 sentences.]
I. History
» History:
[Everything has a history. Please try to describe their human life (if they had one), life as a Shinigami and what they are doing now.]
I. Equipment
» Equipment:
[If your Shinigami has any equipment? Put it here. If they don't, skip this section.]
I. Racial Techniques/Abilities/Skills
» Racial Abilities:
[You can put any customized racial skills/abilities/techniques in here. These can range from shunpo, kido, zanjutsu and anything else you want to add. Feel free to skip it if you don't want to fill it out.]
I. Sealed Powers
» Zanpakutô Name:
[What is your Shinigami's Zanpakutô's name?]
» Zanpakutô Spirit Appearance:
[What does your characters Zanpukto Spirit look like in their inner world? Please write at least 1 paragraph for this.]
» Inner World:
[What is your Zanpukto's inner world like?]
» Zanpakutô Appearance:
[What does your Shinigami's Zanpakutô look like? A picture or written bio will do. You can also do both if you wish]
» Sealed Zanpakutô Power:
[Over the years, Shinigami have evolved to the point where they now have special powers even when sealed. As such, does your character have special ability or power when not released? Try not to go overboard. If you do not have one, just erase this section]
I. Shikai
» Shikai Release Phrase:
[What is your shinigami's release phrase?]
» Shikai Release Action:
[Does your Shinigami do any physical action to release their Shikai? Feel free to remove this.]
» Shikai Appearance:
[What does your Shinigami look like when released?]
» Shikai Abilities:
[What abilities does your Shinigami gain when releasing?]
I. Bankai
» Bankai Release Phrase:
[What is your shinigami's release phrase?]
» Bankai Release Action:
[Does your Shinigami do any physical action to release their Bankai? Feel free to remove this.]
» Bankai Appearance:
[What does your Shinigami look like when released in their bankai?]
» Bankai Abilities:
[What abilities does your Shinigami attain in Bankai?]
I. Shikokai
[NOTE: This form is restricted until 0-3, and is not usually granted upon approval. This is ONLY for pureblood Shinigami! Refer to the racial specs for more information]
» Shikokai Release Phrase: [What is your shinigami's release phrase?]

» Shikokai Release Action: [Does your Shinigami do any physical action to release their Shikokai? Feel free to remove this.]

» Shikokai Appearance: [What does your Shinigami look like when released in their Shikokai?]

» Shikokai Abilities: [What abilities does your Shinigami attain in Shikokai?]
I. Skill Sheet
(To Find Out about what these skills are for, please
READ THIS THREAD
before you try doing anything to it. After you have read it, do not fill your skills out until a staff member has graded your thread. The staff member checking your app will also give you Will Skills in which you can add to your app when approved. Click the spoiler below to see what tier gets what kind of skills.)
Spoiler:

6-Tier: Allowed all beginners.
5-Tier: Allowed all beginners.
4-Tier: Allowed 1 Adept, 3 Beginner
3-Tier: Allowed 3 Adept, 1 Beginner
2-Tier: Allowed 2 Advanced, 2 Adept
1-Tier: Allowed 1 Elite, 2 Advanced, 1 Adept
0-5 Tier: Allowed 1 Elite, 3 Advanced

NOTE: There can be exceptions you can discuss with staff if the character's themes and masteries etc, are better suited to a different configuration. Let us know when after we approve your character if something along those lines is something you want for your character. e.g If your character isn't particularly quick but the force in their strikes are massive, so you could take a hit to their speed and drop it a level in exchange for raising your strength
General Skills
Durability: Elite/Advanced/Adept/Trained/Beginner/Untrained

General Speed: Elite/Advanced/Adept/Beginner/Untrained

Strength: Elite/Advanced/Adept/Beginner/Untrained

Weapon Skill: Elite/Advanced/Adept/Beginner/Untrained

Shinigami Skills
Hoho: Elite/Advanced/Adept/Beginner/Untrained

Kidō: Elite/Advanced/Adept/Beginner/Untrained

Zanjutsu: Elite/Advanced/Adept/Beginner/Untrained

Hakuda: Elite/Advanced/Adept/Beginner/Untrained
Will Skills
Willpower/Determination: Elite/Advanced/Adept/Beginner/Untrained

Mental Deduction: Elite/Advanced/Adept/Beginner/Untrained

Focus: Elite/Advanced/Adept/Beginner/Untrained

I. Role Play Sample
» Roleplay Sample:
[Please show us how you roleplay by either posting a previous post from another site or creating a new one. We do this so we know your RP skill. If you already have an accepted, you need not do another RP sample]
END OF THE POST
__________________
Permissions in this forum:
You
cannot
reply to topics in this forum