Lillian

Veteran Member


Joined

: 2017-03-31


Posts

: 2497


Age

: 22


Location

: Beep beep i'm a sheep

Member Info


Platinum Points

:


(42100/16000)




Tiers

: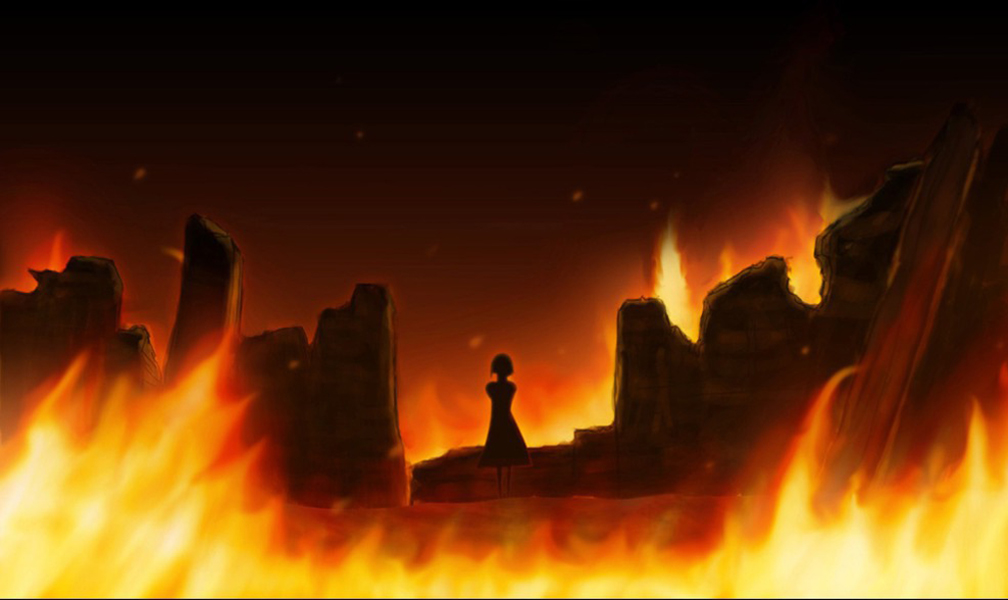 Liltotto Lamperd
The crackle of flames and sounds of footsteps clicked in her ears as she was perched by a partially destroyed doorway, eyes aglow with the embers outside as a small grouping of people were huddled together, trying to keep quiet. Their faces.. She couldn't remember their faces, all she could remember was the distinct scent of fear in that room, and the soft beggings for their lives to be spared.
These people were compliant in her mistreatment growing up; she was certain that most of them threw rocks at her, or called her a demon, or pushed her into a stream as children, but her feelings toward those events were irrelevant at this point, as the real demons were lurking outside looking for them and anyone like them. It was sudden and out of nowhere, what was an ordinary cold night upon the town was lit with flames and filled with bloodied swordsmen.
She didn't know where her mother was, but crying for her wasn't going to help, carefully looking out at the carnage, the stink of ash and blood alongside the coming and going scents of the black robed invaders striking down any stragglers kept going on and on just outside, each and every one that seemed to look her way or walk too close causing a spike of fear to rise in her small chest.
That feeling… She didn't remember having that feeling at the time… The feeling that she could have done anything about this situation. Fear was the only thing she could vividly recall from back then as a swirling knit of smoke and amber light painted her senses, the terror that set in when her eyes met that of one of the black figures prowling outside, their gaze twisting from a neutral, unbothered expression into that of sick joy upon the mere thought they found more prey for their blade to feast on.
Slowly approaching the wrecked building they resided in, as if the figure knew full well they had nowhere to hide, that they could take their sweet, lovely time coming up to them… Liltotto wanted to scream. Liltotto wanted to tell the occupants to run, to hide, to do something, but as always… Nothing escaped her lips. It was as if the words were stopped from escaping the back of her throat, her instead panickedly trying to communicate by any other means, but nobody could understand her.
The room froze when what little direct light was allowed into the building was suddenly blacked out, the sound of wood grinding against stone as a humanoid shadow cast over the lot of them. The scent of the death god smothered any other smell.
"Found you.~"
There was no memory of that voice, or the face left, but as if some sick joke her mind was playing on itself, it cast the face of that horrible woman she met in the woods over that long forgotten figure.
DISTANT | END
Lillian

Veteran Member


Joined

: 2017-03-31


Posts

: 2497


Age

: 22


Location

: Beep beep i'm a sheep

Member Info


Platinum Points

:


(42100/16000)




Tiers

: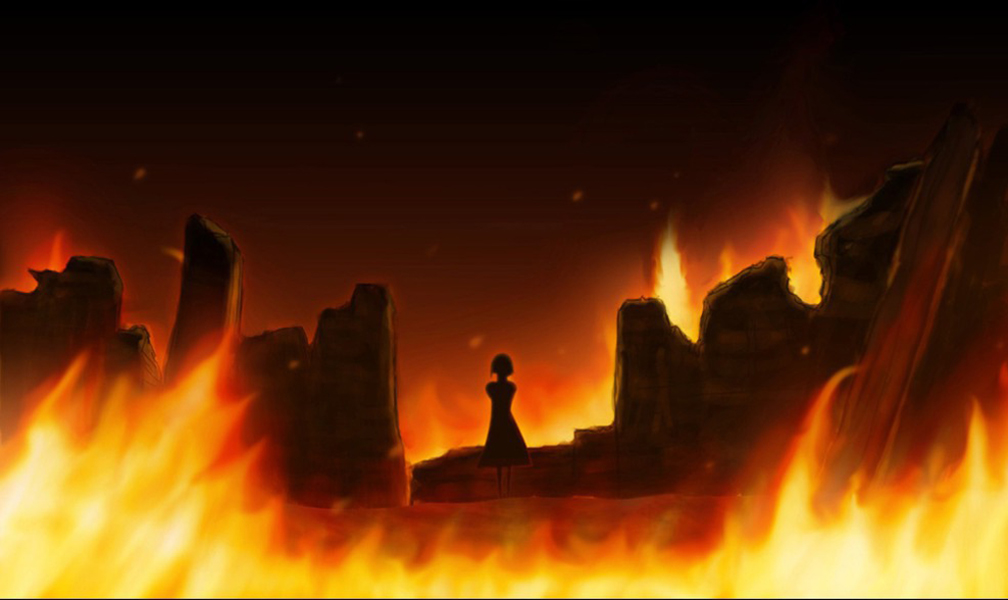 Liltotto Lamperd
Her eyes squeezed shut, opening them to find herself running. Running away, the screams of the room a distant echo, her mind doing all it could to blot it out. She stunk of other's blood, dirt caked her entire body from the hole she had forced herself through to escape, the mess ruining what was otherwise perfectly fine night clothes. Gasping for air, gasping for life, she just kept running further and further into the cold wilds, away from the light, away from discovery.
But as she ran, those new feelings just kept occurring, thoughts she never would've thought in the moment so long ago: She could have killed those Shinigami. They wouldn't have had the chance to erase the whole village. She could have made them pay. She had the power; she was something none of them could have ever imagined her to be.
But she ran.
Why am I running?
The woods had long blended out into darkness, but she was still running.

Will this keep happening until nothing is left?
The floor was gone, there wasn't even a light to run to, but she was still running.

How much longer can I keep this up?
Her steps slowed, the darkness beginning to writhe around her. The fright was leaving her chest, instead filling with the burn of something else, something that wanted to come free.

What am I so afraid of?
As if shown an answer, she was pulled back to that scene prior, face to face with the killer, but this time she let that terrifying sensation take her. What happened next wasn't clear in her mind, all she could hear was the sounds of teeth gnashing, bones breaking, blood hitting the floor, the extinguishment of lives..
Til the red haze cleared, and all was quiet but the crackle of flames. Fragments of bodies lied strewn about, not sliced by swords or burned by spells, but rather bitten from their source. It tasted like she just ate pork, or something like pork, touching her wetted lip without much of a thought, feeling removed from her body yet conscious of it's actions, her gaze lying on her tiny, child-like fingers.
It was blood. Blood of man and spirit. That's right, she ate everyone.
And yet, she was still hungry.
"Oh."
Was her only word spoken as the dream dissipated, her consciousness returning.
DISTANT | END
Lillian

Veteran Member


Joined

: 2017-03-31


Posts

: 2497


Age

: 22


Location

: Beep beep i'm a sheep

Member Info


Platinum Points

:


(42100/16000)




Tiers

:
Fri Mar 24, 2023 12:10 pm
Liltotto Lamperd
Her eyes flew open, her body hot with sweat and humidity, slowly climbing to sit up. She felt her body shake pretty badly, taking a moment to breathe to banish her nerves. Four in, seven held, eight out - she'd repeat it again and again until the trembling in her hands and the cold shots of nerves ceased. Lying back down for a moment, she'd stare at the ceiling, feeling groggy and exhausted. The day was incredibly draining with that interaction with... That woman.
"What's wrong with me?" She'd murmur to herself out of the blue. Was there something wrong with her? That she felt so much anger bubble in her with that woman's words? That her mere presence made her nerves shot? Why was she even conflicted about this, of course she was right to think that woman was horrid, that went without saying. But she just couldn't understand the reaction, yeah she was upset but she'd never been that upset before, not so much that she was willing to act on it.
Getting out of bed, she'd walk to the window of her supplied room, looking off at the town and opening it up to let some fresh air in, slumping on the windowsill and staring toward the sea in the horizon.
She could've done it. She could've torn that woman's head off and that would have been the end of it. She would've deserved it, too, if what she was saying was true - the world would be down one less murderer if she had that shot be just a few inches to the right, imagining Kanae's headless body falling to the ground...
What was she thinking? Her imagination made her slap herself on the cheek from how it shocked her, and slapped herself again for good measure. No, no if she did that, it would've caused a conflict. She'd be imprisoned. It could start another genocide. Everything and everyone she'd ever grown to open up to would be gone, just like that.
Sliding down to sit against the wall, her heart sank far lower with the amount of carnage playing before her eyes, all because she acted impulsively.
No matter what I do, everything turns out horribly... It's... Not fair.
Times like this, she wondered if she was cursed. It frustrated her, but she couldn't express that frustration. She could have every bit of horror thrown in her face and she had no choice but to take it.
It wasn't fair.
END
Lillian

Veteran Member


Joined

: 2017-03-31


Posts

: 2497


Age

: 22


Location

: Beep beep i'm a sheep

Member Info


Platinum Points

:


(42100/16000)




Tiers

:
Sat Mar 25, 2023 10:29 pm
Liltotto Lamperd
Boots crunched the dead foliage at her feet as she navigated the dense green wilds, humidity laboring her lungs as she went through the tracking motions, a glowing sword of her own making in one hand. Her movements were almost aimless, trying to grasp the scent of something muddied by others already, far too old to be detected at this point. The dark cover of night lowered visibility considerably, the only sign of danger being the briefest glance of golden feline eyes in the bushes, only to hurry away upon meeting with her's, quick footsteps vanishing as soon as they came.
Only a while into her walk did she wonder... What the hell was she doing out here? It couldn't be much later than three in the morning, no threats were detected near the town at all. If anything, things looked to be ready for her to go back to the city - there wasn't much sign of anything that'd need her to deal with it, but she recalled the looks of her team's faces, as if they felt bad for her or something. She remembered those concerned looks and edges to their voices since her encounter with...
That's right. She was looking for an animal. An animal with an awful smile and horrible words. Could she even call such a thing a Shinigami at this point? Or rather, were Shinigami and animals one in the same in her mind?
No, that couldn't be right. Animals were a living thing, a part of an ever rotating ecosystem, impartial and wild. They weren't belabored by fate or roles, unless they were given one by a being who was, like dogs or cattle. They live, they bond, they eat, and are eaten, and there wasn't much challenging beyond that.
But Shinigami... Nothing about them seemed natural. Even with her first exposure to them as a young girl, there was such a visceral feeling of... Wrongness to their existence, like gazing at a doll with too realistic of a face, something too close to being recognizable but far enough away that it couldn't be. Compared to everything else, their roles were so highly specific for supposedly being something natural and expected.
Humans lived their lives, as too did animals. Hollows emerged from those who couldn't move on and lost their hearts to it, and now feast on others in a futile attempt to regain that heart. Shinigami... Just hung above everything, as if they were gods, yet they pose themselves as if they should be far more familiar than that. It was a swirling mix of paradox and hypocrisy to her that just didn't make sense.
She just didn't understand, how it could be okay with some
thing
like that to be allowed to go about her day killing things, when if it were anything but a Shinigami, it must be disposed of. For some
thing
that cruel to exist amongst the ranks of so-called gods, for those ugly words to be spat at her by such a
thing
, and she was left with no ability to retaliate, lest that
thing
inform it's ilk of her actions.
Then she'd be put to suffer, yeah?
END
Permissions in this forum:
You
cannot
reply to topics in this forum