Slayer

Thicc Boi


Joined

: 2016-10-29


Posts

: 716


Age

: 21


Location

: The Dance Floor

Member Info


Platinum Points

:


(7900/999999)




Tiers

:
The mafia were some dirty bastards, at least in Sumera's eyes. They've been through many iterations, many forms, and like cockroaches they come back. Cockroaches that think they're the hydra, it was pitiful. But, when they are the people bankrolling her next paycheck, she threw all that out the window. Then, that's when they become the cool thugs of Japan in her eyes. Shit, she'd kiss up too if they paid her enough, but that's a price she still has to figure out. Everyone has that point, or at least she thinks they do. Money will make someone do anything.

Regardless, she sat inside a dark room alone. They've been plotting something big but they have a rat on their tail, sniffing away at the evidence. The longer they waited the closer they were to exposure so they had to put out a job to get the heat off their tail. This was one of those jobs that everyone sees but nobody wants to take. It'd make them contemplate what they were doing, mess with their heads. Sumera, however, didn't mind at all. Hell, she's even doing it solo.

So in conjunction with the crime group, they left bits and pieces that all added up to where Sumera currently was. Anyone with a brain would pick up on it, maybe even think it was a trap. Which it was. The money was to "put an end to them", and Sumera was old enough to know what that meant. Even then, she figured this person would have shown up by now.

Having now spent nearly two hours in darkness, the teenager started to contemplate whether or a nap was a good idea.
ForgottenMercy

Veteran Member


Joined

: 2021-06-04


Posts

: 3369

Member Info


Platinum Points

:


(0/0)




Tiers

:
Sat Jun 24, 2023 12:24 am
It wasn't difficult to catch the scent of rats. A major part of her old department had been in dealing with individuals of a spiritual persuasion. But those without spiritual abilities fell victim to the training she'd garnered. She was more than competent enough to notice when she had eyes on her, even more as she moved more and more into her investigation. Sadly, these days it was all too often that she found herself investigating a disappearance.
There was any number of reasons for someone to vanish in this day and age. With a more prominent hollow presence, especially after the surge from Africa, these things happened all the time. It was a bit rarer that she found herself involved in a job that crossed the path of good old fashioned humans pissing in the pool.
A young woman had hired her to figure out where her brother had gone, and it was a job that had rapidly begun to grow concerning. IT hadn't taken her very long to garner enough to understand the situation. How ironic it was, when the world had seemingly been ravaged over and over and over, to the point where so many were simply struggling to cling to anything. There were still those that just couldn't help but find ways to try and crawl over the emaciated remnants to rise over others. Some small part of her wondered if in some alternate timeline, this would have been a life that she'd have wound up in. You could only see so many lured into the life before you wondered if a younger, more gullible her might have been reeled in.
But well, she had other things to worry about as she made her way through the doorway. This was her next lead. An.... auspiciously timed one. She'd been having trouble getting her last lead to work for her, and yet.... somehow this one seemed to have just fallen right into her lap. A very sudden break that had been brought to her attention. And as she slipped into the room itself, she remained on her guard. All too aware of the living soul just past the door.
Well, if things got ugly, there was always her partner, currently holstered on the inside of her jacket. But hopefully it wouldn't come to that.
Slayer

Thicc Boi


Joined

: 2016-10-29


Posts

: 716


Age

: 21


Location

: The Dance Floor

Member Info


Platinum Points

:


(7900/999999)




Tiers

:
Sun Jun 25, 2023 12:04 pm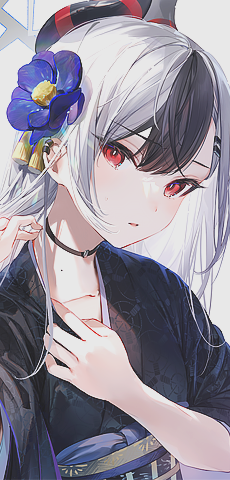 "Holy shit you actually showed up." Sumera stood up in genuine surprise. She didn't expect the problem to be a woman, but more props to her for getting this far. It was somewhat impressive, enough to make Sumera consider becoming a police officer herself if this whole Godai thing didn't work out like she wanted to. Speaking of which, she had a job to do. Or at least start.

With a sad look on her face, Sumera spoke to the woman. "Here's the deal. You've stuck your nose where it shouldn't have been, and now I've been paid to kill you." There wasn't really confidence behind her voice, in fact there was a hint of regret. It's not like she was some bloodthirsty individual, she just had a job to do like the woman across from her. Such is the ways of the world, unfortunately. "So do you want to do this quickly? Or, alternatively, you can just leave and forget about everything you learned. Don't come back, don't tell anyone what you saw, don't tell anybody what you know." That last part was spoken as somewhat of a joke, as Sumera knew damn well they weren't going to take the deal.

Anticipating retaliation, Sumera activated her Blut Seiryu, bolstering the defense of her arms for a quick block if she needed to. Simultaneously, the teenager started to approach her mark by slowly making her way across the room, hands stuffed in her pockets. She seemed awfully casual for what she planned to do.

ForgottenMercy

Veteran Member


Joined

: 2021-06-04


Posts

: 3369

Member Info


Platinum Points

:


(0/0)




Tiers

:
Sun Jun 25, 2023 12:24 pm
A pause as she stepped into the room and was greeted, but not by a sudden attack. No, much to her surprise, the woman spoke, and it seemed she was a little surprised that Sam had bothered to show up. "If me being a woman has you thinking that it would have been any more difficult getting here, then you're greener than I thought." She sighed softly, her shoulders slumping ever so slightly as she received such a mournful warning from ....what she presumed was supposed to be an assassin. Not exactly a cold-blooded killer. Or just a very good actor.
She didn't respond to the question, but rather, her eyes simply drifted to the rest of the room, taking everything in before a slow, steady sigh escaped her nostrils.
"Donal Rosare. Twenty Four. lack hair, just a bit taller than I am. Don't suppose you're familiar with him?" She asked calmly, ignoring the woman's ultimatum in favor of bringing up why she was here. The young man whose disappearance she was looking into. No doubt if she WAS put out to take her out, there was a chance she was familiar with the situation around why she was sniffing around to begin with.
"Kshhh, Support is on standby, Officer Robin. Signal when ready., Over."
A voice chimed in from the inside of Samantha's jacket, those cold blue eyes remaining firmly on Sumera as Sam took a small step toward them, gently rubbing her thumb in a slow, intricate insignia over the back of her right hand, spiritual energy trailing the mark as that sigil began to glow. Preparing a spell.
"You're free to attack me. I'm not really picky whether you tell me what you know now, or after I've beaten the resistance out of you. We have a whole five minutes before my support rolls in. Unless you think you can kill me, and escape before then."
Permissions in this forum:
You
cannot
reply to topics in this forum