[ N A T U R E I R A M A S H A]
|B|A|S|I|C|I|N|F|O|
________________________________________________Name:
Dashel Waves
Age:
25
Gender:
Male
Appearance:
Nature Iramasha Type:
Air
|P|E|R|S|O|N|A|L|I|T|Y|
________________________________________________Personality:
Hyperactive: After discovering his powers Dashel has been full of unstopable energy. He can try to sit still for a few minutes but that doesn't last very long since hes back to moving around.
Never give up: From watching alot of anime, Dashel learned to never give up in the face of adversity.
Happy: Dashel is very happy. No matter what you do, it really hard to bring Dashel down from his cloud of happiness.
Musical Genious: Dashel is a genious when it comes to music. You can give him an instrument and he can play it with no problem.
Empty Minded: Dashel doesn't have much in his mind sometimes. This causes him to be kinda slow to react if he isn't paying attention
Froggy: Even though he is air based, his animal form is a frog. He unintentionally end his sentences in "-kero". He also tends to wear a large frog hat.
|B|A|C|K|G|R|O|U|N|D|
________________________________________________Background:
~Birth of a new wave~
Kanon town was a very different town inside of Japan. This town was very well known for its love of music and creating many of the musical geniouses that played in orchestras, this town was the perfect catalyst for the creation of a Nature Iramasha. Many would argue that this couldnt be possible to form a Nature Iramasha in a town of music, music isn't something that happenes in nature naturaly, but that is only partially true. Music itself is just a type of vibration, and evrything vibrates in some way. After hundreds of years of music being played almost constantly in this town it actually happened. Inside the clock tower, under the large brass bell, as it rang for midnight one summer night Dashel was formed.
Later that morning an old man, dressed like an old orchestra conductor, came up to the tower bell to see if it was working properly since it stopped ringing after midnight. Once the man got up there he saw a young man,in his twenties completely naked sleeping under the bell, snoring. The man though it was very odd since he had the only key to the clocktower and there was no way that this kid was normal. The man left to get some clothes for the sleeping youth, a simple sleeveless t-shirt, some shorts and some red and white sneekers. Once he got back a few hours later the youth was still asleep. The old man sighed as he lifted the youth and dressed him. There were some living quarters inside the tower, so the old man placed him on the bed there. As he then went up to the bell, only to find that as it struck noon the bell was ringing normaly again, he though that this was definately the work of the young mans precense in some way. As he went down back to the young man he noticed that the young man was awake and sitting on the bed looking around the room. "Ah so you are awake now, whats your name kid?" The young man looked at the older man and asked "Whats a name?" This was really the last nail that the old man needed to figure out that this kid was really not what he appeared to be. The old man sat next to the younger one and started explaining many things to the young listener, where he was, what year it was things like that. Slowly the young man started learning everything that he needed to know about the town and the world almost instinctively. "Can you give me a name?" he asked the old man. "Hmm" The old man said as he though about what the youth seemed to do and came up with a name "Your name will be, Dashel Waves". Dashel smiled as he heard his new name and said "Dashel Waves. I like it. And what is your name?" The old man responded "Otokichi Shirabe. But you can call me grandpa."
~An average life in Kanon town~
Unlike many of the other Nature Iramasha Dashel had a very normal life. Otakichi treated him like his own grandson, he taught Dashell how to play music, something Dashel learned almost instantly when he came in contact with a musical instrument. Otokichi never revealed to ashel that he wasnt normal, he knew that it would eventually come into play whenever it needed to kick in.
~Oh My God! I wish I was a Pretty Cure!~
As he was living with Otokichi, Dashel had heard wonderous stories about the Pretty Cure. They were girls that had magical powers that fought giant evil monster and had saved the world several times over the years. He was surprised that they even made an anime about them, so he went on the internet and started watching the shows like a little kid completely enthraled by it. While watching them he learned a few things that were meant for children to learn. He learned that friends are everything, that you should work hard to protect those who you love and that you should never give up no matter how impossible the odds may seem if you persevere you will eventually win. He took these things to heart and applied them to his life.
~~Strumming a New Wave, I am Cure Dash!!~ ~
A bright summer day 25 years after Dashel was born he went out to do some grocery shopping while Otokichi stayed back to fix the towers bell because it had stopped ringing, but that was just a lie, he knew it was time to say goodbye to this world and see the full extent of Dashels powers. A long time ago thousands of magical musical notes were scattered throught Kanon town to protect the world from a great evil. Otokichi had saved one of these for when ever he needed to use it for some reason and now it was time to do it. He placed the note on the wall of the clock tower as he then yelled out "Come out, Negatone!" As he yelled that dark energy spread through the cloctower as it turned into a giant monster with skeletal arms and legs.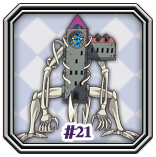 Dashel looked at his watch as it showed it was noon. He found it fairly odd that his grandpa hadn't fixed the bell by now. He had finshed grocery shopping as he was walking back to the tower and he dropped the bags as he saw the giant monster tower. "Grandpa!!" He yelled as he knew his grandfather was trapped inside the clocktower. He was scared of this but he knew he had to do something, he started running toward the giant monster that was fireing dark red beams of energy at buildings, destrying and damaging several of them. Dashel didn't notice it but he was running almost at the speed of sound clearing the town in less than a few seconds as he arrived at the monster tower. "Hey tower let my grandpa go!" Dashel yelled at the monster as it turned around and it looked down at Dashel and it said "Nega?" Dashel stepped back a little saying "Holy crap its a Negatone, werent all of these gone when the Pretty Cures fixed the Legendary score!" At that moment the monster fired its energy blast straight at Dashel. He thougth this woud have been the end of everything as he held up his hands to try and protect himself and it actually did.
A golden barrier formed around Dashel that split the energy beam in half leaving a hole in the ground around him. Dashel opened his eyes to see the barrier around him "What the hell" he said as a green electric guitar formed out if thin air on Dashel's arms.
At that exact moment an alarm went off inside of James. He felt a new Nature Iramasha pop up in the world, an Air based one. He stepped into a stream as he then appeared at the beach of Kanon town and he then warped towards town and stood on the roof of one of the safe building as he watched the giant clock tower monster and the new Iramasha from a distance as he then said "Let's see what this one is made out of."
Dashel Stood there as he felt power bursting out of him as he started to levitate of the ground as the air around him started to form ribbons of white and gold that seemed to circulate around him almost waiting for his command. "I dont quite understand whats going on here but I'll go with it! Strumming a new Wave! I am Cure Dash!" After saying that he started playing heavy chords on his guitar as waves of sharp air were sent flying out towards the giant tower monster. When they hit it they cleaved off giant pieces of stone that chashed down on the ground. "Awesome!! Lets see if i can do what those Pretty Cure did!" Dashel extended his hand over his head as he drew a large circle around himself as he said "Music Rondo!" as a large ring spun around him and then shot out and hit the tower monster as it tightened and traped the monster.
James watched from affar the whole battle interested in everything this new Iramasha was doing tryng to figure out exactly what aspect of nature he could control. At that moment he saw that the physical body of Dashel seemed to flicker in and out of existance. This lead him to the assumption that Dashe wasn't fully formed, that his body was unstable and that his powers might have something to do with it. Maybe he had control over the vibrations of nature, something that could become very useful, but this instabilty could cause problems that would have to be ironed out of him in some way.
Dashel smirked knowing he could at least do some attacks that he had seen before. Two flames appreared on both sides of Dashel, one white and one gold. He touched both of them as he formed a heart infront of himself as he yelled "Fantastic Piaccere!" As he said that the flaming heart flew out towards the giant monster as it hit it and surrounded it. "3/4 beat. 1,2,3 Finale!" As he said the last word Dashel jumped into the air with his back turned to the tower as the heart exploded into a giant blast of searing light and shearing force. Then the tower turned back to normal. Slightly relieved Dashel flew into the tower to find his grandfather but he was nowhere to be seen all that was left was a note and the keys to the clocktower.
What Dashel didnt know is that his grandfather was going back to his old home in another world. Rainbow colored piano keys formed a path that flew into the sky and past James. Otokichi flew on it as he stopped by James for a oment to say "Take care of my grandson for me". James closed his eyes and nodded saying "Don't worry old man, he's in good hands here". Otokichi smiled as he continued to fly on the road back to his home in Major land, as he passed through the portal to get there.
Dashel opened the letter his grandfather had left there for him and it read.
"Dear Dashel. It was an amazing 25 years that i sent with you. You hold an amazing gift that you should share with the world. I dont know exactly what you are but I'm sure youll find someone that understands you and that will continue to care for you. Please dont forget all that I taught you and what you learned from all the stories I told you. You shall always be in my heart, but now it is time for me to go back home to Major Land. I hope that you always remember that music lives inside all of us and as long as the melody of our hears continues to play we shall always be together.
With Love, Otokishi Shirabe. Your grandfather"
After reading that note tears started to stream down Dashel's face. He was crying for many reasons, he was happy that his grandpa was safe and that he was headed back home, but he was also sad that his grandpa had left him alone, but not for long. After about a minute James appeared in the room. Dashel looked over at James crying and said "Who are you?" James smiled at Dashel and began to say "Your grand father sent me here, to help take care of you" Dashel looked surprised at James "G-g-g-grandpa sent you, to take care of me?" James nodded as he began to say "Yeah... just think of me as... your big brother if you'd like" Dashel was still in a state of shock ass all this was still sinking into him as he then started walking towards James. When he got to James the older man used a chaos warp to send them into the ocean as then they arrived at the forest compound of the Nature Iramasha, where Dashel would learn all about who he was and all that he could do to help the world.
S|E|I|S|H|I|N|B|U|K|I|
________________________________________________Seishin Buki Name:
Staccato & Vibratto
Seishin Buki Appearance:
Staccato:
Strum: This ability becomes active anytime that Dashel plays Staccato. What it does is that it amplifies the sound waves that emanate from Staccato and cause them to be damaging in a radius of 10 feet around Dashel. when he plays long notes or heavy notes they can be sent out as fast cutting blades of air.
Bass: A slow, but powerful blast of cutting sound that can be seen as a blade of compressed air. Several can be shot out at the same time but they become weaker.
Cadenza: This ability allows Staccato to use non living objects to work as speakers. They can be used to deliver staccatos sound attacks at a lower power. He can use objects in a 50 foot radius.
Beat Sonic: Dashel plays a veavy chord on his Staccato. This causes several 3 foot tall notes to vorm around him. The number can vary from two to eight. These nothes then turn upside down and become shartp as they home into the target and chase it at a high, yet dogeable speed, and explode on contact.
Vibratto:
Da Capo: Meaning "From the begining" When Dashel uses it he can control particles in the air and arrange them in certain ways to reform any injuries that people have taken. It can heal a moderate amount of damage in one post.
Decelerando: Makes air within earshot thicker, slowing down things in the area.
Accelerando: Makes the air within earshot thinner, raising the speed of things in the area. Does not affect breathability of the air in the area.
Dolccissimo: Works like "da Capo." But its area of effect is 50 feet instead of a single target and the healing effect is decreased to minimal healing.
Seishin Buki Abilities:
Stated above.
|P|O|W|E|R|S|
________________________________________________
Nature Powers:
(Note: Attacks that say "Shearing Force" Means that the attack is not sound based but instead based on intense compressions of vibrations that look like energy or fire)
(Note 2: Powers that denote explosions. These explosions are of pressurised compressed air, like when you stab an aerosol can or when a propane tanl blows up, only more powerful do to the fact that the solid or liquid objects have more potential energy that is released when Dashel transforms the solid or liquid into gas in an instant or a few seconds.)
Intense Sound: Dashel can make, alter and control sounds entirely. This means that he can stop things from making noise, creating noises and music when nothing is there and changing the sounds that something makes into another noise. He can make cats bark and cows meow, explosions silent and make a library into a rock concert. Using this he can create damaging pressure waves that can damage solid objects and living beings. He can also create utrasound and intrasound, sound waves that are too high or too low for humans to hear.These have their own uses. He can use unltrasound to locate things behind other objects and use it for echolocation in short distances. He uses Infrasound in the same way that he uses ultrasound but it can work at much longer distances and through much harder and thicker objects.
Violent Shear: Even though he has focused his powers on sound Dashel possess great power over regualr vibrations of solids and liquids. He can make their particles vibrate faster and slower causing them to heat up or cool down. If he can cause them to vibrate fast enough he can cause the objects particles to just fly apparts in an explosion destroying it. This works by rapidly turning the object into it gaseous state
Controling vibrations gives Dashel very good control over air. By controling the vibrations of the air around him he can use it in several ways. He can create blasts of wind that can be used to push things out of his way, create partial shields to protect himself and others by slowing down and absorbing energy from the attacks. He can also mix this with his intense sound to create blades of air.
Unstable Noise: Because Dashel is so young compared to the other Nature Iramasha, and having discovered and used his powers at such a young age and the nature of his powers being vibrations, Dashel's physical form is unstable. Sometimes he can seem to flicker in and out of where he is and look as if he were being interfered with static, which can actually happen if many strong noises or vibrations are encountered at the same time. Though he does not seem have to have a physical form sometimes his counciousness does not fade away, nor does the Nature energy that forms him, just his physical appearence.
He can use this to his advantage because he can cause his physical form to disappear allowing him to pass through solids and liquids as long as they arent charged with energy like forcefields or electricity. While doing this he can take control over the vibrations of the object in a much better fashion causing them to distort, change shape and of course blow up.
Happy Static: At many times Dashel has an aura of "Static" around his body. This is due to his unstableness and if left unchecked by himself it could cause harm to things around him. This is due to the fact that this static is air vibrating at very high velocities that it causes a very lightly audible static like sound. If he concentrates hard enough Dashel can make this static so powerful that it can push things away from him, such as water. This only works in his immediate area, though it can mess with sound equpment and TV's from a short distance.
Mach Speed: Dashel can fly and has the ability to go at and beyond the speed of sound. He can also accelerate certain parts of his body to go at a much faster speed to add more force to his physical hits. Since he is a being of vibrations and sounds there are drawbacks when he breaks the sound barrier. When he does so he looses all body characteristis during the time that he is going supersonic. This means that he has no true "Body" when he does so and he just looks like a blast of golden light flying at whatver Mach speed he is going.
*Sound Senses: Using the nature energy in the air Dashel can feel the sounds around him with extreme accuracy. He can detect who or what is making even a very minute sound, if it is making a vibration in the air with in his radius of effect, he can pick it up almost instantly. Normal range 20 meters; return range 40 meters; strike range 90 meters.
Manipulation:
Dashel has power over vibrations. He mainly seems to focus on audible vibrations, meaning sound, but he is known to interact with other normal vibrations that cant be heard, such as the vibrations of solid objects and liquids.
Aura:
His aura is white and gold. His blood is golden.
Regeneration:
He doesn't consume anything. He has to be exposed to a constant repeating sound. This means that if soeone plays a single note on an instrument he can regenerate. This means that he cant be regenarated by complex noises such as music or background noise. It doesnt have to be perfect silence and a single note but the vibration that he recieves has to be predominantly a single one.
Nature Cells:
Frog (not used often)
Ranmyaku Blast:
Passionato Harmony: A treble cleft forms in front of Dashel. As it starts spinning a golden beam of chaos energy is fired from it.
Nature Spell(s):
Beat Barrier: He forms a solid barrier of sound waves. This barrier is soundproof and incredibly strong. It can easily reflect or disperse energy attacks that come in contact with it. If it were to be hit by sound based moves they can be absorbed by the barrier and be used to reinforce it makng it stronger.
Music Rondo: Dashel draws a circle around himself that forms into a ring of golden compressed shearing force. He then sends the ring to the target. If it hits it clams down on the target immobilizing them partially, only their top body parts, and causes very little damage. It can be partnered with Finale to create a 25 foot explosion.
March Shot: Dashel creates a compressed sphere of air that he kicks at the target. The orb has enough energy to create a powerful 2 foot explosion of compressed pressurized air.
Finale: This is a very powerful spell that typicaly is cast with Dashel's "Finishers" This causes his attacks to explode with a great shearing force once he says the word "Finale". This explosion comes from Dashel's Chaos energy that he mixes in with the attack. Everytime he uses it, it takes 10% of his energy.
Chaos Moves:
|F|O|R|M|S|
________________________________________________
"New Waves's" Return:
Command:
New Wave's Return: Harmonious Modulation
*Remote Barrier: He can use "Beat Barrier" On other people with in 150 meters of him
Piano Prison: A rainbow keyboard forms out of the air as Dashel plays a few notes on it. Afterwards it breaks up and the keys are sent flying out to the target. When they hit they cause little damage but form a translucent orb that holds the target inside. The orb has the strength of steel.
Fantastic Piaccere: Dashel concentrates the air around him and makes it vibrate with great intensity in two different areas infront of him. These areas turn into what appears to be flames, one white and one gold. These then extend as thick flaming lines of their respective color. They chase after their target and if they get to their target they wrap around it binding it while causing cuts and burns on the target. At the end they make a small explosion releasing all of their compressed energy. If accompanied by "Finale" the explosion grows to be 50 feet in all directions.
Description:
"New Wave's" Strike:
Command:
New Wave's Strike: Angelic Speed
Evolved Seishin Buki:
His seishin Buki changes completely when he enters this state. Instead of being two separate entities it becomes one. In this stage it becomes a solid, pure white broad sword. This new form is what gives Dashel most of his Strike forms abilities.
Increased stability: Dashel can safely achieve speeds of Mach 20 without losing his physical form.
Heavy Hitter: For his physical attacks Dashel can increase the density of the air behind it causing his physical contact hits to do twice as much force as they would normally adding to their damage.
Sky Attack: For this attack Dashel flies high into the sky and then dives down towards his target at Mach 15 with his sword pointed forward, most of the time. This speed creates alot of energy to be built up around Dashel and when he makes contact with something most of that energy is delivered in one blow or if he can maintain the speed while fighting in succesive blows until he slows down.
Starlight: Dashel flies up to the sky and converts his body into bullets of his own energy. The energy is disperesed into thousands of bullet like particles that rain down on the target area only a few meters wide. The bullets fly at a speed of mach 21. When they make contact with an object, that isnt the ground, they go right through it without causing any holes in the object but they do cause damage inside of the object. After the bullets have gone though the target Dashel reforms on the other side.
Description:
During this form whatever clothing Dashel is wearing turns solid white with a black trim. His hair and eyes turn a gold color as he sprouts white angel wings on his back made from his own energy.
"New Waves's" Purity:Command:
"New Wave's Purity: Heavenly Cresendo"
Description:
|R|O|L|E|P|L|A|Y|S|A|MP|L|E|
________________________________________________
Roleplay Sample:
|E|X|T|R|A|I|N|F|O|
________________________________________________Class:
(What Class are they? Typically it'll be "Spirit Of" Whatever for Nature Iramasha)
Skills:
(DO NOT FILL THIS OUT UNTIL TIER IS GIVEN!)
0 Tier is allowed 1 Master, 2 Advanced
1 Tier is allowed 2 Advanced
2 Tier is allowed 1 Advanced, 2 Adept
3 Tier is allowed 1 Adept
4 Tier and below only get beginner.
These rules apply to both General and Racial Skills
General Skills
Durability:

General Speed:

Strength:

Weapon Skill:

Racial Skills
Chaos Energy:

Chaos Control/Warp:

Chaos Blast:

Chaos Sync:

Nature Control:

Nature Spells:

Nature Energy:

Element Control: