Basic Information
- Name: Ladon Iwashikeru
- Titles: Will be known as Ice prince in the future. Ice Devil.
- Gender: Male
- Appearance Age: Looks to be around 18-20
- Age: Ladon is truly 50 years old at least.
- Affiliation/Rank: Shinigami of the Combat Squad, In training for the Kenpachi Foundation.
- Relationships:
Ibiki: He knows her as the leader of the Combat squad, and he also knows that she is likely the most formidable woman ever. He doesn't know her too well, but, he is determined to be a good subordinate for once and learn well under her. He also does wish to help Ibiki in the future, but, that will likely be after he handles some of his own personal business.
- Appearance Description: Ladon is definitely a rather interesting man when it comes to appearances. While his eyes are definitely expected for a man who controls an Ice Zanpakutō. However, it starts to vary when you look at his overall appearance. His face is actually rather stoic and looks quite shapely. He's also quite expressive with only his face, when he expresses emotion at least. Otherwise, his face looks rather emotionless. His face is most expressive when he is angry, which is likely his most common expression ever since what happened to him in the past. When one looks at him his teeth also have rather sharp, and long, canines; when compared to most humans at least. The pointed ears were gained after events with Nemesis. Anytime before that his ears would appear much like that of a normal human's. His hair isn't the shortest but it isn't below his shoulders. The pitch black hair extends to only about the bottom of his neck. His is also quite messy, making it spiky on the top. Said messiness also causes his bangs to cross his face; leaving gaps for his eyes. However, this clump of hair only goes across his noes. Otherwise, his hair remains around his eyes or above them.
In general he has a rather average build. Not appearing rather strong due to his rather thin appearance. He is also only 5'8", not being the tallest person in the world. His Shinigami robes are also a rather out of the normal. Not because of any rebellious streaks, it was just how he wore clothes sometimes. But, otherwise, his Shihakusho appeared rather normal. Whenever he is out in the human world he is wearing an outfit much like a high school student's uniform. While it doesn't entirely match his age, he's comfortable with the clothes. In general, he definitely dresses quite weird compared to most people, but, his semblance of "normal" are the things he wears. However, he has been recently just wearing a basic pair of clothes; ones that look a lot like the uniform for a school. While it doesn't have any insignia's or symbols of a sorts, it still looks like so. However, he will wear this outfit over his shihakusho nine times out of ten.
- Appearance Picture:
Spoiler:
_________________________________
Personality
- Personality: When Ladon was alive he was a very happy young man. He was in love with a girl at his school, he had a nice family and a nice life. He had always been kind and respectful to those he had talked to, regardless of how they acted towards him. He only treated someone harshly when someone he loved or was close with was threatened or someone was unkind with them or attempted to hurt them. However, when Ladon died his mannerisms changed. He was forced to become unkind towards most people out of mistrust due to how he died. He rarely trusts anyone now, unless he has actually gotten to know them. To most of the other Shinigami in his squad he is very unkind to them. However, when he talks to higher authorities, messengers, or anyone he respects or knows well, he talks to them in a very kind manner. He uses appropriate names as well as language that is very respectful. He only acts like this towards those who believes deserve it due to his past. Ladon is the kind of person who doesn't give up unless he really sees any hope of getting out alive or doing what he wants to do. He normally doesn't back down from a fight unless he sees that his opponent can overtake him easily.
- Likes: Ladon mainly likes people who are honorable or honest. He likes all sorts of foods; his favorite is Udon noodles or noodles in general. He also has taken a liking to many of the Shinigami he knows well and finds honorable in some sense. He likes all that he had left behind in the human world.
Despite his utter lack of tolerance for most humans and souls he is fascinated at times by how humans act, he likes humans and souls… in a sense.
- Dislikes: Ladon doesn't like those who betray their friends, hurt those who are supposed to be their comrades, and those who try to hurt his own friends. He mainly dislikes anyone who is a prick or disrespects others.
_________________________________
Background
- History: When Ladon was alive on Earth he had a very happy life contrary to how he acts now as a Shinigami and as a whole (plus). Ladon lived with a family of four which consisted of his mother, father, as well as a younger sister. He lived a somewhat regular life, not experiencing anything terribly abnormal. By the time he had turned 13, as if it was some sort of "coming to age" sort of situation, he started seeing spirits of all sorts. He mainly saw wholes at that time in his life, never truly exposed to anything like a hollow.
As Ladon got older he began to see more and more spirits, much more clearly than before. However, at this time he only ignored it not thinking much of the ability. At this point in his life, around 18 approximately, he had fallen in love with a girl who he had known from his school and ended up going to the same college with. It was clear to many that had known him and this girl that they were planning to get married at some point. However, fate obviously did not plan for what would happen to the two in the end…
About the time Ladon was 20, two years after he started dating Arya, there were strange events occurring around his hometown. He had no idea what was going on despite the fact he could see wholes, and other spirits that have passed on. After some time, he went with Arya back to his hometown to see if he could figure out what was going on, why this chaos was occurring in his peaceful town. He had never really found anything until Arya called him, claiming she had a lead. She requested to meet him at her house.
After about an hour or so, Ladon arrived at Arya's house. As he walked in he noticed that the door was unlocked and no one greeted him. He walked in very slowly at this time, wondering what could be wrong. Suddenly, out of nowhere, he feels a hot pain in his side; seeing a blade enter about where his kidney is. He says nothing as he notices who is holding the knife… Arya… all he can do is say nothing as he notices a few other corpses, Arya's family. He also notices a strange creature as he falls over, feeling as if time is 20 times slower than normal. He hears voices, Arya's and a gruff, echoing, voice that he does not recognize. He looks up at Arya one last time before he sees only darkness, but the darkness is brief as he feels a chain at his chest as well as the thing he saw earlier, a hollow. Though he doesn't know this. He grips the chain in fear and Arya looks at him with eyes that are empty… emotionless, she is suddenly snapped in half by the hollow, no sounds coming her besides the ripping and snapping of flesh. All Ladon can do is watch in terror as the hollow finishes the meal that was his fiancé and approach him, slowly. He attempts to move back but before he can the hollow stops, grunts and falls apart, revealing a being in a dark cloak. The person says nothing and performs Konso on Ladon. He then finds himself in a place he doesn't recognize. He doesn't do much for the longest time, trusting no one, living in fear of what happened, not sure what to do with himself. Eventually he heard of the school for Shinigami. Upon the day before he enrolled, he vowed to himself that he would prevent the same from happening to others ever again.
_________________________________
Zanpakutō
- Reiatsu Color: A light blue reiatsu
- Zanpakutô Spirit Name: Gekido (Rage, not complete but works for how he has become )
- Zanpakutô Spirit Appearance: Gekido, in spirit form, looks as if s/he is veiled in darkness, enough to the point where their face cannot be identified nor can any features about the spirits body. Ice blue fire courses around the spirits wrists as well as around the ankles and around him/her. The clothes that can be seen look to be just some sort of jacket and pants. The only other thing that can be seen is a single streak of Gold on the top of Gekido's head, besides that no other clothes of any sort or other appearances can be identified.
- Zanpakutô Spirit Appearance(under the shadows): Under the shadows is a very demonic-like being that has hidden herself from Ladon ever since he got his Zanpakuto. Whether or not she is waiting for the right time or something else is very unclear; however, what is clear is that ladon has no idea what she looks like and will continue to not know until Gekido chooses to show her face to him.
Zanpakutô Spirit Appearance Picture(under the shadows):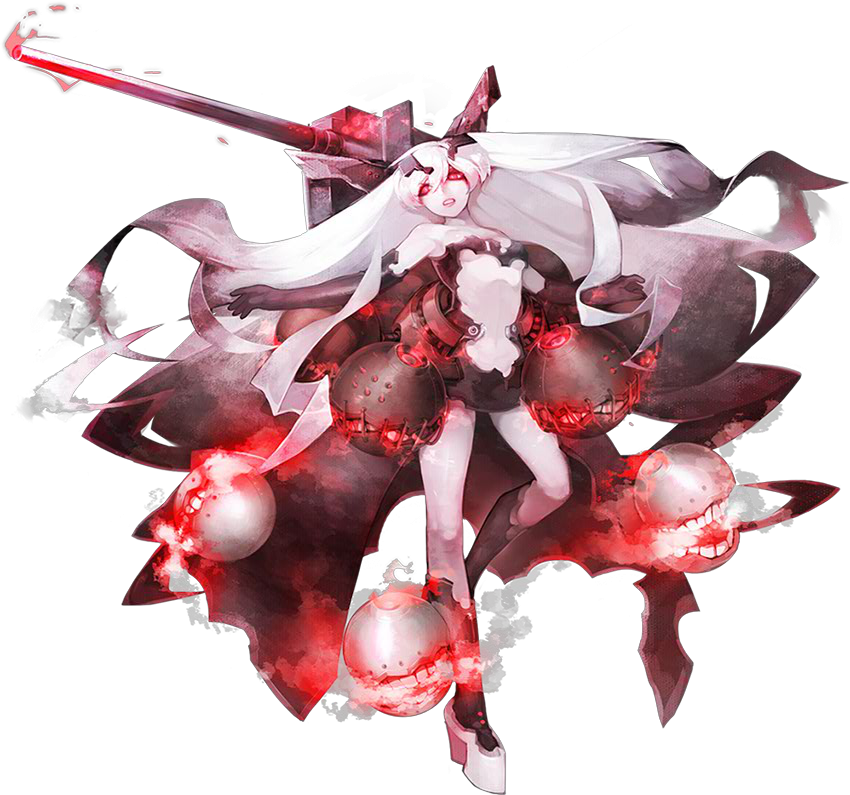 - Inner World: His Inner world is his hometown, except in a futuristic setting. There's very little around besides extremely technologically advanced buildings and some swords of various shapes and sizes seemingly engraved into the buildings. Very little can be seen of where the road would have been at one time, but, there is smokeless fire, extreme scenes of grief, and regrets from his past engraved into the road as images that haunt Ladon.
- Sealed Zanpakutô Apperance: When in sealed form the Zanpakutō's Tsuba (Guard) is like a cross, except, there are dragons lining the outside of the Tsuba creating a circle-like formation around the cross. The top and bottom of the Tsuba is flat and colored silver on one side, gold on the other. The blade of his Zanpakutō is jet black, unlike most other Zanpakutō. The material under the Ito(Braid) is seemingly like that of dragon scales, an ice blue color. The Ito itself is black and elegantly wrapped around the handle. The ornament under the Ito is gold in color and resembles a demon of some sort, that cannot be identified easily. The Saya is white in color and appears lightly scaled, the collar of the blade as well as the spacer are both golden. The Kashira (Buttcap/Pommel) is the same color as the ornament and has a hidden blade inside of it.
- Sealed Zanpakutô Abilities: Ladon can only do one thing with his Zanpakutō when it is sealed, and that is to accumulate a small amount of ice around his blade which can be used in many different ways. He can also send out a small wave of ice that can deal minimal damage to both humans and hollows. There is also a small blade hidden by the Kashira of his Zanpakutō which can be thrown from the Zanpakutō or be used to stab someone with a pommel strike.
_____________________
Skill Sheet
General Skills
Durability: Beginner

General Speed: Beginner

Strength: Beginner

Weapon Skill: Adept

Will Skills
Willpower/Determination: Adept

[b]Mental Deduction: Beginner

Pain Endurance: Beginner

Focus: Adept

Racial Skills
Hoho: Beginner

Kidō: Beginner

Zanjutsu: Adept

Hakuda: Beginner

_____________________
Role Play Sample
- Roleplay Sample: As this man, known as Ladon, lived on the earth, he knew nothing more of the supernatural beings he saw besides the fact that they were obviously dead. He lived quite the good life, had a nice family and what he thought was a nice fiancé. His world ended up turning up-side-down and crashing into the sun one day…
At the age of 20 years old, while Ladon was still alive, he decided to venture to his hometown where there seemed to be chaos afoot. "What the hell is happening here…?" Ladon asked himself as he walked through the streets seeing more ghosts now than ever before. His fiancé, Arya, holds onto his arm, walking next to him. She acted as if she couldn't see all of the beings floating around the area, pretending that she didn't know about such things existing in the world. As the two arrived at Ladon's home they were both greeted with a warm welcome. Ladon recounted the past years to his mom, father, and sister over dinner as they ate. After dinner Arya kissed Ladon "Sorry love, but, I gotta go pay a visit to my mom and dad" Ladon smiles softly and nods "Alright, want me to come with?" Arya shakes her head "No, it's okay, stay with your family. I'll call you if anything weird happens." She kisses him again and after she leaves, Ladon begins to work on some work for college as well as some general study about his town in the past couple of years.
As Ladon continued working on his endeavor of trying to solve the chaos that was rampant in his hometown, he noticed that Arya had shown up in quite some time. He had called her multiple times, with Arya answering and telling him everything is fine. He continues his work, worrying about Arya all the way through. One day Arya called him, asking him to come to her house; telling him she had a lead on what was happening. After about an hour Ladon arrived at Arya's house, knocking on the door. "Hello? Anyone home?" he goes to open the door and finds that it is unlocked, as well as battered on the side. He walks in slowly, looking around, "Arya? Anyone?" just as he turns a corner he feels a white hot pain in his side, so much pain he can't utter any sounds. Ladon looks at the wielder of the blade, his eyes widening in horror as he notices that Arya, his fiancé, is holding the blade; a lifeless expression on her face. He falls over, for what seems like an eternity, noticing a strange being that was behind the corner he was about to turn around. He reaches a hand out towards Arya, gritting his teeth and only one word coming from him before his body passes "Why…?"
Darkness… Darkness is all that he can see before he sees the same scene in front of him. He hears a jingling as well as a weight on his chest. He notices the chain and grips the chain in horror, seeing the creature that was around the corner. A strange masked creature with a hole in its chest. He attempts to back up but can't and he nearly falls over, noticing that it is slightly hard for him to breath and to move. All Ladon can do is watch in terror as his fiancé is ripped in half in front of him, the ripping and tearing of flesh echoing in Ladon's mind. The creature looks at Ladon, Arya's arm hanging from its jaws, blood all over the floor, and dripping from the arm. Ladon grips the chain in terror again and before the hollow pounces on him he sees a flash of black as the hollows slowly falls into halves in front of him, dissolving into dust. Ladon looks in fright at the person in front of him, too afraid to see who it is. He thinks he sees his fiancé for a brief moment before Konso is performed on him and he find himself in the Soul Society, driven to find a way to prevent what happened to him happening to others.