+5
Blade
Slayer
Yaksha
Locke
Siegharty
9 posters
Page 3 of 3
•
1
,
2
,
3
Yaksha

Experienced Member


Joined

: 2016-11-13


Posts

: 561

Member Info


Platinum Points

:


(156300/9999999)




Tiers

:
Tue Apr 13, 2021 11:57 am

Yaksha, The Überseele
"No, that won't be happening, General. I came here in good faith, and you have shown me nothing but rancor. You mistrust me as a matter of principle, and I mistrust you as a result of the malice that seeps from your every pore. Interrogations imply a windowless room and 30 minutes of having kidneys tenderized before questions are ever asked. And I daresay I am the only person in the entire world with such a liberal interpretation of human rights. Any questions you have can be asked here."
There was no heat or force in his own voice, but there was steel threaded in every word, the unyielding sense that if they attempted to grip too tightly he'd either slip through their fingers like wet sand, or that he'd harden in response to the force, and become impenetrable. For now, his demeanor was relaxed, open, and easy, but the way he spoke and the way he looked at the two flanking him made it very clear that he would respond to force in kind, and that he would absolutely make them bleed for it if they started pushing too hard.
"This is your operation, General. As I've already said, I have my own reasons for being here. Interfering with your actions would simply complicate matters further, so simply think of me as your safety net. Should anything slip through the cracks, I will nip at its heels until it is no longer any more than a memory. Should any of your agents see fit to employ some friendly fire during the operation, you've no need to worry of me reciprocating. It simply isn't in my nature to do something so self-destructive anymore."
Coding Altered From: [The Frost]
Slayer

Thicc Boi


Joined

: 2016-10-29


Posts

: 695


Age

: 20


Location

: The Dance Floor

Member Info


Platinum Points

:


(7900/999999)




Tiers

:
Thu Apr 15, 2021 11:20 am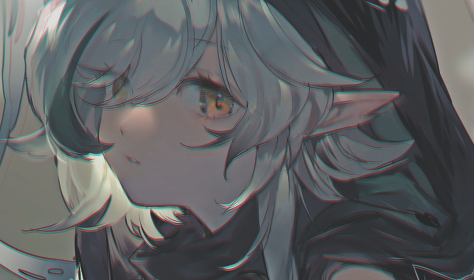 INFANT ELDER GOD
Nobody seemed to notice it outside of two people, which was pretty good since it made Ky'rin's job a whole lot easier. Silent now, the elder god sat and watched as the mortal who had got it into this predicament in the first place began to bargain with the one with wings. It caught the name "Yaksha" and was going to assume that it belonged to the monstrous-looking one as a deal was struck between either party. Ky'rin had no qualms with working under somebody as long as it got to work, and keeping all the misfits in one group was probably best for morale. Assuming a team was set up, Ky'rin made the necessary preparations to make things smoother.
Walking over to Calypso, Ky'rin placed stopped dead a foot away from her, and then closed its eyes. There were so many people around, so many minds to sort through, so it was somewhat of a process before Ky'rin was able to single out both Calypso's mind and Yakhsa's. Like a spider, it created a thread between their minds, their thoughts now living in a room together instead of isolated. To make sure it was working correctly, it sent out a test thought.
It was simple, just Ky'rin waving in an empty void. This was mainly to see if their minds could even handle the procedure, but secretly Ky'rin hoped they could as to avoid any future complications with it's... unique accent.
END POST | NOT LOST THIS TIME
Lillian

Seasoned Member


Joined

: 2017-03-31


Posts

: 1985


Age

: 21


Location

: Beep beep i'm a sheep

Member Info


Platinum Points

:


(42100/16000)




Tiers

:
Fri Apr 16, 2021 12:25 pm
ENTER CALYPSO'S POST
Artist: SilvaGunner - Song: Hip Shop
The woman's gaze remained soft yet guarded as she felt the weight of the reaction settle. She wished a younger her wasn't such an idiot, running around announcing herself like she was some great other to her family that would change everything. Perhaps she wouldn't be in such a potentially precarious situation if nobody knew, maybe even a better one if she had managed to find a better person to take her in. She knew her denouncement would mean nothing if there wasn't any action to back it up, and that was what she intended to do today,
"..I know dropping a surname alone is meaningless; that's why I'm here with Yaksha today.. To also provide some assistance.. I come here with no other intent but to be a benefit. Like I said, no one has to suffer today, and I would want to see to the best of my ability you all get home safely, even if I need to be under careful watch... I accept your boundaries and I'll go with you, just don't hurt either of them in the process."
With that she would end off her piece, staying in the tent where she was led to, moving to sit on the ground just to be stopped by the small creature suddenly scampering up close to her. She was almost surprised by the bold approach by such a young-looking creature, especially with who she was to those who dwelled in this world. She slowly tried to sink down to the being's level, trying to give a comforting look,
"..Uh, hey, it'll-"

As she was about to divulge comforting words to the seemingly young creature, something happened that damn near made scales raise on her flesh. She could sense something odd, like something connected with her, almost feeling like her body was covered in cobwebs or being touched by a hundred fingers; not an overly disgusting feeling but one that would send a shiver down her spine. She saw the creature had shut their eyes, a look of confusion dawning on her face.
..Are they trying to do something?
Her thought was immediately met with an answer as an image of the being waving flickered in her mind. She was surely surprised, but tried to keep her reaction tame. She didn't want anyone else keying in on what was happening if she could help it.
Was that you? Can you only talk through thoughts?

It would make sense for why they were so quiet; something so young looking undoubtedly would try to chat or fuss about their situation, but it didn't even try to utter a word.
She looked to anyone remaining in the camp, to Yaksha, flashing him a concerned look, before looking back to the being.
"..Okay, look, whatever happens, I'll keep you safe, alright?"

She spread an arm out, as if motioning to bring the creature closer for a hug or to just hold them close, though stopped.
..If you're hearing me, is a hug alright?