Queen Explosive Bam

Starter Member


Joined

: 2020-01-17


Posts

: 4

THE DEMON TEMPLATE
Traditional Demon Profile
中空アーチャー
I. Basic Information
» Name:
Chishio 'Chi'
Akabane
(drops surname)
» Titles:
"Mistress of Blood" and "Girl who Runs with Blood"
» Age:
Phys. 20, Bio. 66
» Gender:
Female
» Affiliation/Rank:
Rogue
» Shifter Appearance Written:
There is not much of a difference between her true form and shifter appearance. Her skin color is the same, but can easily tan unlike her true form which stays the present color 24/7, 365 days a year. This form is 5'4, 125 lbs., her body is more proportioned, but it is very difficult to tell a difference. What's different here is that her ears are human-like and shaped normally. Her ears are not pointy, but are small and pose a regular curved shape.
She just looks like a typical human. She also doesn't wear ethnic clothing consistently but wears western modern clothes. This could range anywhere from workout clothes to an evening dress. This form is to blend in more so, with other humans and to hide demonic physique.
» Shifter Appearance Picture:
» True Appearance Written:
(What is the true appearance of your demon? Write it down here and make sure it is long enough.)
» True Appearance Picture: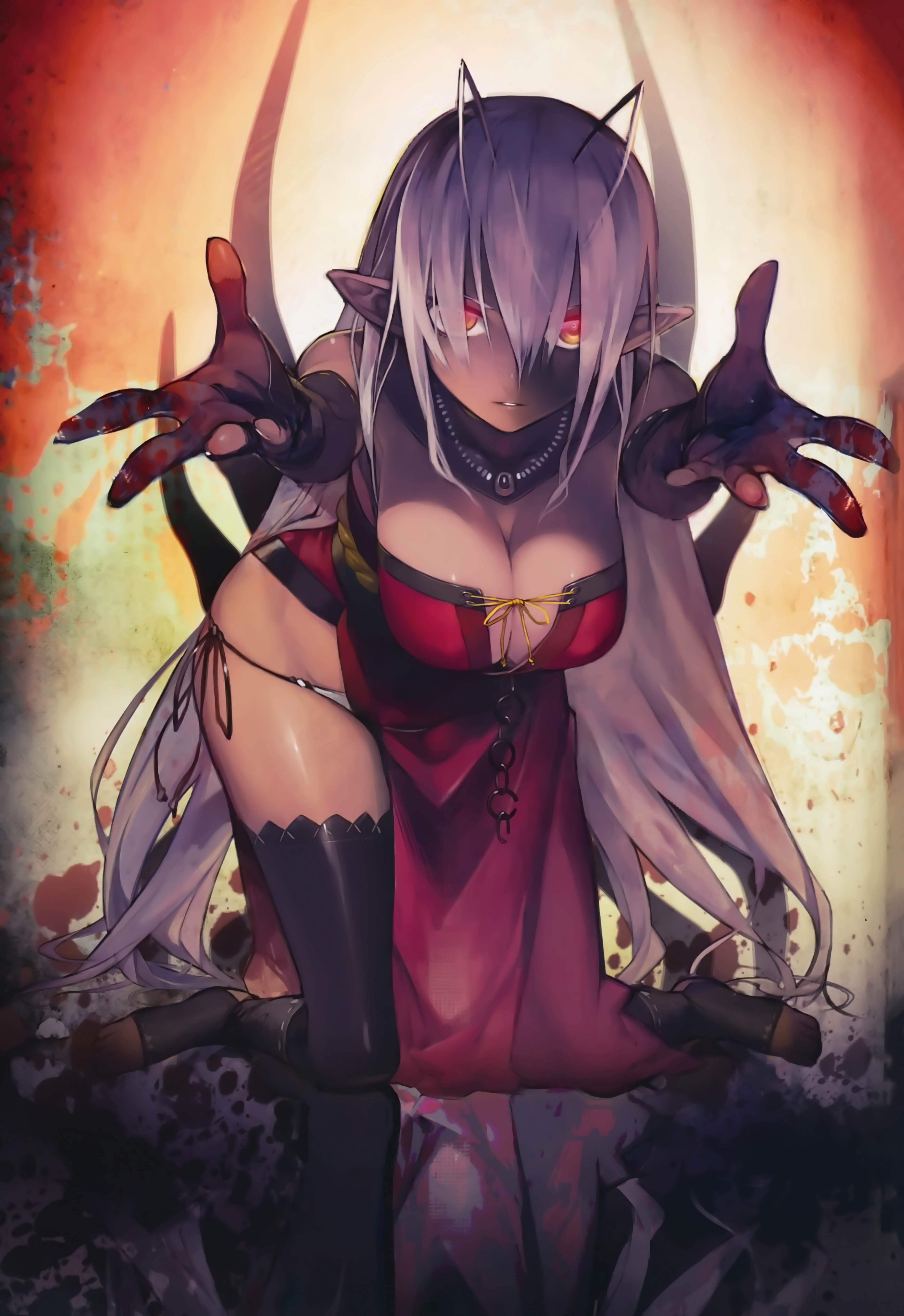 I. Personality Traits
» Personality:
(What is your character's personality like? This may be written in any way however it must be at minimum 2 paragraphs for it to be approved.)
I. Character History
» History
(This is the section where you write out their history. They must be at least five paragraph's with four to five sentences each.)
I. Equipment
» Equipment:
(If your character has any equipment, then you should put it in this section. Otherwise, if they don't, do not fill in this section and you can leave it blank.)
I. Natural Abilities & Skills
» Natural Abilities:
(If your demon has any natural or racial abilities/skills, put them here)
I. Possesisve Powers
» Possessive Powers:
(What is their possessive power? Please explain it and the abilities it has)
I. Possessive Drive
Note: Demons can have anywhere from one to three Possessive Drive forms. So just repaste it if your demon has more than one.
» Possessive Drive Appearance:
(What do they look like if there is any kind of stage? If they have stages, feel free to repeat as necessary. )
» Possessive Drive Benefits:
(Do they get any nifty powers, abilities, and things of this nature? Put all of that here in separate sections and feel free to repeat as necessary for other forms. And remember that Possessive Drive is all about being possessed by your demons possessive power. So bring that out with this release.)
I. Skill Sheet
(To Find Out about what these skills are for, please
READ THIS THREAD
before you try doing anything to it. After you have read it, do not fill your skills out until a staff member has graded your thread. The staff member checking your app will also give you Will Skills in which you can add to your app when approved. Click the spoiler below to see what tier gets what kind of skills.)
Spoiler:

6-Tier: Allowed all beginners.
5-Tier: Allowed all beginners.
4-Tier: Allowed 1 Adept, 3 Beginner
3-Tier: Allowed 3 Adept, 1 Beginner
2-Tier: Allowed 2 Advanced, 2 Adept
1-Tier: Allowed 1 Elite, 2 Advanced, 1 Adept
0-5 Tier: Allowed 1 Elite, 3 Advanced

NOTE: There can be exceptions you can discuss with staff if the character's themes and masteries etc, are better suited to a different configuration. Let us know when after we approve your character if something along those lines is something you want for your character. e.g If your character isn't particularly quick but the force in their strikes are massive, so you could take a hit to their speed and drop it a level in exchange for raising your strength
General Skills
Durability: Elite/Advanced/Adept/Trained/Beginner/Untrained

General Speed: Elite/Advanced/Adept/Beginner/Untrained

Strength: Elite/Advanced/Adept/Beginner/Untrained

Weapon Skill: Elite/Advanced/Adept/Beginner/Untrained

Demon Skills
Za Koa Core: Elite/Advanced/Adept/Beginner/Untrained

Posessive Magic: Elite/Advanced/Adept/Beginner/Untrained

Possessive Augment: Elite/Advanced/Adept/Beginner/Untrained

Possessive Influence: Elite/Advanced/Adept/Beginner/Untrained

Will Skills
Willpower/Determination: Elite/Advanced/Adept/Beginner/Untrained

Mental Deduction: Elite/Advanced/Adept/Beginner/Untrained

Focus: Elite/Advanced/Adept/Beginner/Untrained

I. Roleplay Sample
» Role Play Sample:
(Show us what you got by posting a sample of how you roleplay. Any previous thread or new material is accepted!)
END OF THE DEMON APPLICATION
__________________
Permissions in this forum:
You
cannot
reply to topics in this forum